There's no place that truly represents the spirit of Australia like Darwin and the Top End. With a rich Indigenous heritage, unbelievably stunning wilderness teeming with wildlife and all of the city attractions you could ever need, Darwin is a mecca for tourism and an iconic wonderland.
Whether you'd like to explore the outback, feed some crocodiles, learn from the traditional owners or enjoy the city amenities, every taste and budget is catered to here. We've compiled some of the region's best attractions to help make your choices easier, so check these out to make the most of your Darwin adventure.
Crocosaurus Cove
You simply cannot visit Darwin without ensuring you have an encounter with a croc – a good encounter, that is! Thankfully, at Crocosaurus Cove, you'll be able to interact with the world's most fearsome apex predator in a safe environment. The thrilling 'Cage of Death' lets you (or you and a friend) experience being submerged into a tank with a five-metre + croc. Don't worry though; you will be protected within a Perspex cage while the croc is fed right alongside you. You'll also get to feed these amazing reptiles, handle a baby croc and see an aquarium full of sawfish, barramundi, archerfish and whip rays, as well as explore the Turtle Enclosure and Reptile House. [
Entrance tickets & Cage of Death experience
]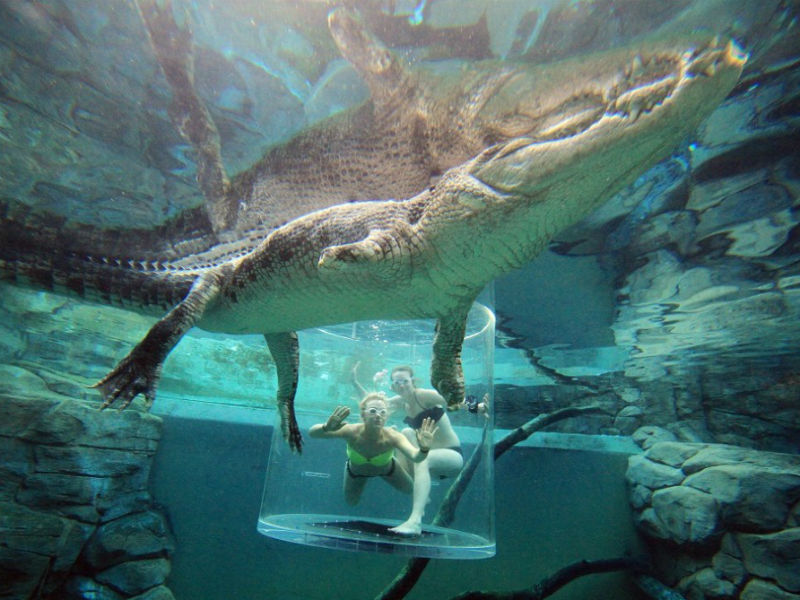 Kakadu National Park
Experience the wonder of Kakadu's vast and rugged landscape, which is easily accessible from Darwin, but best viewed on a tour. From the Arnhem Land Plateau to Mary River and everything in between, you'll be awestruck by the eclectic diversity of landscapes at this 20,000 square kilometre World Heritage Listed site. Calm rivers wind their way through Savannah forests, below dramatic escarpments, over rocky outcrops and into lush floodplains.
A huge and often protected variety of insects, amphibians, fish, birds, reptiles and mammals roam the pristine habitats of Kakadu. So diverse is this wildlife population that scientists believe there are still hundreds – if not thousands – of species yet to be discovered. Kakadu is an absolute must-do when visiting Darwin and there's a tour option to suit every interest. [See: Kakadu Tours]
Return to Top 10 List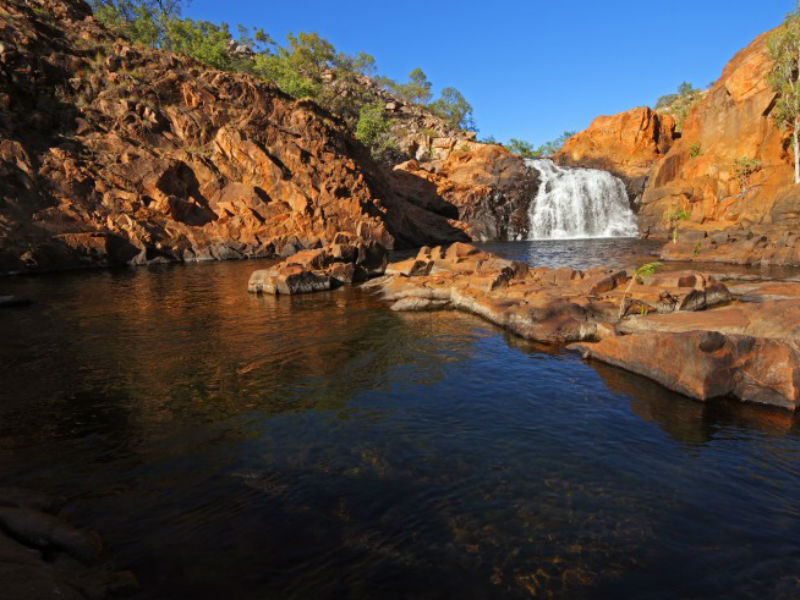 Litchfield National Park
The phenomenal beauty of the Litchfield National Park is an absolute must-see when visiting Darwin and the ideal way to see it is by taking one of the many tours available. You'll see the impressive Cathedral and Magnetic Meridean Termite Mounds and take a refreshing dip or relax by the cascading waterfalls of Florence Falls, Wangi Falls, Tolmer Falls or Buley Rockhole.
You'll also have the chance to walk through rich monsoonal forests and woodlands, spotting a plethora of unique wildlife including the area's huge bat population. Take a cruise on the Adelaide River and snap a few photos of the huge crocs below, or indulge in one of the most magnificent sunsets you'll ever experience over this gorgeous Australian oasis. [See: Litchfield Tours]
Return to Top 10 List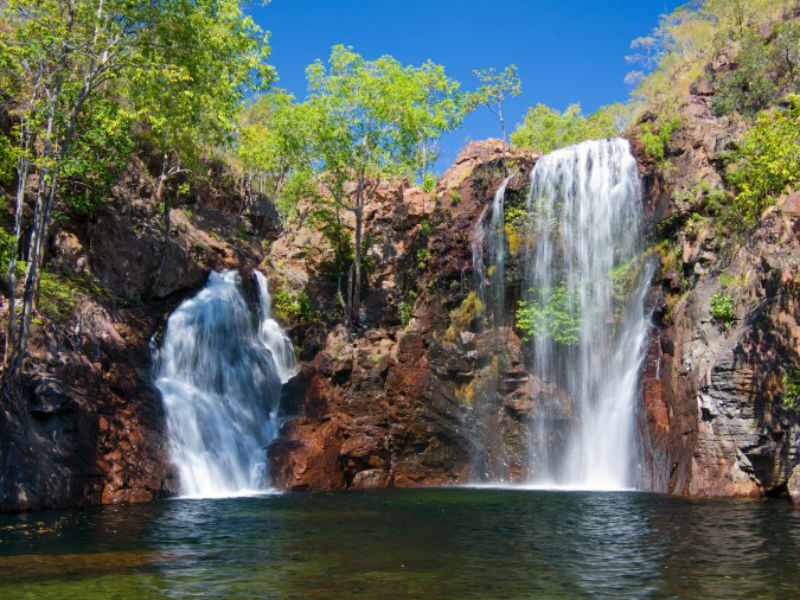 Darwin Indigenous Culture
Whether you'd like to stay within the city, explore the Museum and Art Gallery of the Northern Territory or one of the Aboriginal Cultural Centres, or branch out and experience the spiritual significance of Kakadu, Litchfield, Katherine Gorge, the Tiwi Islands or even Arnhem Land, you'll find a wealth of cultural heritage at the Top End. There is a plethora of tours that offer insight into the Indigenous culture, from learning of their history to enjoying some bush tucker, hearing Dreamtime stories or being amazed at the ingeniousness of bush medicine. You can view Indigenous art and how it is created traditionally or try your hand at a digeridoo – whatever you'd like to get out of your experience, you'll be sure to find it in Darwin or surrounds.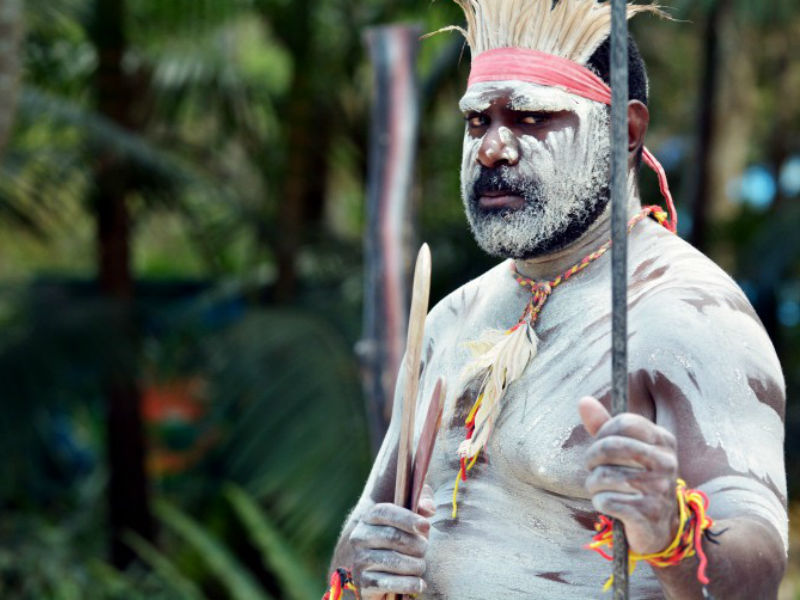 Tiwi Islands
Tiwi Islands are located 80 kilometres to the north of Darwin and accessible by ferry. They are made up of 2 islands, Melville and Bathurst. The Tiwi people have occupied the islands since the last ice age.  The islands have a unique culture and language due to their separation from the mainland and the blending of traditional cultures and that of the early missionaries. [See:
Tiwi Island Tour
]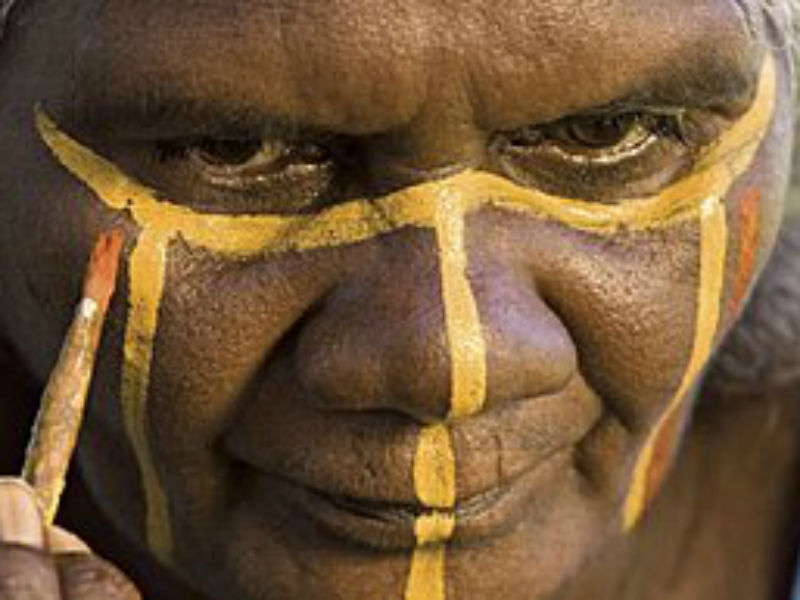 Darwin Travel Guide
Want to know more about Darwin, including top tours, latest specials, travel information and plenty more things to do then read our extensive Things to Do in Darwin Guide.
Mary River Wetlands
The Mary River Wetlands is not just a stunningly gorgeous location; it's also the location of the largest population of saltwater crocodiles on Earth! A cruise is the best way to see this area and starting at Corroboree Billabong, you'll enjoy informative commentary as you drift through the scenic waterway, spotting majestic crocodiles, a plethora of colourful birdlife and small reptiles darting in and out of the lush vegetation on the shores. You'll even have the chance to enjoy a glass of sparkles and a fresh fruit platter as you relax in the boat amongst the serene lotus lilies. [See:
Mary River Wetlands
]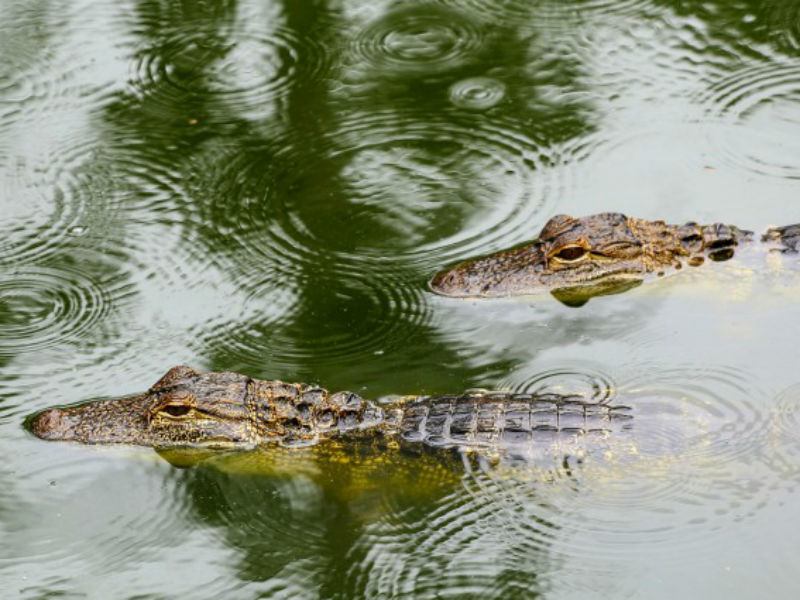 Mangrove Boardwalk and Botanic Gardens
Spend some time exploring the fascinating East Point Mangrove Boardwalk or indulging in the beauty of the George Brown Darwin Botanic Gardens – or join a city tour to do both in one day! The Mangrove Boardwalk takes about half an hour and you'll be able to stroll along comfortably, seeing eleven species of mangrove in this biodiverse ecosystem. The mangroves themselves are beautiful and you'll spot butterflies, fish, crocodiles, sea eagles and swamp hens along the way.
Nestled amongst the urban sprawl, the Botanic Gardens are resplendent, with their 42 hectares of bright blooms, lush rainforest gully and unique Top End plant species. There's so much to see with a number of plant display houses and even a children's evolutionary playground! Be awe inspired by the Desert Rose Display and try to spot the elusive Rufous Owls before settling down for a relaxing picnic.
Return to Top 10 List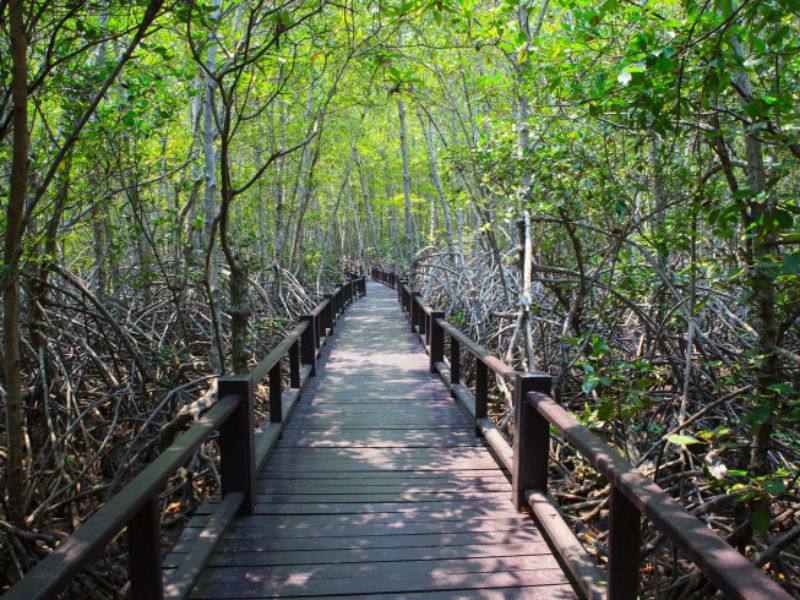 Mindil Beach Sunset Markets
f you're staying in Darwin, you absolutely have to visit the Mindil Beach Sunset Market. Held every Sunday and Thursday night at beautiful Mindil Beach, these markets offer the perfect opportunity to interact with the friendly locals while enjoying their homemade wares. You'll be able to dine on exotic cuisine while listening to the talented buskers, pick up some amazing handcrafted arts and crafts, find a bargain amongst the bric-a-brac or enjoy a massage. The best part? Watching the golden glow of the Darwin sunset over the Arafura Sea, as the day fades into night. [Website:
Mindil Beach Sunset Markets
]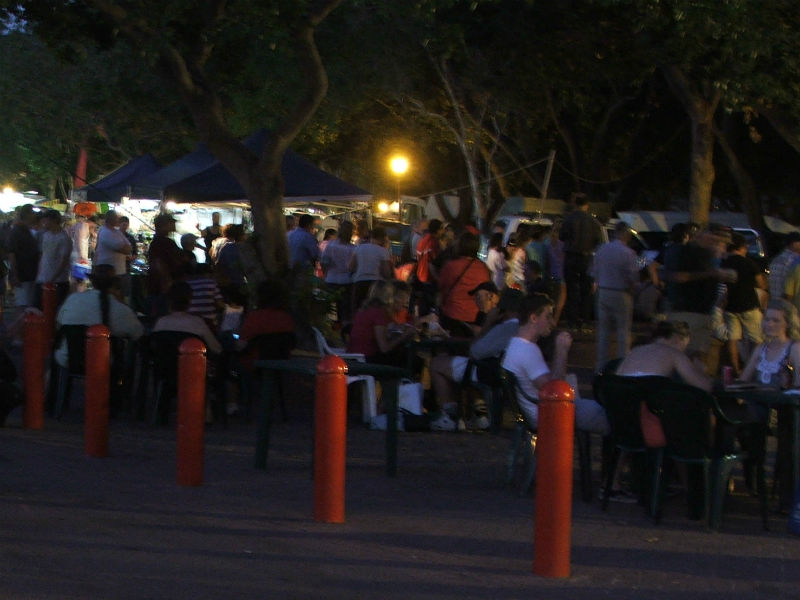 Darwin Military Museum
Darwin was hugely important during the conflict of WWII. At the Military Museum, you can learn just what type of role the city played as a strategic base for the protection of Australia. Be amazed by interactive displays, a multi-sensory theatre that depicts the 1942 bombing of the city and the Defence of Darwin Experience.
The East Point Military Precinct – which once acted as the last main fortress on Australian soil – contains culturally significant military structures, which include the plotting room along with 150 mm and 230 mm gun emplacements, relics of steel boom anti-sub nets, an observation tower and other relics of our wartime defences.[Directions:
Darwin Military Museum
]
Return to Top 10 List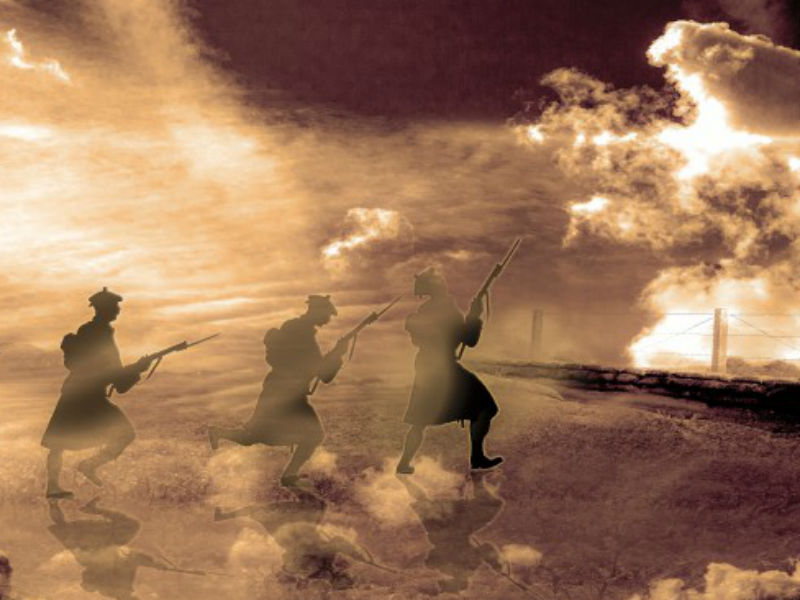 Stokes Hill Wharf and Darwin Harbour
There's no better place to enjoy a meal than at Darwin's Stokes Hill Wharf. This popular waterfront destination offers delicious cuisine – from alfresco café's to a la carte seafood options – and the views are spectacular!
For even better views though, a cruise along Darwin Harbour can't be beaten. Whether you'd like to hire a tinny and drop a line in to try your luck at catching one of the 415 known fish species, or pamper yourself with a delightful cruise, you'll enjoy a wonderful day on the water. With its mangrove-lined shores, shipwrecks and sheltered calm, the Harbour is alive with some amazing sea life, including dugongs and turtles. If you choose a tour or cruise with commentary, you'll learn about the fascinating history of the Harbour and its important significance to the local Indigenous people.
Return to Top 10 List