Abseiling - Morialta AM
Select a tour date above to calculate pricing.
Prices are listed in Australian dollars and include GST.
Tour Details
Tour Operator:

Included in price:

Half day experience Accredited instructors All equipment Fun and more Fun

Duration:

approximately 3 hours

Departure:

9:00 AM Sat, Sun


Departure points:

Adelaide

Pickup/departure instructions:

Meet at the Corner of Norton Summit Road and Magill Road, Magill. From Adelaide CBD Continue on North Tce, Adelaide - proceed East 0.9km Continue along Botanic Rd, Adelaide 0.4km. Continue along North Tce, Adelaide 0.8km Veer right onto Magill Rd, College Park 5.4km Arrive at corner of Norton Summit Road and Magill Rd, Magill. Turn the corner onto Norton Summit Road and park on the side of the road. From here we will drive in convoy to the climbing area (approximately 8 min drive).

What to bring:

What should I bring/wear? Loose fitting clothes appropriate for the weather. Water, approximately ½ litre per hour for hot days. Hair ties if you have long hair. Lace up shoes, ie trainers, joggers. Snacks for the days. Personal medication. Sunscreen A smile

Fitness level required:

Low

Child policies:

Who can take part? Participants must have a reasonable level of fitness (ie should be able to walk briskly for 20 minutes with out being out of breath). Minimum age is 10 years old.

Additional Information:

What about transport?

Transport can be provided for groups or individual at an extra fee depending on collection location.

Destinations:

Adelaide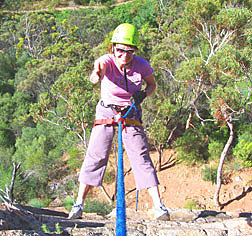 Abseiling - accept the challenge! Abseiling, or 'rappelling', is basically a method of descending a rope in a safe, controlled manner. Of course, the rope is often hanging over a cliff face or dangling from an overhang! Abseiling has gained widespread use and acceptance in many fields such as climbing, caving, rescue, scientific field research and in the military. Few things compare to the sensation of adrenalin you feel as you first step off the edge of a cliff. You have spent your whole life being told to keep away from the edge but now it's time to go over! The excitement and fear will swell inside as you communicate to your body to lean out over the cliff looking at the ground far below. All you need to do is move your feet one by one but you may feel some reluctance to do so. This is where our fantastic staff will guide you step by step. Once you have conjured up the courage to descend, an overwhelming sense of achievement will kick in. You will want to do it over and over again. This is a fully guided 3-hour experience on real rock. You will receive continual encouragement and instruction on rock safety, abseiling equipment and techniques.
Loading..