14 Day Broome to Perth Camping Safari- Dep 12 Sep 2013
Select a tour date above to calculate pricing.
Prices are listed in Australian dollars and include GST.
Tour Details
Tour Operator:

Included in price:

All fares include meals as per itinerary code: (B) Breakfast, (L) Lunch and (D) Dinner. (S) Showers, (L) Laundry, (T) Toilets, (Bc) Bushcamp. All camping, accommodation costs and entrance fees as per itinerary. Tents and 2 inch high density foam mattresses on camping safaris.

Available for purchase/hire:

WHAT IS NOT INCLUDED (unless otherwise stated in the itinerary) Accommodation, meals, fares en route from home cities. Meals, unless specifically mentioned on day to day itinerary, any personal items such as drinks, newspapers, telephone, laundry, souvenirs, personal and holiday insurance, sleeping bags and pillow. Fuel levy may apply. A camp stretcher is available for hire at an additional charge of $ 60.00 per person per tour

Duration:

14 Days 13 Nights

Departure:

6:00 AM Daily


Return:

Tour finishes at Wellington Street Transit Centre in Perth between 4PM and 6PM. (Approximately)

Departure points:

Broome

Pickup/departure instructions:

Pick up from Beaches of Broome at Cable Beach at 6.30am.

What to bring:

Casual gear is a must. You will need 3 to 4 changes of clothing. T-shirts, jeans, shorts, bathers, bath and hand towel, a pair of rubber soled shoes or joggers, a warm jumper or jacket, hat, torch, sleeping bag, pillow, insect repellent and toiletries. A track suit is most useful, too.

Fitness level required:

Medium

Child policies:

Tours are not suitable for children.

Additional Information:

HIGHLIGHTS:

* 80 Mile Beach
* Millstream National Park
* Karijini National Park
* Tom Price
* Cape Range National Park
* Exmouth
* Ningaloo Reef
* Coral Bay
* Monkey Mia
* Kalbarri National Park
* Pinnacle Desert

INSURANCE
Heritage Tours and/or its agents are not responsible or liable for loss or damage or theft of luggage or personal belongings whatsoever or for personal injury, accidents, hospitalisation, illness or medical expenses. Most claims arise from personal or close-family illness before holiday departure, resulting in cancellation charges. We strongly recommend all intending passengers consult their travel or insurance agent and take out adequate travel insurance to cover any event and give full travel protection.


Destinations:

Perth, Broome, Shark Bay, Karijini, Monkey Mia, Pinnacles Desert, Kalbarri, Coral Bay and Ningaloo Reef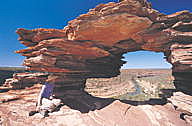 Legend; B = Breakfast, L = Lunch, D = Dinner, T = Toilets, S = Showers, L = Laundry, Bc = Bush Camp

DAY 1 BROOME – INDEE STATION (LD)
We set off south along the Great Northern Highway taking in the magnitude of the Great Sandy Desert. We stop off at the coastal oasis of 80 Mile Beach. Travelling south through the iron ore capital Port Headland, before arriving at our camp tonight at a remote sheep and cattle property, Indee Station. (ST)

DAY 2 INDEE STATION – CHICESTER, MILLSTREAM NP (BLD)
This morning we set on the North West Coastal Highway, before we turn off and travel into the Chicester-Millstream National Park. Stopping off at Python Pool and the scenic panoramic lookout, before making our way to Miliyanha campsite in the National Park. (T)

DAY 3 CHICESTER – KARIJINI NATIONAL PARK (BLD)
This morning we explore the old historic Millstream Homestead, before stopping off at Deep Reach Pool for a refreshing swim. Further into the Pilbara we travel, making our way into Karijini National Park and our camp site at Karijini Eco retreat for the next 2 nights. (ST)

DAY 4 KARIJINI NATIONAL PARK (BLD)
The vast Karijini is and ancient landscape of massive mountains and steep escarpments cut by spectacular gorges more thank 100 metres deep. Within these chasms hide crystal clear pools, cascade waterfalls and lush vegetation. Today we descend into Dales Gorge and visit Circular Pool, Fortescue Falls and Fern Pool, before returning Karijini Eco Retreat with a stop at Kalamina Gorge en route. (ST)

DAY 5 KARIJINI – TOM PRICE (BLD)
Another β€œore" inspiring day in Karijini National Park we marvel at the lookouts of Junction Pool and Oxer, before descending into Hancock and Weano Gorges that give us Kermits Pool, the amphitheatre and handrail pool. Off to Tom Price we go for a well earned rest and a good scrub. (STL)
* A reasonable to good level of fitness and balance is required to descend into Karijini Gorges, however lookouts alone provide an exceptional experience.

DAY 6 TOM PRICE – EXMOUTH (BL)
Driver to arrange snorkel equipment before arriving at Exmouth, ask caravan park to have them ready, on arrival
An early start takes us to the prime access point to the Ningaloo and Cape Range National Parks, being Exmouth. A town born of controversy as a US Navy Communications Station and having become the Northern Gateway to two National Parks. (STL)


DAY 7 CAPE RANGE & NINGALOO NATIONAL PARKS (BLD)
Today we spend exploring Cape Range and Ningaloo with visits to Bundegi Beach, Yardie Creek Gorge, a snorkel at Turquoise Bay, Milyering Visitor Centre to top this day off. With a trip up Vlaming head Lighthouse with sensational views over the Cape, Ningaloo and Exmouth Gulf. A keen eye may spot Humpback Whales!

DAY 8 EXMOUTH – CORAL BAY (BL)
Now we venture down the Northwest Cape to Coral Bay, a true Marine paradise and playground. (STL)

DAY 9 CORAL BAY – NINGALOO REEF (BLD)
Ningaloo being the largest fringing reef system in Australia, the world giving access within 100 meters off shore we can explore what lies beneath its waters with ease in close calm protected waters, relatively unheard of or visited until the 1990's Ningaloo boasts exceptional marine life including turtles, dugongs, manta rays, humpback whales, whale sharks, over 500 fish and 180 coral species. To kick off your Coral Bay adventure we will send you on a glass bottom boat cruise to view fish, corals and whatever else pops up. Just to wet your appetite, then the rest of the day is yours to further explore the many other options to enjoy this marine playground and true wonder.

DAY 10 CORAL BAY (BD)
As there is so much to see and do in Coral Bay, most visitors don't want to leave, so we are not going to. This day is all yours. Other tours / options available at your own expense are:
β€' Hire snorkel gear; snorkel from the beach;
β€' Sea kayaking;
β€' Quad bike & Snorkel combo;
β€' Scenic flights;
β€' Scuba diving.

For strong swimmers:
β€' Why not try an experience of a life time and snorkel with the large playful and harmless Manta Rays that frequently visit Ningaloo year round;

DAY 11 CORAL BAY – SHARK BAY – MONKEY MIA (BLD)
World Heritage listed Shark Bay, here we come! Shark bays attributes are endless with features of exceptional natural beauty, superlative natural phenomena, representation of a major stage of earths evolutionary history, not to mention the biggest wildlife conservation program ever undertaken in Australia. All will become clear as we visit the Stromatolites of Hamlin Pool, Shell Beach, deins 110 kilometers long and up to 10 meters deep of pure shell. Once we settle into our campsite at Monkey Mia Dolphin resort, we enjoy a laid-back dinner at the Monkey Bar. (STL)

DAY 12 MONKEY MIA – KALBARRI (BLD)
Lets not forget the dolphins at Monkey Mia as we head down to the beach for their ritualistic morning visit. Learn how, why and these amazing animals started interacting at such close proximity to use mere mortals. The next 2 nights we stay in accommodation in the seaside township of Kalbarri.

DAY 13 KALBARRI (BLD)
Today's journey takes us to the many and varied features of the Kalbarri National Park into the Murchison River Gorge section to Natures Window and Z Bend Gorge. We visit the majestic coastal cliffs and gorges of the Kalbarri National Park.

DAY 14 KALBARRI – PERTH (BL)
After and early morning start we travel down the Batavia coast via Geraldton into the Pinnacle desert within the Nambung National park, a myriad of tombstone-like limestone pillars tower in excess of 5 meters above the desert sands. Being visible from the Indian Ocean and first appearing on Dutch navigational maps in the 1600's, the Pinnacles are described as weird geographical phenomena. From here it is into Perth where the tour terminates.

Loading..