Wave Rock (686)
Select a tour date above to calculate pricing.
Prices are listed in Australian dollars and include GST.
Tour Details
Tour Operator:

Included in price:

Picnic lunch, admission to Wave Rock and Antique Lace Collection and guided tour

Duration:

Departs approximately 8:00am and returns approximately 8:30pm

Departure:

8:00 AM Tue, Fri, Sun
7:55 AM Wed


Return:

Approximately 8.30pm (Approximately)

Departure points:

Perth

Pickup/departure instructions:

Perth Sightseeing Centre - Shop 1, Old Perth Port, Barrack Square, Perth or hotel pickups available

Fitness level required:

Not specified

Child policies:

Children aged between 4 - 14 years inclusive receive 50% discount off Adult fare unless otherwise stated. - Adult fares apply to persons 15 years and over. - Children 4 years and under are free if not occupying a seat (ie, must sit in parent's/carer's lap). If a seat is required, child fare applies.

Destinations:

Wave Rock, York and Avon Valley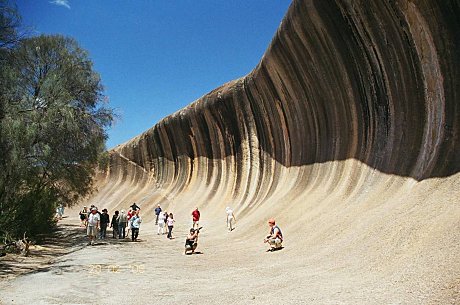 Out in the wide sky wheat plains, Wave Rock stands as a perfect surfers wave yet frozen in solid rock. The colonial
town of York, set in the lush Avon Valley, tiny wheatlands townships and other strange rocks protruding from arid
soil show the real Australia, ever waiting for life giving rains.

HIGHLIGHTS:

• Cross the Swan River Causeway and pass Burswood Casino and Resort
• Head east and follow the sun on to the Great Eastern Highway
• Climb the Darling Ranges and cross vast dry farming plains
• Visit historic York - original and untouched centre of the Avon Valley
• Look for crows, cockatoos and galahs
• Wheatbelt town of Corrigin - noted for the "dog in the ute" national record
• Hyden - town centre for Wave Rock
• Striking rock formations of Hippo's Yawn
• Wave Rock - one of nature's most remarkable creations
• Enjoy a picnic lunch at Wave Rock Wildflowers shop
• Take an exclusive Aboriginal guided tour along the base and over the top of Wave Rock
• Time to visit the native Wildlife Park or browse in the Antique Lace Collection
• Explore the Humps and Mulka's Cave
• Learn the story of Mulka and ancient Aboriginal cave paintings
• Stop at "bustling" Babakin, population 18 for a delicious country style afternoon tea - a special treat! (own expense)
• During wildflower season (September - November) roadside stops will be made to view native wildflowers
• Journey back to Perth passing endless farms and big horizons
• Superb views of Perth's evening lights from the majestic Darling Ranges.

Loading..