COMBINATION DAY PACKAGE & NIGHT TOUR
Select a tour date above to calculate pricing.
Prices are listed in Australian dollars and include GST.
Tour Details
Tour Operator:

Included in price:

Includes Lunch, River Cruise, 2hr Day Walk, Swim, Evening Meal and 2hr Nocturnal Walk.

Departure:

11:15 AM Daily


Departure points:

Cape Tribulation and Daintree

Pickup/departure instructions:

Self-drive to Cooper Creek Wilderness. Maps on: http://www.ccwild.com/maps.php

What to bring:

Wear comfortable walking shoes, bring drinking water, repellent, light rain gear, swimming gear. Opportunities for casual photography. Serious photographers should consider a private charter walk.

Fitness level required:

Medium

Child policies:

Tour includes 4-hours walking over uneven terrain. Not suitable for toddlers or small children. Child rates apply for day walks and packages for children 4 years to 13 years. Infants 0-3 years no charge. Children under 10yrs are not encouraged on the night walk. Day walks are usually 2 hours in duration and fairly easy walking, however parents must ensure that their children remain on the path and that they do not interrupt during discussions. Children are given every encouragement to participate and are valued as keen spotters.

Additional Information:

Self Drive only

Destinations:

Cairns, Port Douglas, Cape Tribulation, Palm Cove and Daintree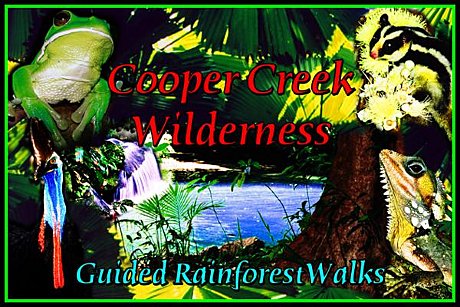 Highly Recommended Daintree Rainforest Day & Night Tour combines the Cooper Creek Wilderness experience and the Nocturnal tour plus an evening meal for the Ultimate Daintree Rainforest experience.

CCW4 COMBINATION DAY AND NIGHT PACKAGE CCW4

To optimise the profundity of this ancient and complex landscape, a combination of CCW3 package and CCW2 with an evening meal included, is highly recommended.

Cooper Creek Wilderness specialises in guided interpreted tours through the best of the Daintree Rainforest. This is the jewel in the crown of the Wet Tropics of Australia in Tropical North Queensland. Our forest sustains an extraordinary biodiversity and has been described as the Valley of Rainforest Dinosaurs.

This is a genuine rainforest experience. There are no constructions or modifications for large numbers. You can see nature at its best, in an exclusive group, when you stand in a fan palm cathedral, among the buttress roots of rainforest giants. See pristine rainforest with enthusiastic expert guides. Cross the Daintree River in Tropical North Queensland to enter a mysterious and enchanting world.

Access to the inner-secrets of a forbidden forest will always be an elusive undertaking, but no greater determination can be made than to consider the combination of BOTH a day tour and a nocturnal foray. Each tour value adds to the other and expands perspectives to significantly broaden the horizons of an exceptionally complex ecosystem.

Includes Lunch, River Cruise, 2 hr Day Walk, Swim, Evening Meal and 2hr Nocturnal Walk.

Enjoy a 10 hour immersion in rainforest magic with local custodians. Your payments contribute to conservation of a global treasure.





Loading..