1 Day Great Ocean Road & Rainforest Tour (With Lunch)
Select a tour date above to calculate pricing.
Prices are listed in Australian dollars and include GST.
Tour Details
Tour Operator:

Included in price:

Morning tea and biscuits, lunch, all transport, tour guide and park entry fees.

Available for purchase/hire:

Helicopter ride at the Twelve Apostles $ 100.00 pp

Departure:

7:00 AM Daily


Return:

This tour returns Melbourne at approx. 9:00 pm. (Approximately)

Departure points:

Melbourne

Pickup/departure instructions:

This tour departs daily and courtesy pick up is available from most inner city accommodation providers. Please ask reservations for your exact pick up time. For popular pick up times and locations please look at the tour description on the left side of this page. It is recommended you arrive at your pick up location at least 5 minutes before you scheduled departure time. If the bus has not picked you up within 10 minutes please phone our office using the number on your booking confirmation.

What to bring:

Warm clothes, sunscreen, camera and of course a BIG SMILE!!!

Fitness level required:

Low

Child policies:

If available, child rates apply to Children between 4 – 12 years of age. Cost for infants/children (0-4 years) is 50% of the tour price. Child seat available upon request.

Additional Information:

Please phone to reconfirm your tour 24 hours before departure.


Destinations:

Great Ocean Road, Port Philip Bay, Torquay, Lorne, Apollo Bay and Angelsea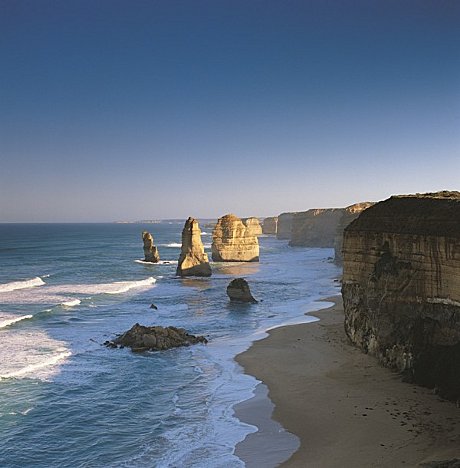 1 Day Tour Great Ocean Road Tour (L)

(Includes: Morning Tea, Restaurant lunch, park fees & inner city hotel pick up and drop off)


** Highlights :

Visit one of the coast's famous surf beaches for morning tea!

• Memorial Arch (Eastern View)
Take some pictures at the historic great ocean road memorial arch

• Beach Walk
Go for a stroll along the beautiful beach and get some sand between your toes.

• Lorne & Anglesea
Pass through the popular seaside resort town of Lorne & Anglesea, view some spectacular beaches & lookouts

• Spot wild Koala's / hang out with wildlife - (Kennett River)
Go for a pleasant walk through the coastal town of Kennet River, see how many Koala's you can find!
Get up close and personal with the friendly beautiful birds; Parrots, lorikeets, and look out for the famous kookaburra.

• Free Restaurant Lunch! (Apollo Bay)
Enjoy a range of lunch options: Chicken, Fish, Beef, or Vegetarian meals from one of the nicest restaurants in Apollo Bay (Iluka!!)

• Otway's Rainforest (Mait's Rest)
Take a guided bushwalk through this very rare, ancient, cool temperate rainforest. You'll feel dwarfed as you stroll past some of the tallest trees in the world.

• 12 Apostles
View the beautiful limestone stacks that form the mighty 12 apostles
Treat yourself to an optional helicopter flight (additional charge. weather & time permitting)

• Loch Ard Gorge
Find yourself surrounded by towering limestone cliffs & take a walk along the beach , View the Archway, The Razorback and Dumpling Pots. Hear the history, romance and heartbreak as our guides re- tell the tale of Australia's most famous shipwreck!..... The Loch Ard

• London Bridge
London Bridge…… has fallen down….. but it's still makes a stunning photo opportunity and has a great story behind it.


Departs: Daily - between 7 – 8 am

Arrives: Approximately 9 pm

Includes: Morning Tea, Restaurant lunch, all park entry fees and inner city hotel pick up and drop off.


** Popular pick up times and locations:


Melbourne Metro: (78 Howard St, North Melbourne) - 6:50 am
The Nunnery: (116 Nicholson St) - 6:50 am
Victoria Hall: (Corner Russel St & McKenzie St) - 7:00 am
Hotel Discovery: (167 Franklin St) - 7:05 am
Nomads Industry: (196 A'Beckett St) - 7:10 am
St. Paul's Cathedral: (Cnr Flinders St & Swanston St) - 7:15 am
Exford Hotel: (Corner Little Bourke St & Russel St) - 7:15 am
King Street Backpackers: (Corner of Little Bourke and King St) - 7:25 am
Holiday Inn: (Corner Spencer St and Flinders Lane) - 7:35 am
Base Backpackers: (17 Carlisle St, St Kilda) - 7:10 am
Habitat HQ: (333 St Kilda Road, St Kilda) - 7:15 am
Coffee Palace: (Corner of Grey and Jackson St, St Kilda) - 7:25 am
Urban Central: (334 City Road, Southbank) - 7:35 am

Loading..