10 Days Out - Hobart
Select a tour date above to calculate pricing.
Prices are listed in Australian dollars and include GST.
Tour Details
Tour Operator:

Included in price:

Dedicated tour guide, All transport, All meals (except meals in Launceston), all accommodation including 2 nights hostel accommodation in Launceston, Entrance to National Parks/Mole Creek Caves/Wildlife Park

Available for purchase/hire:

Sleeping Bag ($20), waterproof trousers ($20), waterproof jacket ($20), Day Pack ($20)

Duration:

10 Days 9 Nights

Departure:

6:30 AM Thu, Sun


Departure points:

Hobart

Pickup/departure instructions:

Please advise us of where you are staying at the time of booking. Pick-ups are from your hostel/hotel between 7 am.

What to bring:

warm and waterproof clothing (suitable for bush walking) sturdy walking shoes swimming gear sunscreen and a hat water bottle a warm sleeping bag.

Fitness level required:

Medium

Child policies:

Children must be at least 12 and accompanied by an adult.

Additional Information:

Australian TASafari 4WD Camping Adventures offer active camping tours to remote areas of Tasmania. Our groups are small, so the tours are more personal (maximum of 9 people). Our Tasmanian guides are fully qualified, experienced, knowledgeable and enthusiastic. We believe that to truly experience the Tasmanian wilderness, bush camping is a must.

Our tours are unique in Tasmania because not only do we take you to the places you have heard about, such as Cradle Mountain and Wineglass Bay, we take you to remote, lesser known areas. Many of the places we go can be accessed by 4WD only.

TASafari tours are at a relaxed pace - we don't drive long distances every day. We want to show you more of what Tasmania has to offer. Our tours are designed for fit and active people, and include lots of bushwalks/hiking. Try a bit of fishing - you may even catch your dinner!


Destinations:

Hobart, Launceston, Cradle Mountain, Wineglass Bay, Bay of Fires, Strahan, Russell Falls, Lake St Claire, Freycinet National Park and The Tarkine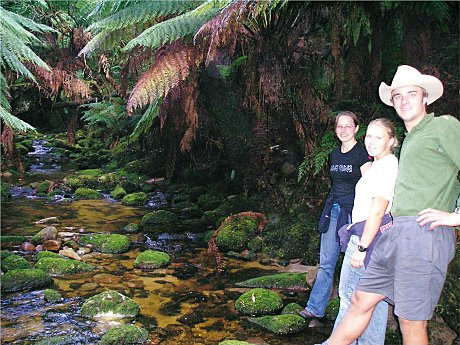 This tour takes you on a full circuit of Tasmania, beginning with beaches forests mountains of Tasmania's scenic east coast. In the first four days we will visit the Tasman Peninsula and its giant sea cliffs, Freycinet Peninsula where we'll climb up through the hazards to view magical Wineglass Bay. Then venturing further north we will walk through the spectacular Blue Tier mountains and forests, famous for its giant ferns and eucalypts, ending up on the north east coast with arguably some of the world's best beaches at Bay of Fires.

Then the second half of the tour takes us through Tasmania's wild and remote west coast. We aim to stay away from the crowds, from camping in the bush to sleeping beside the ocean under the stars. Enjoy bushwalks through Cradle Mountain, the Tarkine and Lake St Clair. Cross the west coast's Pieman River at Corinna, a remote settlement and camp beside the Southern Ocean. Marvel at Tasmania's tallest waterfall, Montezuma Falls and glow-worms of Marakoopa, drive through Franklin-Gordon Wild Rivers National Park. Visit some of Australia's tallest trees in the Styx Valley.

Each day we participate in walks from 1- 5 hours and travel by four-wheel-drive troop carriers and Landrovers which are ideal to access remote areas. Each night we experience bush camping and delicious meals with campfire cooking. When we camp we use tents or you can sleep under the stars and we supply cosy swags. We see Tasmania's unique wildlife in the wild.

All inclusive* small group guided 10 Day active camping and walking tour covering a circuit of Tasmania. 2 Nights Backpacker accommodation plus all food, transport, parks passes; camping and cooking equipment is provided.

Highlights include Mole Creek Karst Caves, Cradle Mountain, Tarkine Rainforests, Corinna, West Coast Beaches, waterfalls, Franklin River, Lake St Clair, Mount Field, the world's tallest flowering plants, Tasman Peninsula, towering sea cliffs, Port Arthur, Freycinet, Wineglass Bay, Blue Tier, Bay of Fires, waterfalls, remote beaches and wildlife.

(*Meals not included whilst in Launceston and or Hobart)

This tour is a combination of our 4 Days Out East and 5 days Out West Tasafari with a rest day in Launceston and you depart from Hobart

Hobart Departures
Starts 6.30am Hobart concludes Approx 6.00pm Hobart
Departs Thursdays and Sundays Min 3 Max 10 AUD $1470



Loading..