Sunset Tour
Select a tour date above to calculate pricing.
Prices are listed in Australian dollars and include GST.
Tour Details
Tour Operator:

Included in price:

Double sea kayak, paddle and safety equipment, full instruction and safety brief, experienced and qualified guide, guided tour, non alchoholic drinks

Available for purchase/hire:

Bottled water, sunscreen, waterproof cameras, lip balm, T-shirts

Duration:

2+ hours

Departure:

3:45 PM Wed, Fri, Sat


Departure points:

Magnetic Island

Pickup/departure instructions:

Approximately 2 hours before sunset from Horseshoe Bay beach front. Next to public toilets (across the road from bus terminus and mini roundabout)

What to bring:

Footwear to get wet, swimmers, shorts, shirt, long socks, hat, sunglasses, sunscreen, water bottle A small bag containing towel and change of clothing for when you return

Fitness level required:

Low

Child policies:

Minimum age for participation in the tours is 7 years; each child under 15 years must be accompanied by an adult

Additional Information:

PLEASE NOTE:
As the times of sunset varies throughout the year the start time of the tour will alter, this varies from 3:45pm in the winter to 4:15pm in the summer

Destinations:

Great Barrier Reef, Townsville and Magnetic Island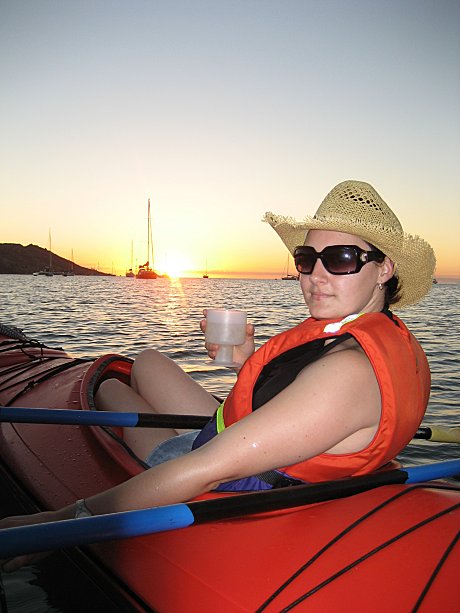 We take only photos & leave only footprints

Check in approximately 2 hours before sunset on the beach in Horseshoe Bay. Full instruction and safety brief is provided before launching and a little more instruction on the water to make the tour easier for everyone. The guided tour stays within the sheltered waters of Horseshoe Bay as you take a leisurely paddle out to Horseshoe Bay Point before drifting back over sea grass beds and coral gardens to watch turtles come to the surface to breath close by and wildlife prepare itself for the night's ritual. Reflect over your day, have a chat or sit in silence as you soak up the last rays of the sun with a relaxing drink in hand and watch the sunset behind the anchored sail boats.

This tour is suitable for the beginner to intermediate paddler and operates with a minimum of 2 and maximum of 12 customers and is priced per person, in a double sea kayak.

For single bookings please contact the office prior to booking.
Loading..