15 day Kimberley Broome to Alice Springs (or vice versa) Camping Safari - Departs 8 June, 5 and 24 August 2013
Select a tour date above to calculate pricing.
Prices are listed in Australian dollars and include GST.
Tour Details
Tour Operator:

Included in price:

All fares include meals as per itinerary code: (B) Breakfast, (L) Lunch and (D) Dinner. (S) Showers, (L) Laundry, (T) Toilets, (Bc) Bushcamp. All camping, accommodation costs and entrance fees as per itinerary. Tents and 2 inch high density foam mattresses on camping safaris.

Available for purchase/hire:

WHAT IS NOT INCLUDED (unless otherwise stated in the itinerary) Accommodation, meals, fares en route from home cities. Meals, unless specifically mentioned on day to day itinerary, any personal items such as drinks, newspapers, telephone, laundry, souvenirs, personal and holiday insurance, sleeping bag and pillow. Fuel levy may apply. A camp stretcher is available for hire at an additional cost of $ 60.00 per person per tour.

Duration:

15 days and 14 nights

Departure:

6:30 AM Daily


Return:

Between 5 and 6PM (Approximately)

Departure points:

Alice Springs and Broome

Pickup/departure instructions:

Pick up from Beaches of Broome at Cable Beach or Alice in the Territory in Alice Springs at 6.30am.

What to bring:

Casual gear is a must. You will need 3 or 4 changes of clothing. T-shirts, jeans, shorts, bathers, bath and hand towel, a pair of rubber soled shoes or joggers, a warm jumper or jacket, hat, torch, sleeping bag, pillow, insect repellent and toiletries. A track suit is most useful, too.

Fitness level required:

Medium

Child policies:

Tours are not suitable for children.

Additional Information:

INSURANCE
Heritage Tours and/or its agents are not responsible or liable for loss or damage or theft of luggage or personal belongings whatsoever or for personal injury, accidents, hospitalisation, illness or medical expenses. Most claims arise from personal or close-family illness before holiday departure, resulting in cancellation charges. We strongly recommend all intending passengers consult their travel or insurance agent and take out adequate travel insurance to cover any event and give full travel protection.

WHAT IS NOT INCLUDED
Accommodation, meals, fares en route from home cities. Meals, unless specifically mentioned on day to day itinerary, sleeping bags and pillows, any personal items such as drinks, newspapers, telephone, laundry, souvenirs, personal and holiday insurance. Fuel levy may apply.



Destinations:

Alice Springs, Broome, Kimberley Region, Kununurra, Bungle Bungles, Gibb River Road, Wyndham, Geikie Gorge, Tunnel Creek, Windjana Gorge, Mitchell Falls, Fitzroy Crossing, Halls Creek, El Questro Station, Lake Argyle and Turkey Creek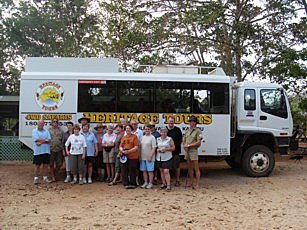 Legend; B = Breakfast, L = Lunch, D = Dinner, T = Toilets, S = Showers, L = Laundry, Bc = Bush Camp

Please note that this itinerary may operate in reverse - please contact us for departure points.

DAY 1 ALICE SPRINGS - TANAMI DESERT BUSH CAMP (LD)
After a 6.30am pick up from Alice in the Territory in Alice Springs your adventure begins as we join the untamed Tanami Desert Track. A refreshment stop at Tillmouth Well Roadhouse gives us our last taste of civilization as we know it for the next few days. Traversing further north along the Tanami track toward the Northern Territory and West Australian Border and our Desert Bush camp the Tanami's vastness opens up delivering a true sense of remoteness and perhaps a wild camel or two! (Bc+T)

DAY 2 BUSH CAMP - HALLS CREEK (BLD)
MOTEL ACCOMMODATION
After breakfast we continue north along the Tanami Track with a diversion to Wolfe Creek Meteorite Crater which boasts being the second largest of its kind in the world. From here we tackle the last section of the Tanami Track to join the Great Northern Highway to Halls Creek the site of Western Australia's first Gold Rush and to our accommodation at the Halls Creek Motel!

DAY 3 HALLS CREEK - BUNGLE BUNGLE (BLD) (2 nights)
Your adventure continues as we spend the day making our way into the awe inspiring and unique Purnululu National Park also known as the Bungle Bungle. With its many and varied features the Bungle Bungle provide a unique opportunity to experience one of Australia's most unspoilt and ancient landscapes adorned with contrasting vegetation from the hardy spinifex and eucalypts to the majestic more selective Livistonia Palms with sunsets second to none! (Bc+T).

DAY 4 BUNGLE BUNGLE (BLD)
Today you can take a helicopter flight (own expense) for a bird's eye view of the amazing area. Then we explore the unusual BeeHive Domes at Piccaninny Gorge, Cathedral Gorge and witness the setting sun lighting the red escarpment of the Bungle Bungle. This afternoon we explore the magnificent landscape of Echidna Chasm. (Bc+T)

DAY 5 BUNGLE BUNGLE - KUNUNURRA (BLD) (2 nights)
Leaving the Bungle Bungle, we take a short break at Warmun also known as Turkey Creek before travelling on. On arrival at Kununurra it is onto our campsite for the next 2 nights at Kimberleyland Tourist Park located on the banks of Lake Kununurra. (STL)

DAY 6 KUNUNURRA (BLD)
This morning enjoy a leisurely 3 hour cruise on the Ord River from Lake Kununurra to the Dam Wall of Lake Argyle. This cruise provides you with magnificent scenery, prolific bird life and varying fauna as you pass through a variety of different landscapes. Upon conclusion of the cruise at the Dam Wall on Lake Argyle we return to Kununurra, stopping off at the Durack Homestead Museum. The afternoon is yours to sit back and relax or take in the sights. (STL)

DAY 7 KUNUNURRA - EL QUESTRO (BLD)
This morning we depart Kununurra, travelling on the Gibb River Road, we pass the spectacular Cockburn Ranges, before making our way to our camp at El Questro Wilderness Park on the Chamberlain River. (STL)


DAY 8 EL QUESTRO – HOME VALLEY (BLD)
Today is a dream start for our day in this world's unique holiday destination, enjoy a relaxing and revitalizing swim amongst Livingstonia Palms at Zebedee Thermal Springs. We head west on the Gibb River Road, we travel along the spectacular Cockburn Ranges, cross the mighty Pentecost River before arriving at our camp for the night at Home Valley Station. (STL)

DAY 9 HOME VALLEY - KING EDWARD RIVER (BLD)
This morning we travel north onto the Kalumburu Road before arriving at our camp tonight on the banks of King Edward River with its crystal clear water pools. (Bc+T)

DAY 10 KING EDWARD - MITCHELL PLATEAU & MITCHELL FALLS (BLD)
We drive through unique forests of Livistonia Palms and landscapes into the remote Mitchell Plateau. We start our 4 km walk into the Mitchell Falls. Along the way we explore Little Merten and Big Merten Falls. Time to explore Mitchell Falls before we take a scenic helicopter flight back to our camp site. (Those not wishing to walk have the option to take a return helicopter flight). (Bc+T)

DAY 11 MITCHELL FALLS - DRYSDALE (BLD)
Today we retrace our steps to the Gibb River Road. We discover some amazing Aboriginal Rock art galleries along the way, before we make our way to Drysdale Station. (STL)

DAY 12 DRYSDALE - MANNING GORGE (BLD)
This morning we travel on to Mt Barnett Station. We camp at Manning Gorge with its unique species of boab trees, Manning Gorge is an ideal location to relax and enjoy a leisurely afternoon, or enjoy a walk to the gorge. (ST)

DAY 13 MANNING GORGE – WINDJANA GORGE (BLD)
As we push on along the Gibb River Road, we really learn the meaning of isolation. Sparsely scattered cattle stations being the only signs of civilization. We stop off at Galvans Gorge, before arriving at the imposing Windjana Gorge, impressive and uniquely formed from ancient limestone reef. Take time to walk through this fascinating gorge. Camp tonight at Windjana Gorge. (ST)

DAY 14 WINDJANA – TUNNEL CREEK - GEIKIE GORGE- FITZROY CROSSING (BLD)
Departing Windjana we make our way to Tunnel Creek, a fascinating 750m tunnel with permanent pools of water snaking its way through the Napier Range. A short walk through the water enables us to examine exotic lime stone formations at close hand. This afternoon, we head out to Geikie Gorge for a fascinating cruise of Geikie Gorge, down the Fitzroy River where the gorge has been cut through an ancient fossilized reef. Camp at Fitzroy River Lodge and campground. (STL)

DAY 15 FITZROY CROSSING – DERBY - BROOME (BL)
This morning we depart Fitzroy Crossing and make our way to Derby, where we take a tour of the township, Boab Prison Tree, Myall's Bore and the 120 meter long Cattle Trough. We stop off at the Derby Wharf for lunch, with its 11.5 meter tides, the second largest in the world. This afternoon we travel on the Great Northern Highway to Broome and we bid farewell to our new friends and the end of your Kimberley Adventure.


Loading..