CAPE TRIBULATION DAY TOUR
Select a tour date above to calculate pricing.
Prices are listed in Australian dollars and include GST.
Tour Details
Tour Operator:

Included in price:

Air-conditioned 4WD vehicle Pick up from accommodation & return Tour of Port Douglas Mossman Gorge (Daintree National Park) Guided Rainforest Walk 1 hour Daintree River Wilderness Cruise River crossing by Cable barge Alexandra Range Lookout Cape Tribulation Beach Cape Tribulation Botanical Walk Morning & afternoon refreshments Daintree Entomological(Insect) Museum "Australias largest collection of insects" Delicious BBQ lunch including barramundi(fish)Rib-eye steak, Vege Burgers and tropical fruit in a private Rainforest setting Private natural swimming hole Small personal group

Duration:

11 Hours

Departure:

7:30 AM Daily


Return:

18:30 (Approximately)

Departure points:

Cairns, Port Douglas, Palm Cove, Cairns Beaches, Trinity Beach, Mossman Gorge, Thala Beach, Yorkeys Knob, Kewarra Beach, Machans Beach, Holloways Beach and Wonga Beach

Pickup/departure instructions:

Our friendly and experienced driver/guide picks you up from your accommodation. Please add accommodation details on booking from. This Tour departs from Cairns, Cairns Northern Beaches and Port Douglas.

What to bring:

Comfortable walking Shoes, swimming gear as it is optional to swim at our lovely lunch spot. Camera and some spare cash (optional). Umberella if its raining.

Fitness level required:

Low

Child policies:

Children 3-14years

Destinations:

Port Douglas, Cape Tribulation, Daintree and Daintree River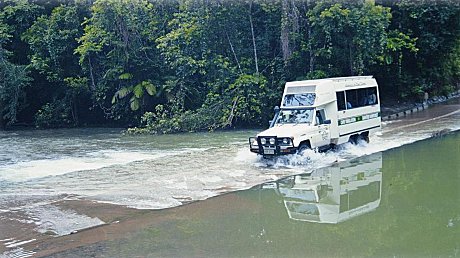 DAY TOUR ITINERARY
This exciting day tour begins when our friendly and experienced driver/guide picks you up from your accommodation. leaving Cairns and the Northern Beaches, we travel along one of Australia's most spectacular coastal drives to the resort village of Port Douglas

After visiting some of the highlights of Port Douglas, your guide will explain the unique geographic and historic features of the area enroute to Mossman Gorge, part of the Daintree Rainforest. At Mossman Gorge you may swim in the cool pristine waters or join your driver for a guided rainforest walk. Back into the comfort of our four wheel drive vehicle, we drive to the Daintree River where morning tea is provided before embarking a one hour Daintree river cruise. The Daintree River is home to a diverse ecosystem and the cruise guide will help you spot some of the wildlife including birds, snakes, frogs, flying foxes and in the cooler months, crocodiles can be seen lazing on the muddy banks.
After the river cruise, we travel up to the spectacular Alexander Range Lookout before arriving at our private lunch location at a tropical orchard.

While lunch is cooking wander through the Daintree Insect Museum.Designed and built by Stephen this beautiful timber Museum is reputed as one of the most beautiful buildings in the Daintree. Housing his unique 30 year collection, the largest in Australia it attracts visitors from all around the world. Situated on Cooper Creek, surrounded by the Ancient Daintree Rainforest and Thornton's Peak, the Museum has been described as a Prehistoric parkland with Caterpillar Vines, Butterfly Breeding Trees and Pandanus plants which are a food source and breeding house for the local Peppermint Stick Insect. Visitors will experience the wonders of the insect world hands on and enjoy the wonderment of walking through the butterfly avary.
You will be taken on an interesting 15 minute guided tour of the Museum. You will learn some very interesting facts about these creatures and how they play such an important part in the ecological balance of our rainforest. While learning about these critters, your eco-tour guide will be preparing your delicious Aussie BBQ lunch. On offer is a splendid spread of fresh Barramundi, sumptuous steak and tropical salads and seasonal local fruits. You may also wish to enjoy a refreshing swim at our beautiful private rainforest creek.

After Lunch, we travel further north to the isolated Cape Tribulation where the beach beckons for you to stroll along it's coral sands. This is the only place on Earth where two World Heritage listed areas kiss/meet. There is time to visit the Cape Tribulation lookout before departing for a relaxing and informative guided walk through the Cape Tribulation National park. Using your imagination, you could easily picture dinosaurs trudging through this prehistoric rainforest. After the walk, you will be offered afternoon tea before boarding our air-conditioned vehicle to traverse the Alexander Range where you will see the rare and primitive King Ferns growing in abundance. We then cross the river by Cable Barge and enjoy a leisurely drive to Cairns with spectacular views of the Coral Sea. We say farewell to you when we return you to your accommodation.

Loading..