Y13 - Kata Tjuta and Uluru (Ayers Rock) Sunset Tour
VIEW DATES AND PRICES
Tour Details
Optional Extras
Tour Details
Tour Operator:

Included in price:

Nibbles and a glass of wine.

Departure:

No Specific Times Daily


Return:

Approximately 20 minutes after sunset to Ayers Rock Resort. If including the Optional Add-On dinner, the tour is extended by approximately 2 hours.
(Approximately)

Departure points:

Ayers Rock (Uluru)

Pickup/departure instructions:

Departs from & returns to Ayers Rock. Pick ups from Ayers Rock accommodation available. Please add accommodation details in the space provided on the booking form. Departs: 2.30pm Daily (May-Sept) 3.00pm (Oct-Mar) Daily from Ayers Rock Resort. Customers arriving by air into Ayers Rock Airport after 1:00pm are advised not to book this tour. Returns: Approximately 20 minutes after sunset to Ayers Rock Resort. A list of tentative pickup locations and times can be found by copying and pasting this link into your browser: http://db.tt/bgwJYbyV

Fitness level required:

Not specified

Child policies:

Children under 24months (2yrs) of age, are classified as infants and travel free of charge. Children under the age of 7 years will be restrained in a baby pod or child seat (this is mandatory by law from 1 Feb 2013). Child prices apply to children between the ages of 2 and 15 years inclusive.

Additional Information:

Note: National Park entry fee not included.

Pensioner Fares apply to Australian and New Zealand Pension Card holders, Australian Senior Card holders, and full-time Australian Students.

Customers arriving by air into Ayers Rock Airport after 1:00pm are advised not to book this tour.

Destinations:

Ayers Rock (Uluru), Kata Tjuta (The Olgas) and Walpa Gorge
Optional Extras
Y13B - KATA TJUTA AND ULURU SUNSET TOUR + BBQ


After sunset clients are transferred to AAT Kings' exclusive barbecue site with their Guide. The site is within the Uluru National Park, outside the Cultural Centre set amongst red sand dunes and desert oak trees providing a peaceful desert setting. The site is located far enough away from the resort lights so that there is a clear view of the stars in the southern sky. Once at the site, clients will be served a variety of Australian meats and salads, accompanied by a glass of sparkling wine or orange juice (menus are subject to change). After dinner, the guide will conduct a tour of the night sky, describing and pointing out some of the visible constellations with the assistance of a high beam spotlight (weather permitting). The Guide will also explain some Aboriginal stories that relate to the stars. Clients will then be served tea, coffee and biscuits before returning to Ayers Rock Resort.
Adults: $130.00 | Children: $65.00 | Pensioners: $117.00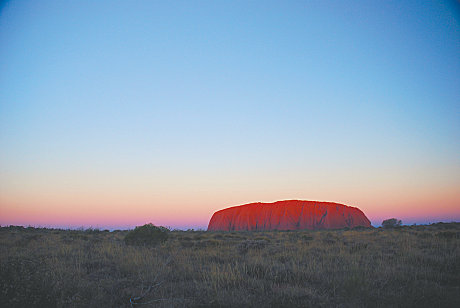 Travel to the mystical 36 domes of Kata Tjuta. On the way, stop at a lookout for panoramic views the southern side of Kata Tjuta. Continue on before arriving at the base of Walpa Gorge. Spend some time exploring the gorge and the unusual conglomerate rock formations. The walking trail through Walpa Gorge follows the natural creek between two of the tallest domes of Kata Tjuta. In the late afternoon we travel to the Uluru sunset viewing area. Witness and photograph the striking colour changes of Uluru at sunset whilst enjoying nibbles and a glass of wine.


Note: $25 National Park entry fee not included.
Apr

May

Jun

Jul

Aug

Sep

Oct

Nov

Dec

Jan

Feb

Mar
-
160
160
160
160
160
160
160
160
160
160
160
160
160
Select a tour date above to calculate pricing.
The above prices include $25.00 per person, which is payable direct to the operator on the day of travel.
Prices are listed in Australian dollars and include GST.
Loading..