2 DAY TOUR - WINEGLASS BAY & CADBURYS CHOCOLATE FACTORY, MT WELLINGTON & TASSIE DEVILS
Select a tour date above to calculate pricing.
Prices are listed in Australian dollars and include GST.
Tour Details
Tour Operator:

Included in price:

Cadburys Chocolate Factory entrance fee, Bonorang Wildlife Park entrance fee & National Parks Pass

Duration:

2 DAYS/1 NIGHT

Departure:

8:00 AM Mon, Tue, Wed, Thu, Sun


Return:

6PM (Approximately)

Departure points:

Hobart

Pickup/departure instructions:

We pick up from all hotels, backpackers & private accommodation in Hobart. We can drop off and pick you up from the airport on certain days.

What to bring:

In summer bring sunscreen,sunnies, water or water bottle(at least 2 litres is recommended) hat and swimmers In winter bring warm clothes, water or water bottle Lunch is not provided on tour but passengers you will have time to buy lunch at plenty of stops along the way...or bring your own if you like

Fitness level required:

Medium

Child policies:

Children are welcome on our tour

Additional Information:

TOUR OPERATES ALL YEAR ROUND

Destinations:

Hobart, Wineglass Bay, Derwent River, Freycinet National Park, Mt Wellington, Salamanca Market and Coles Bay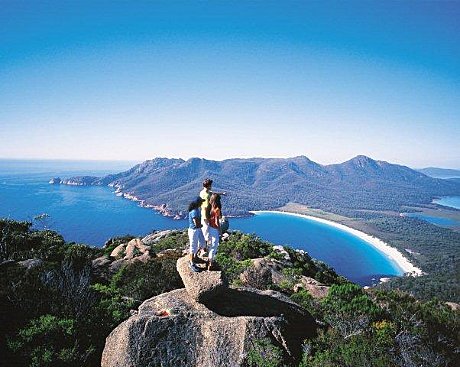 DAY 1: WINEGLAS BAY & FREYCINET
Hop aboard our famous Wineglass Bay and Freycient National Park experience. In the morning we will travel through the delightful seaside towns of Orford, Triabunna Coles Bay and Swansea checking out the fantastic coastal scenery and learning about some of the local history and industries of the area.
Arriving at the famous Freycinet National Park, we will give you maximum time to explore this famous area. Take a walk to the Wineglass Bay Lookout and see one of the TOP 10 BEACHES in the world & continue down and let you toes feel the shimmering white sand of Wineglass Beach. For the more active guests ask our guide about doing the WINEGLASS BAY & HAZARDS BEACH CIRCUIT WALK, this is one of the premier short walks in Tasmania.
Later in the afternoon we will explore the other fantastic sights of the area including Cape Tourville Lighthouse, Richardsons Beach, Honeymoon Bay, sleeping Bay and hopefully you will even have time to get up close and personal with a friendly wallaby.
Hey...you might just want to sit back on a lonley beach and have a swim, our guides are experts in the area and will find the itinerary to suit you.
On the way home you will be able to enjoy the DVD screens on our comfortable air conditioned bus.
* OVERNIGHT: WE RETURN YOU TO YOUR ACCOMMODATION IN HOBART
*We can arrange accommodation for you in Hobart's city centre

DAY 2: HOBARTS "BIG TICKET TOUR" MT WELLINGTON, CADBURYS CHOCOLATE FACTORY & TASSIE DEVILS
This fantastic new tour showcases the 3 most important sights in the Hobart Area. Mt Wellington, Cadburys Chocolate Factory and Tassie Devils in one fun day.
In the morning we make our way to the summit of majestic Mt Welllington 1271 metres above Hobart.
En route we pass by the famous Cascade Brewery and through the forested areas of the lower slopes of the mountain before arriving at the summit.
You will have plenty of time to check out the panoramic views of Hobart, Derwent River and the mountain ranges of Southern Tasmania before we return to sea level.
Returning to Hobart we cross over the Tasman Bridge and head along the Eastern Shore of the Derwent River arriving at Bonorong Wildlife Park and the famous Tassie Devils. You will be able to hand feed the kangaroos, pat a wombat, Koala and and take a guided tour to meet the parks other native animals before coming face to face with the ferocius Tassie Devils.
In the afternoon we head for the famous Cadburys Chocolate Factory in Hobart, check out how the chocolate is made and sample some of the finished products.


TOUR FINISHES IN HOBART

Loading..