3 Day Self Guided Kayak Tour
VIEW DATES AND PRICES
Tour Details
Tour Operator:

Included in price:

Kayaking equipment, dry bag and an esky. A map with photos and text, land mark orientation & professional kayaking tuition. Camping Equipment included, if you don't have your own.

Available for purchase/hire:

It is a requirement of DERM that you have a camping permit at your campsite while in the National Park. This is not included in the tour price. We can book your campsite for you - credit card details are necessary. The price is $5.45 per person per night.

Duration:

8.00am Day 1 – 4.00pm Day 3 (1st October –31st March) 8.30am Day 1 – 4.00pm Day 3 (1st April –31st August)

Departure:

8:00 AM Daily


Return:

4:00pm Day 3 (or a time that is arranged with Operators prior to departure) (Approximately)

Departure points:

Pickup/departure instructions:

Arrive at 11 Toolara Street, Boreen Point by 8.00am (1st October – 31st March) 8.30 am (1st April - 31st August). After picking up equipment, we drive (2 minutes) down to the launching site for our kayaks. Kanu Kapers Australia offers a pick up service for no extra cost.

What to bring:

Sun hat, rash vest, board shorts, insect repellent, sunscreen, 2 litres of water per person per day, camera, food, sleeping bag and dry clothes

Fitness level required:

Medium

Child policies:

Minimum age 4 years old. Children 16 and under must be accompanied by an adult.

Additional Information:

Kanu Kapers Australia's tailor designed 3 Day Self Guided Kayak Tour has a minimum participant number of 2 and a maximum number of 13.

Departure Points: 11 Toolara Street, Boreen Point QLD 4565

Pricing: All Kanu Kapers Australia's costing are calculated on at a Per Person rate.

Destinations:

Noosa and Sunshine Coast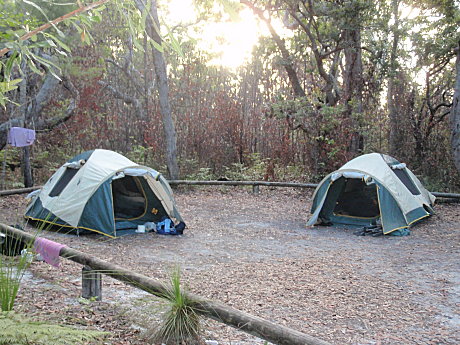 This remarkable, personalized adventure offers a chance to visit secluded locations by kayak and truly experience the natural beauty and wildlife in a relaxed quiet setting. Hidden within the Cooloola Section of the Great Sandy National Park is one of the Sunshine Coasts' best kept paddling secrets, the Noosa Everglades.

Within the Noosa Everglades, are the pristine headwaters of the Noosa River. A waterway that, due to its National Park status, has remained a delicate and pristine wilderness, undisturbed by civilization. Only two hours drive north of Queensland's capital city, Brisbane, the glorious Noosa Everglades is well known by locals and visitors alike as a marvelous wildlife sanctuary, boasting magnificent birdlife and a myriad of natural vegetation types including wallum scrub, rainforest and coastal sand dunes.

During a Kanu Kapers Australia 3 Day Self Guided Kayak Tour, you will get the opportunity to intimately experience a side of Australia that you wont find in the hustle and bustle of city sightseeing.

•Lead your own adventure through the curvaceous waterways

•Hear and see birdlife that most people only get to experience through books.

•Walk to the Cooloola Sandpatch, an ancient icon, formed by the winds of the Pacific Ocean

•Soak up the sun and the view south over the Noosa region from the Cooloola Sandpatch

•Relax as you camp beside glassy waters

•Take a leisurely swim in the cool, tannin coloured waters of the upper Noosa River.

•Rest under the shade of the she-oak and tea-trees.

•Take photographs of the brilliant blue Australian sky, mirrored with the tea-trees and Banksia flowers in the glassy tannin coloured waters.

•Glide past flocks of Pelicans as they rest in the calm, shallow waters of Lake Cootharaba.

Sep

Oct

Nov

Dec

Jan

Feb

Mar

Apr

May

Jun

Jul

Aug
-
-
148
148
148
148
148
148
148
148
148
148
148
148
Select a tour date above to calculate pricing.
Prices are listed in Australian dollars and include GST.
Loading..