Combo #5 - 11,000ft Skydive + 2hr Horse Riding
Select a tour date above to calculate pricing.
The above prices include $35.00 per person, which is payable direct to the operator on the day of travel.
Prices are listed in Australian dollars and include GST.
Tour Details
Optional Extras
Tour Details
Tour Operator:

Duration:

This is a full day tour. Please allow approx 8.5hrs from pickup to return.

Departure:

9:30 AM Daily


Departure points:

Cairns, Port Douglas, Kuranda and Cairns Beaches

Pickup/departure instructions:

A courtesy pickup service is available from all Cairns & Northern Beaches accommodation. Port Douglas transfers are available also - additional cost applies Pickups commence at 7.30am dependant on your location. Upon receipt of confirmation of your booking you will be advised of a pickup time.

What to bring:

Guests must wear long pants (jeans preferred), and enclosed footwear - such as sneakers or boots. We do have a limited supply of loan jeans and shoes.

Fitness level required:

Not specified

Child policies:

Minimum age restriction of 14yrs applies. Parental consent is required to skydive.

Additional Information:

A $35 APF (Australian Parachute Federation) Levy applies - payable upon arrival at Skydive centre.
This membership is valid for 3 months, and may be used for any Australian Skydive during validity period

Destinations:

Kuranda
Optional Extras
14,000ft Skydive Upgrade


Upgrade your skydive to 14,000ft
Adults: $30.00 | Pensioners: –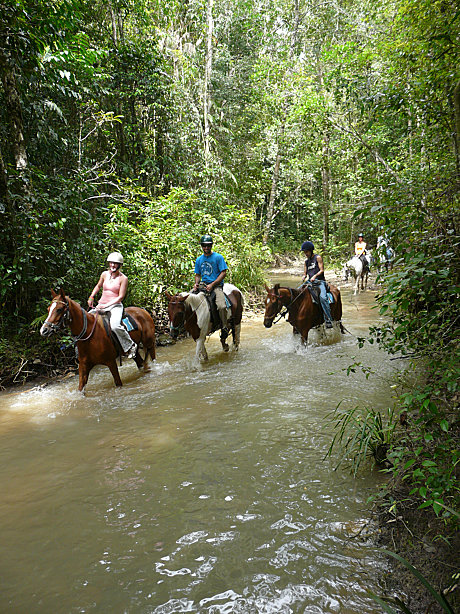 A perfect adventure for the thrill seeker. Start your day with a freefall from a perfectly good aircraft with Cairns' most reputable skydiving crew. Jump from 14,000ft, and freefall for upto 60 seconds at 220km/h. With your chute safely deployed, take control and enjoy the views of Cairns & the Great Barrier Reef. Look closely to the North-West, and down into the Rainforest, and you might just catch a glimpse of your afternoon mount!

With your feel firmly back on solid ground, enjoy the remainder of your morning either in the city or return to your accomodation, where we will arrange for you to be picked up by our courtesy bus, and shuttled to our farm where we will get you prepared to saddle up, and enjoy a 2 hour afternoon rainforest horseback experience, where you will be taken on a journey through magical virgin rainforest, ride through a creek, and visit a stunning mountain-top location with a short break and photo opportunity. The surrounds are absolutely breathtaking - overlooking the surrounding valley. Your ride back to base allows for opportunity to enjoy trots and canters where possible, and upon return from your ride, complementary drinks to be enjoyed by all. Riding groups are generally allocated to operate at a maximum of 6 riders per group to ensure tours are kept small and personalised, and more enjoyable for you.
Loading..