Hidden Shops of Melbourne - City
Select a tour date above to calculate pricing.
Prices are listed in Australian dollars and include GST.
Tour Details
Tour Operator:

Included in price:

You will have a professional tour guide with First Aid qualifications to run each tour. Customers will enjoy coffee and afternoon tea at the tour end.

Duration:

2.5 hours

Departure:

2:00 PM Wed, Thu, Fri, Sat


Return:

17:00 (Approximately)

Departure points:

Melbourne

Pickup/departure instructions:

The tour starts outside the Melbourne Visitors Centre, (MVC) cnr Swanston St and Flinders St, Melbourne near the Guided Tour blue sign. This is usually placed between the 2 glass doors to the west or 7 Eleven side. Our tour guides wearing a yellow shirt for easier identification but keep our number handy.

What to bring:

Bring a pair of comfortable shoes and a sense of adventure!

Fitness level required:

Low

Child policies:

Children less than 13yo can only attend a Private Tour. Children 13-18yo can attend any tour apart from a Bar Tour and need to be supervised at all times by a parent/teacher/guardian.

Additional Information:

Tours are limited to 20 persons maximum and discounts apply to groups of 10 or more. Call for more information.

Destinations:

Melbourne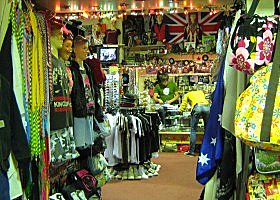 Melbourne has many hidden shops that are found in our famous laneways, arcades and alleys. Take a lift up a few floors and discover that secret shop that friends will be amazed at. Imaging watching Getaway and having already seen the new shop that their researchers have only just discovered!

News Flash! There is more to shopping in the centre of Melbourne than most people realise. Imagine finding those shops hidden up laneways, up hard to find stairs, or down into a secret cellar. Leave the noisy bus behind with those pushy bargain hunters and casually stroll along Melbourne's Golden Mile or sneak up an arcade to find that something different.

The tour starts off at 2pm to enjoy the best the shopping day has to offer. We visit clothing, jewellery, hat and other stores specially selected for style and proximity. During the tour, guests will be provided with great coffee to ensure you can get the most out of the experience. We then recommend a sumptuous lunch at Jolimont Expresso or Caffe Mediterraneum after the tour.

Loading..