Segway Xperience - 2 hours
Select a tour date above to calculate pricing.
Prices are listed in Australian dollars and include GST.
Tour Details
Tour Operator:

Included in price:

Sunscreen and insect repellant

Available for purchase/hire:

N/A

Duration:

Two Hours

Departure:

10:00 AM Daily


Departure points:

Sunshine Coast

Pickup/departure instructions:

Meet at Novotel Twin Waters resort Ocean Drive Mudjimba

What to bring:

Suitbale clothing for the day, and closed in footwear as stated above

Fitness level required:

Low

Child policies:

Minimum age of 14 or 45 Kg 14-17 year olds require adult signing an indemnity form

Additional Information:

Segway Xperience requirements
• Min age is 14 with adult, 14-17 signed in by guardian (12-13year olds can be assessed by staff for suitability upon request)
• Min weight 45kg, max 120kg; (to operate Segway safely)
• Must be an able bodied person;
• Enclosed foot wear to be worn;
• Only bring valuables that you can safely carry
• Appropriate attire for outdoor activities, e.g. shorts, long pants, etc, (No lose articles or clothing)
• Bring a personal water bottle (optional)
• Sunscreen and insect repellent provided
• Must NOT be under the influence of alcohol or drugs
• Bring a camera (optional) but highly recommended..:)
• There are no toilets where the tours take place so please ensure your all sorted before you arrive


Destinations:

Sunshine Coast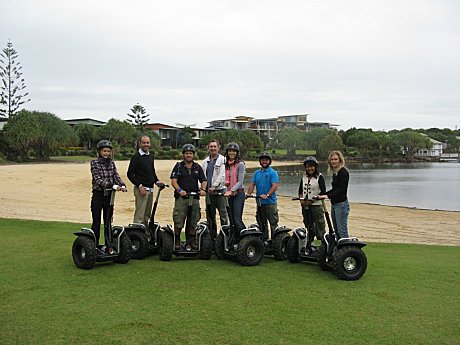 For the first time in Australia the new x2 all terrain Segway is available for guided Xperiences and tours.
Located at Novotel Twin Waters Ocean Drive Mudjimba, here you will Xperience for yourself what all the smiling is about..
The Xperience is a rwo hour extensive exploration of the 10 hectares of land that surrounds the resorts ranging from dense Eucalyptus forest to beaches and pathways.
After a 15 minute safety induction you will mount your new electric environmentally friendly vehicle and partake in an extensive training course before heading off guided by your Segway facilitator.

Unlike a quad bike or Jet Ski tour you can interact with fellow gliders and stop to take photos as you leave nothing but a tire print.

Pretty soon you will forget you're on a Segway and feel like your floating along the ground. They say it's about as close as you get to a magic carpet.

We have access to over 100,000 acres of property in QLD alone with new locatiosn opening up weekly..

Loading..