14,000ft Tandem Skydive at Coolum Beach
Select a tour date above to calculate pricing.
Prices are listed in Australian dollars and include GST.
Tour Details
Tour Operator:

Included in price:

All skydiving equipment is supplied including goggles.

Available for purchase/hire:

Optional Extras: Digital Video of skydive on DVD $99; Digital Photos of skydive $99; Digital Video & Photos Package $150. Other Options: 2GB USB stick $20, T-shirt $30, Skydiver Magazine $8

Duration:

Approx. time of experience 2 hours, activity is weather depending.

Departure:

No Specific Times Daily


Departure points:

Sunshine Coast Hinterland, Sunshine Coast, Maroochydore and Sunshine Coast Airport

Pickup/departure instructions:

We depart from the Skydive Ramblers Clubhouse at the Sunshine Coast Airport for take-off. Parachute landings are onto Coolum Beach, at Stumers Creek. We will take you back to the Clubhouse at the Sunshine Coast Airport after your jump.

What to bring:

You may jump in whatever you are comfortable in, i.e. Jeans and a jumper in winter, shorts and a T-shirt in summer. It is essential that you wear good running shoes - but not the type with open hooks for the laces. Please ensure that you tell your Tandem Instructor if you wear contact lenses.

Fitness level required:

Not specified

Child policies:

Min. age of 12 years (with parental consent for under 18s)

Destinations:

Noosa, Coolum, Sunshine Coast Hinterland, Mooloolaba, Sunshine Coast, Maroochydore, Noosaville and Sunshine Coast Airport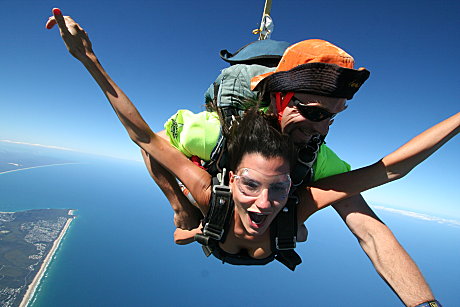 Skydive Ramblers on the Sunshine Coast offers beach Tandem jumps over one of the most stunning coastlines in Australia, landing at Coolum Beach, 7 days a week, depending on the weather. Bookings are essential and video and photos are available. Ramblers have been taking people skydiving since 1972 and would love to share your skydive with you!

Enjoy a 20 minute joy flight to jump height taking in the views of the hinterland, as far north as Noosa and Double Island Point, and as far south as Bribie and Moreton Islands. Get the bird's eye view! Jump out of the plane harnessed to your new best friend, one of Ramblers terrific instructors, and together enjoy nearly a minute of exhilarating freefall. Your instructor opens the parachute at 5,000ft and the world stands still, it's quiet and the peaceful parachute flight begins. After 5 minutes under canopy you will land on the soft sand of Coolum Beach. Then it's time to celebrate and the buzz of your skydive will last for days!

Perfect for bucks & hens parties, birthdays, surprises & all causes for celebration. Awesome gift voucher idea, or treat yourself!

There is a max. weight limit of 95kg, and a min. age of 12 years (with parental consent for under 18s)
Please note: No hidden costs. Our jump prices include the compulsary, temporary APF (Australian Parachute Federation) Membership (value $25).
Loading..