3 DAY "TASSIE ICONS" TOUR - WINEGLASS BAY, PORT ARTHUR & MT FIELD
Select a tour date above to calculate pricing.
Prices are listed in Australian dollars and include GST.
Tour Details
Tour Operator:

Included in price:

Port Arthur entrance fee, walking tour & harbour cruise, National Parks Pass, Bonorong Wildlife Park entrance fee

Duration:

3 DAYS

Departure:

8:00 AM Daily


Return:

6PM (Approximately)

Departure points:

Hobart

Pickup/departure instructions:

We pick up/ drop off from your accommodation in Hobart

What to bring:

clothing for warm and cold conditions

Fitness level required:

Low

Child policies:

Children are welcome on our tours

Additional Information:

TOURS OPERATE ALL YEAR ROUND

Destinations:

Hobart, Port Arthur, Wineglass Bay, Richmond, Russell Falls, Derwent Valley, Derwent River, New Norfolk, Freycinet National Park, Mt Field, Mt Wellington, Coles Bay, Dunalley and Remarkable Caves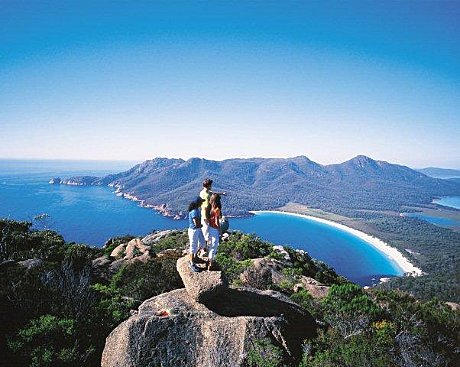 DAY 1: WINEGLASS BAY & FREYCINET NATIONAL PARK
Hop aboard our famous Wineglass Bay and Freycient National Park experience. In the morning we will travel through the delightful seaside towns of Orford, Triabunna Coles Bay and Swansea checking out the fantastic coastal scenery and learning about some of the local history and industries of the area.
Arriving at the famous Freycinet National Park, we will give you maximum time to explore this famous area. Take a walk to the Wineglass Bay Lookout and see one of the TOP 10 BEACHES in the world & continue down and let you toes feel the shimmering white sand of Wineglass Beach. For the more active guests ask our guide about doing the WINEGLASS BAY & HAZARDS BEACH CIRCUIT WALK, this is one of the premier short walks in Tasmania.
Later in the afternoon we will explore the other fantastic sights of the area including Cape Tourville Lighthouse, Richardsons Beach, Honeymoon Bay, sleeping Bay and hopefully you will even have time to get up close and personal with a friendly wallaby.
Hey...you might just want to sit back on a lonley beach and have a swim, our guides are experts in the area and will find the itinerary to suit you.
On the way home you will be able to enjoy the DVD screens on our comfortable air conditioned bus.
*TOUR RETURNS TO YOUR ACCOMMODATION IN HOBART TONIGHT


DAY 2: MT FIELD, MT WELLINGTON & TASSIE DEVILS
The popular MT FIELD Day Tour is JAM PACKED with Mountains, rainforest, rivers and wildlife, it's a great Tassie nature experience!
The tour starts 1271 metre's above Hobart at the summit of the famous Mount Wellington. The views in every direction are magnificent!
Returning to sea level we make our way through the picturesque Derwent Valley before arriving at the famous Mount Field National Park and the tallest hardwood trees in the world.
You will have plenty of time to enjoy the beautiful Tall Trees Walk, be amazed at the size of these giants! As your emerge from the forest canopy you will find the stunning Russell Falls, Tasmania's number one waterfall ! The path will then continue on to Horseshoe falls before finishing through the rainforest trees and ferns at the visitors information centre.
Native animals abound and more delightful short walks are on offer in Tasmania's oldest National Park, Mount Field.
Later in the afternoon we visit the famous Bonorong wildlife park for a guided tour and a chance to see those ferocious Tassie Devils you can also handfeed kangaroos, pat a wombat & Koala and check out the other unique Tassie Wildlife

*TOUR RETURNS TO YOUR ACCOMMODATION IN HOBART TONIGHT


DAY 3: PORT ARTHUR, RICHMOND & TASMAN PENINSULA
In the morning we visit the famous Richmond Colonial Village, you will have plenty of time (1 hour) to stroll around Australia's most historic town and its beautiful Georgian buildings including the oldest bridge in Australia.
Arriving at the Tasman Peninsula we check out the magnificent ocean & coastal views from Pirates Bay Lookout before heading to Eaglehawk Neck and a short walk on beautiful Egg Beach, learn about the famous convict DOGLINE!.
We then visit the fantastic natural attractions of Tasman Arch & Devils Kitchen before arriving at the famous Port Arthur Historic Site, Tasmania's number 1 visited destination.
We give you maximum time to explore Port Arthur, visit over 30 historic buildings, take a harbour cruise & walking tour to enhance the experience & check out the popular museum and theatre.

TOUR FINISHES IN HOBART

Loading..