5 DAY HORSE RIDE - 5 Day High Country Cattle Drive- Departs 2 Dec 2013
Select a tour date above to calculate pricing.
Prices are listed in Australian dollars and include GST.
Tour Details
Tour Operator:

Included in price:

We supply all equipment including helmets, boots, oilskin coats, saddle bag and digital camera.

Departure:

9:30 AM Thu


Departure points:

Mansfield

What to bring:

Riding: Strong heeled boots, gloves, pantyhose (to help prevent leg rubbing) Personal Requirements: Camera, Torch, Sunscreen, Insect repellant, Sun glasses, Toiletries, Book if you enjoy reading, as we do have time to relax Bedding: sleeping bag and pillow, we supply swags

Fitness level required:

Not specified

Additional Information:

Take this extraordinary trek accompanied by Michael Watson second generation and Charlie Lovick, a fifth generation high country cattleman and the Master of Horses for both "Man from Snowy River" movies.
Day 1: We drive from Melbourne through the Great Dividing Range's Mystic Mountains to a working cattle property nestled at the base of the high country. Here you begin your bush education on horseback and start the drive along the back roads of the low country finishing at "Seeforth Station" a high country outpost settled by the Lovick family in the 1870's.
Day 2: We drive the cattle alongside the majestic Howqua River along traditional bridal trails used by mountain cattlemen for 150 years, we criss-cross the river and canter along open river flats that makes for an exhilirating day in the saddle. We camp the night on 7 mile creek. Here we can enjoy a swim in its crystal clear waters and enjoy a traditional cattlemens roast with stories around the camp fire.
Day 3: We drive the cattle further up the majestic Howqua River then up to Refigerator Gap and under the spectacular face of the "Bluff" over into the next valley and onto the Jamieson River. We camp the night in the Upper Jamieson Hut.
Day 4: The cattle are on their final leg of their journey for the summer today and we ride the true Great Dividing Range. We ride up over Mt Clear, Dead Horse Spur, King Billy and then onto Lovicks Hut for the evening. This is the cream of the spectacular High Country Scenery.
Day 5: We start our journey home visiting the Bluff Hut for morning tea and then down the 16 mile track to the Howqua River all the way back to Seeforth Station.

Destinations:

Mansfield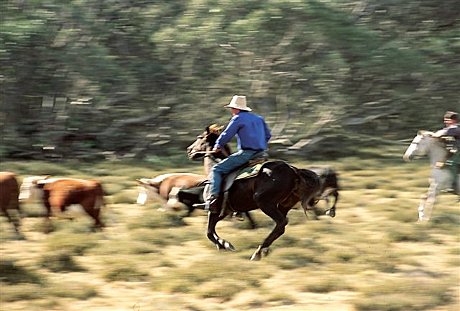 'Man from Snowy River' experience

• Ride with 5th generation mountain cattlemen
• Follow in the footsteps of the pioneers of the high country who inspired the movie the "Man from Snowy River"
• Enjoy stories around the camp fire
• Enjoy exclusive use of remote cattlemen huts
• Listen to the Master of Horses from the "Man from Snowy River"
• Annual cattle drive for this year is Monday 2nd December 2013 to Friday 6th December 2013
Loading..