THE EXPLORER - 3 Day Surf Tour
VIEW DATES AND PRICES
Tour Details
Tour Operator:

Included in price:

Transport, Surfboard, wetsuit, surf lessons/ coaching, lunch, breakfast, accommodation, visit to local sights, surf 'show bag'.

Available for purchase/hire:

Still shots of the day, T-Shirt, Rash Vest

Duration:

8am - 6pm each day.

Departure:

7:45 AM Daily


Departure points:

Melbourne and Torquay

Pickup/departure instructions:

07:45am - World Trade Ctr

What to bring:

Things to bring: Sunglasses, towel, bathers, overnight bag.

Fitness level required:

Not specified

Child policies:

Ages 9 years and over. Ages 9 - 17 must have waiver signed by parent/ guardian prior to tour. Please advise.

Destinations:

Great Ocean Road and Torquay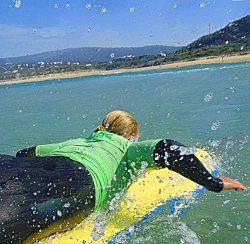 Learn to surf on one of the worlds most famous stretches of scenic coast – The Great Ocean Road. Our surf tours will have you hooked on chasing the ultimate ride!

You will be living the life of a surfer for 3 full days of surfing adventure. With transport available from Melbourne down to the Great Ocean Road, this hassle free experience will have you hooked on a life of chasing the ultimate ride! Specialising in small groups, you will be living and breathing surfing in Victoria's surfing capital of Torquay. You will be learning all about surfing waves in a friendly crowd free environment and will soon be reaching your full potential with instruction from your fully qualified, experienced surf coach.

The Explorer is for those that would like to really learn how to surf. Each day there will be a progressive surf lesson run by our fully qualified, experienced coaches. We have a number of top of the range learner and intermediate surfboards for you to practise your skills on and progress with throughout your time with us. You will also enjoy a variety of amazing crowd free beaches along the World famous Great Ocean Road. The Explorer departs daily.
οƒ˜ Courtesy Transport from Melbourne
οƒ˜ 4hrs of surf lessons per day
οƒ˜ Lunch
οƒ˜ Visit Bells Beach & Surf City
οƒ˜ See local Kangaroos
οƒ˜ Wetsuit & Board
οƒ˜ Accommodation
οƒ˜ Breakfast
οƒ˜ Variety of beaches
οƒ˜ Afternoon Refreshments
οƒ˜ Showbag
οƒ˜ Loyalty Card
Price:
οƒ˜ 2 Days $295
οƒ˜ 3 Days $445
οƒ˜ 4 Days $575
οƒ˜ 5 Days $679

Extras:
οƒ˜ Surf Tour USB Photo Packages from $25
οƒ˜ Body Surf Massage from $10
οƒ˜ Extra Nights accommodation $45

Great Ocean Road Surf Tours is a hassle free all inclusive learn to surf tour which operates from Melbourne down to the world famous Great Ocean Road every day of the week. Come and join us for 1 – 5 days of surfing and fun in and around Victoria's surfing capital of Torquay as you learn from our fully qualified, experienced staff. They will show you all you need to know about surfing as you journey down the Great Ocean Road in search of the perfect wave.
Breakfast is supplied in the morning and afterwards you will be heading to another quiet beach for your next day of surfing. Your lessons will follow on from the previous day and you will go through new techniques and ways to improve.

Mar

Apr

May

Jun

Jul

Aug

Sep

Oct

Nov

Dec

Jan

Feb
Call To Book
459
459
459
459
459
459
459
459
459
459
459
459
459
Select a tour date above to calculate pricing.
Prices are listed in Australian dollars and include GST.
Loading..