Dolphin Sanctuary Kayaking Tour PM
VIEW DATES AND PRICES
Tour Details
Tour Operator:

Duration:

3 hours

Departure:

1:00 PM Sat, Sun


Departure points:

Adelaide

Pickup/departure instructions:

Where to meet
We will meet you at the Garden Island boat ramp, at the end of Garden Island Road, Gillman, which is located about 30 minutes from Adelaide GPO and 10 minutes from Port Adelaide. From Adelaide CBD Continue on North Tce, Adelaide - proceed West at Railway Yards. Veer right onto Port Rd, Adelaide 11km. Continue along Commercial Rd, Port Adelaide at Bus Depot1km. Turn right onto St Vincent St, Port Adelaide 0.5km. Continue along St Vincent St E, Port Adelaide 0.4km. Turn left onto Perkins Dr, Port Adelaide 0.8km. Continue along Grand Trunkway, Port Adelaide 3.1km. Turn right onto Garden Island Rd, Port Adelaide 1.6km. Drive to the end of this road.


What to bring:

What to ware and bring:
Loose fitting clothes appropriate for the weather. (Jeans are not suitable for kayaking for safety reasons)
Water, approximately ½ litre per hour for hot days.
Old shoes that can get wet.
Sun hat with neck string.
Personal medication.
Sunscreen.
Change of clothes and towel.
Waterproof coat if forcast for light rain.
Elastic cord to tie glasses on.
Sun glasses.
Snacks for the day.

Fitness level required:

Low

Child policies:

sutiable for children 12 years and older

Additional Information:

Weather forecast

The weather may dictate our plans on the day and we may need to postpone the activity if: The weather forecast for the day, exceeds 35 degrees, days of rain periods, storms, or wind speed exceeding 18 knots for more than 50% of the time. On days like these we will try to contact you the night before. If we haven't contacted you and you are unsure about the weather conditions please call us.

Destinations:

Adelaide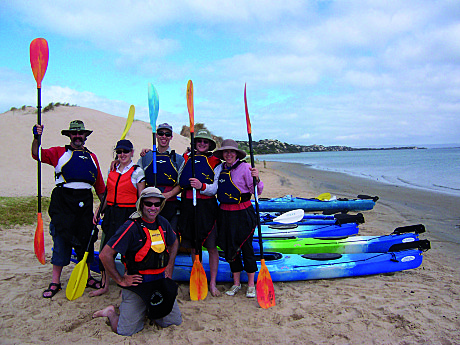 Explore Adelaide's own Dolphin Sanctuary and shipwreck heritage trail around Garden Island by sea kayak. On this kayak tour it is rare that we don't see the resident dolphins swimming and playing in the waters. At times they will even socialise with us making it a non forgettable experience when they do. We also paddle through wonderful mangrove lined creeks and see a wealth of bird life and sea creatures along with shipwrecks. There are over 25 wrecks scattered around this area. Some were grand sailing ships others were tugs or barges, each with its own unique history. We will get up close with one of the very first iron built ships ever made in the world - the Santiago. A grand full sail ship that was built in Glasgow in Scotland back in the 1840's. It had nearly a one hundred years of severs, which is absolutely remarkable for a ship.
This trip is ideal for families and people who just want to relax and soak up the heritage this area has to offer. The lush forest of Grey Mangroves provides a haven for extensive bird and sea life. Located only 25minutes from Adelaide CBD at Garden Island it makes it easy access for a day which is out of the ordinary. Oh don't be put of by the dull scenery on the drive there, this spot is an oasis just a stones throw from Port Adelaide.
Sep

Oct

Nov

Dec

Jan

Feb

Mar

Apr

May

Jun

Jul

Aug
-
-
-
-
-
-
-
-
-
69
-
-
-
-
Select a tour date above to calculate pricing.
Prices are listed in Australian dollars and include GST.
Loading..