Schools rockclimbing day
Select a tour date above to calculate pricing.
Prices are listed in Australian dollars and include GST.
Tour Details
Tour Operator:

Duration:

Full Day activity

Departure:

9:00 AM Mon, Tue, Wed, Thu, Fri


Return:

3pm (Approximately)

Departure points:

Adelaide

Pickup/departure instructions:

When and where? Usual times are 9.15am – 3.00pm. (we can modify these time to suite your travel needs). Located at Morialta National Park - see how to get there for meeting locations.

What to bring:

What to bring: * Loose fitting clothes appropriate for the weather. * Water, approximately ½ litre per hour for hot days. * Hair net or scrunches if you have long hair. * Lace up shoes, sandshoes are sufficient. * Lunch and snacks for the days. * Personal medication. * Sunscreen.

Fitness level required:

Low

Child policies:

Who can take part? Participants must have a reasonable level of fitness (ie should be able to walk briskly for 20 minutes without being out of breath). Minimum age is 12 years old. All instructor have met the requirements of our child safety policies which include a satisfactory police clearance report. We also are registered under the Catholic Education police check system.

Additional Information:

Industry approved 4 point helmets
Harness
Start of the art belaying devices


Ropes
Instructors
First Aid Kit
Emergency communication equipment
Risk Assessment
DNER access fees.

Set in the beautiful Adelaide hills.

Professional instructors and guides are with you the whole day giving you handy tips and tricks.

Small groups to ensure you are not waiting around for that climb.

Close to the city of Adelaide. We use Morialta conservation park which is 25 min east of the CBD


What about transport?

Transport can be provided for groups or individual at a small extra fee depending on collection location.

What about photos/videos?

Clients can bring their own camera/video cameras

Weather forecast
The weather may dictate our plans on the day. Our upper limit for this activity is 34 degrees. We may also postpone this trip if rain periods or storms are forecast.


Destinations:

Adelaide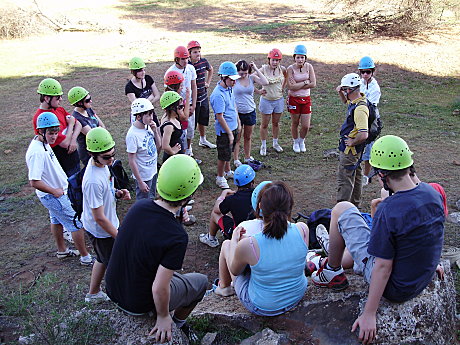 Rock climbing ideal for outdoor education, self esteem building, challenge by choice, or experiential learning.
This is a safe, educational and fun activity designed specifically for school groups.
Year level to get the best out of the activity: year level 8 plus.

Sold in groups of 10 for best value for money. When booking, one (1) unit is equilivent to 10 students. That is, when booking for 1, you can bring upto 10 students, when booking for 2, you can bring upto 20 students, and so on.

Rock climbing is the ultimate outdoor activity for those who just love personal challenges If you thinking that this is too hard for you then think again. Our instructors will set up climbs to meet each student personal challenge needs, that is, we will rig the ropes to ensure you are challenged at your own level. Rock climbing is not dependant on brut strength, but on strength within knowing that you can do it. With this comes the feeling of success attained when you reach the top of a cliff that requires all of your skill and determination to climb is tremendously satisfying!

Rock climbing is very safe. It is the exposure that makes climbing so exhilarating and gets the adrenalin pumping. Sheer height plays on the perceived danger in the corner of your mind, rather than presenting actual danger. Once you have conjured up the courage to descend, an overwhelming sense of achievement will kick in. You will want to do it over and over again. This is where the rock climbing skills come in handy! Your day on real rock is fully guided. You will receive continual encouragement and instruction on rock safety, basic knots, rock sports equipment and techniques. Let fully qualified and accredited guides hang you off cliffs and get you climbing rock faces you never dreamed you could!

For your ultimate safety we use the latest technology in automatic locking belaying devices with built in anti panic feature. The only company in SA who uses such devices!! Sure they cost us load but we believe safety is paramount.
ty.
Loading..