World Heritage 4WD Rainforest Day Tour (Gold Coast Hinterland)
Select a tour date above to calculate pricing.
Prices are listed in Australian dollars and include GST.
Tour Details
Optional Extras
Tour Details
Tour Operator:

Duration:

Brisbane Departures: 7am - 6pm Gold Coast Departures: 8am - 5pm

Departure:

No Specific Times Daily


Return:

Brisbane: 6pm

Gold Coast: 5pm (Approximately)

Departure points:

Brisbane, Gold Coast Hinterland, Gold Coast and Mt Tamborine

Pickup/departure instructions:

FREE Pick-up Locations Brisbane - Traders Hotel - Brisbane, 159 Roma St Brisbane 6am (Please wait near side entrance down driveway) Gold Coast - Outrigger Hotel - Surfers Paradise 22 View St Surfers Paradise 7am (Please wait in Front of main entrance) PERSONAL HOTEL PICK-UP - $10 Brisbane and Gold Coast Cost is $10 per person for pick-up service from your Hotel. Customers must be contactable day before departure to arrange time of pick-up. Not all Hotels available for pick-up.

What to bring:

Please bring along good walking shoes, cameras, sunscreen, hat and chid booster seats and baby seats where aplicable.

Fitness level required:

Not specified

Child policies:

Children prices are available to those who are under 14 years of age. Children 14 to 18 years are eligible for Backpacker / Student Discount.

Destinations:

Brisbane, Gold Coast Hinterland, Gold Coast, Lamington National Park, Mt Tamborine, Main Beach, Surfers Paradise, Burleigh Heads, Mount Warning National Park and Broadbeach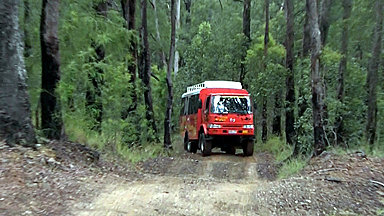 WORLD HERITAGE 4WD RAINFOREST DAY-TOUR

The Sunset Safaris WORLD HERITAGE LISTED 4WD Tour takes an amazing look into the ancient, and very special "Gondwana Rainforests of Australia World Heritage Area." This truly spectacular tour takes you to what many regard as the two most beautiful rainforest areas in Australia.

Experience the awesome Rainforest Treetop Boardwalk and amazing Wildlife of Lamington National Park. See the majestic Natural Arch of Springbrook National Park, with its ancient boulder strewn stream and Glow Worm Cave. Wildlife abounds in the mountains and along the plains, as the Sunset Safaris 4WD buses take you to see the REAL AUSTRALIA, spotting Wild Kangaroos, Wallabies, Platypus and Koalas.
This tour has been carefully designed without compromise, to showcase the very best of the Gondwana Rainforest and the REAL AUSTRALIA.


See the REAL AUSTRALIA by 4WD

All tours into the Gondwana Rainforest Area spend some time in transit, so it is important to be able to enjoy all the wonderful scenery on offer in comfort. Our 4WD Coaches give you the very best in coach comfort, with large scenic windows for your ultimate viewing pleasure, while our 4WD Landcruisers (for small groups) are renowned for their legendary comfort with all forward facing seats. With Sunset Safaris, you will experience REAL 4WD ACTION, and see the REAL AUSTRALIA, as we take you to places "off the map" to see wildlife, magnificent Rainforests and wilderness areas other coach companies cannot. We are the Pioneers of affordable High Quality 4WD Tourism in the Gondwana Rainforest Area.



· See the World Heritage Listed Oreilly's (Lamington National Park) with incredible Mountain Vistas
· Walk the Rainforest Tree Top Board Walk and Booyong Walk
· Get close and personal with the friendly Wildlife, including Rainbow Lorikeets, King Parrots, Regent Bowerbirds and Paddymelons (miniature Wallabies).
· Learn about the Gondwana Rainforest and see ancient Rainforest Trees
· 4WD through Mountain Rainforest and Open Eucalypt Forest to awesome 4WD only Lookouts
· 4WD in comfort down the exhilarating Duck Creek Rd in our tough 4WD buses *
· 4WD across the open plains and typical Australian countryside looking for wild mobs of Kangaroos*
· Stop for a picnic lunch at a beautiful mountain stream and go for a swim, or look for wild Platypus
· Be AWESTRUCK at the incredible views of the Beechmont Plateau, with views that go forever
· Explore the World Heritage Listed Numinbah Valley, with heart melting picture perfect scenery
· Enjoy the Breath taking majesty of the Natural Arch, a hidden magical world with it's Ancient Rainforest and waterfall. Explore its amazing Glow Worm Cave.


O'REILLY'S

Situated 3000 feet above sea level, O'Reilly's / Lamington National Park is saturated in beautiful sub-tropical rainforest, providing food and shelter for a huge array animals. The magnificent Giant Fig trees and twisting rainforest vines are complimented by the moss and rainforest fungus clinging to the trees and forest floor.
Here you will experience the breath taking 180 meter long "tree top boardwalk," situated high in the Rainforest canopy amongst the birds and flowering trees, with an observation deck 110 feet above the ground. This very stable boardwalk is suitable for all ages, even those who are afraid of heights.
You will also experience the majestic Wild Rainbow Lorikeets and King Parrots, who come flooding out of the Rainforest wanting to feed right out of your hand.



Natural Arch

The Natural Arch, also known as the Natural Bridge, is a true miracle of Nature. This splendid moss and fern covered archway hides a magnificent waterfall, plunging down from the rocks above into a dark glowworm cave below. Nestled in pristine Sub-Tropical Rainforest, the Natural Arch is home to many rare and threatened plants and animals. It is also home of the very rare Marsupial Frog, who carries it's young in a pouch just like a Kangaroo.

The Natural Arch is a place forgotten by time, with giant Rainforest trees towering out of cave creek, and twisted vines, moss and ferns dangling from the canopy above. The Natural Arch has attracted film crews from all over the world to film this spectacular scenery, including the Steven Spielberg Dinosaur Epic, TERRA NOVA to be released in 2012.



WILDLIFE
The 4WD World Heritage tour is ALIVE with WILDLIFE like no other tour. Get up close and personal with Rainbow Lorikeets, King Parrots, Regent Bower Birds, Bush Turkeys, and a myriad of other beautiful birds at O'Reilly's. Observe the cutest Kangaroo in the world, the tiny Paddymellon. See Koalas Wallabies and Kangaroos in their natural setting, as we 4WD cross-country. You will also have the chance to see the very rare Platypus in the wild as we picnic at a beautiful mountain stream.




PICNIC (BYO or Prepay)

Sunset Safaris offers you the choice to purchase lunch from Sunset Safaris upon booking your tour, or bring your own picnic lunch in a tightly sealed container or plastic bag. We provide coolers to keep your food fresh, however we do emphasise that spillables (eg: soups, broth, stews) are not permitted on tour unless they are kept in a special thermos container. Sunset Safaris provides drinking water for all on board.

Those who choose to purchase lunch upon booking have a choice of vegetarian, ham, or chicken Salad Rolls. Included with your lunch is a cake or muffin of the day, and a drink. (Cost - $15 paid to the Driver upon departure).

*Please note that there are NO shops available to purchase food while on tour.


PRICES
Adults - $99
Student / Backpackers - $94
*Children (under 14) - $69
Family - 2 Adults & 2 Children $318


FREE Pick-up Locations

Brisbane - Holiday Inn Brisbane
Roma St Brisbane 7am
(side entrance down driveway)

Gold Coast - Holiday Inn Gold Coast
View St Surfers Paradise 8am
(In Front of Holiday Inn)

PERSONAL HOTEL PICK-UP - $10
Brisbane and Gold Coast Cost is $10 per person for pick-up service from your Hotel.
Customers must be contactable day before departure to arrange time of pick-up. Not all Hotels available for pick-up.




Disclaimer

While Sunset Safaris endeavour to always showcase the Australian Wildlife on tour, these animals may not always be seen, as they are animals in the wild. Sunset Safaris takes no responsibility for the non-appearance of wildlife, or any injury that may occur due to wildlife while on tour.
Sunset Safaris makes every effort to include ALL activities and destinations listed. However due to weather conditions and the extreme nature of the rainforests and slippery 4WD road surfaces, some activities are subject weather and road conditions, and Sunset Safaris can not be held liable due to the non-availability of these activities.


See More, Do More, Enjoy More! - Sunset Safaris.


Sunset Safaris CANCELATIONS
All tours are subject to full cancellation by Sunset Safaris in the event of sever weather and road conditions, or lack of minimum numbers for people on tour. While cancellations are extremely rare, Sunset Safaris can not be held liable for cancellations in such circumstances, and Sunset Safaris Staff will advise customers no later than the day before departure of cancellations unless sever wether intervenes. In such cases, full refunds or postponement of tour dates are offered to customers to choose from.

CUSTOMER CANCELATIONS
Cancellations with less than 24 Hours notice incurs a 100% cancellation fee.
Cancellations with less than 72 hours, but not less than 24 hours, incurs a 50% cancellation fee.
Cancellations with less than 7 days notice, but not less than 72 hours notice incurs a $25% cancellation fee.
Cancellations not less than 7 Days notice will incur a 5% cancellation fee (administrative processing).


Loading..