Cairns Digital - four days underwater camera rental - FREE memory upgrade
Select a tour date above to calculate pricing.
Prices are listed in Australian dollars and include GST.
Tour Details
Optional Extras
Tour Details
Tour Operator:

Duration:

Four days

Departure:

No Specific Times Daily


Return:

Camera should be returned to your hotel reception by 6:30pm unless otherwise arranged. (Approximately)

Departure points:

Cairns

Pickup/departure instructions:

Book in advance to arrange free delivery to your Cairns hotel or hostel at a time that suits you.

Fitness level required:

Not specified

Destinations:

Cairns and Great Barrier Reef
Optional Extras
Professional upgrade


Upgrade to latest release Canon Powershot G1X
Adults: $20.00 | Pensioners: –

8.0GB USB stick


Receive your photos and videos on a 8.0GB USB stick instead of a DVD
Adults: $10.00 | Pensioners: –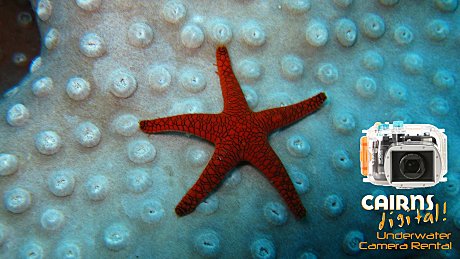 Rent a top quality 14.7 Megapixel digital underwater camera for your visit to the Great Barrier Reef. Price includes free delivery to your Cairns accommodation, free instruction and demonstration, and a free DVD of all your photos and videos.

Don't pay too much for an inferior camera! Don't waste your money on a disposable camera and end up with just a handful of blurry photos on paper! These are top quality Canon cameras, capable of taking terrific photographs in a range of conditions, and video with sound. Standard 4.0GB memory card allows for over 600 photos, but for rentals of three days or more receive a free memory upgrade to 8.0GB!

Valid credit card details must be provided upon delivery, for security over the rental equipment.


Loading..