Top Things to Do in Cairns
Cairns is a must at this tropical destination, and we have plenty of Cairns tours so you can enjoy this tropical paradise. With easy connections for both domestic and international travellers and unsurpassed natural beauty, add in fine dining and a laid back tropical lifestyle and it is easy to see why tourist are including it on their Australian holiday.
For visitors short on time the Great Barrier Reef and World Heritage Rainforest can both be visited on the same day, although those with more time should immerse themselves in the area. Port Douglas, Daintree, Cape Tribulation, Mossman Gorge and Kuranda are all easily accessible on day trips.
If it is adventure you are seeking then Tropical North Queensland has you covered with skydiving, bungy jumping, parasailing, rafting and now sea-bobbing and fly -boarding.
Young or old Cairns has your holiday needs covered.
Return to Top
The Great Barrier Reef, its tropical islands, coral cays and abundant marine life are just a short boat ride from Cairns and there are so many options you will want to spend more than one day at the reef. For a truly amazing experience nothing beats an outer reef day trip from either Cairns or Port Douglas, you can take a ride on one of the smaller boats or for more facilities head out on one of the larger boats and spend the day on a reef pontoon. When you get there you can take an introductory dive or snorkel, and to see the reef without getting your feet wet try the glass bottom boat.
For the ultimate dive experience take a multi day cruise. You will get to dive at a variety of locations and at different times of the day so you can see the reef in all its splendor.
If your sea legs aren't as good, or you just want to laze on a tropical island then maybe a trip to Green, Low, Fitzroy or Frankland Islands will be more your style. The reef is still spectacular, the coral sands are amazing and you can even find a secluded spot on the island to call your own. The kids can spend their day finding Nemo or playing on the beach while you watch from under a shady palm tree, it doesn't get more idyllic.
For a very different perspective on the reef take a helicopter ride while you are there, or if you are short of time, skip the boat and fly to the reef.
If you want to find out more we have articles on The Great Barrier Reef, Fitzroy Island and how to choose between an Island, Boat or Pontoon Based reef trip.
Return to Top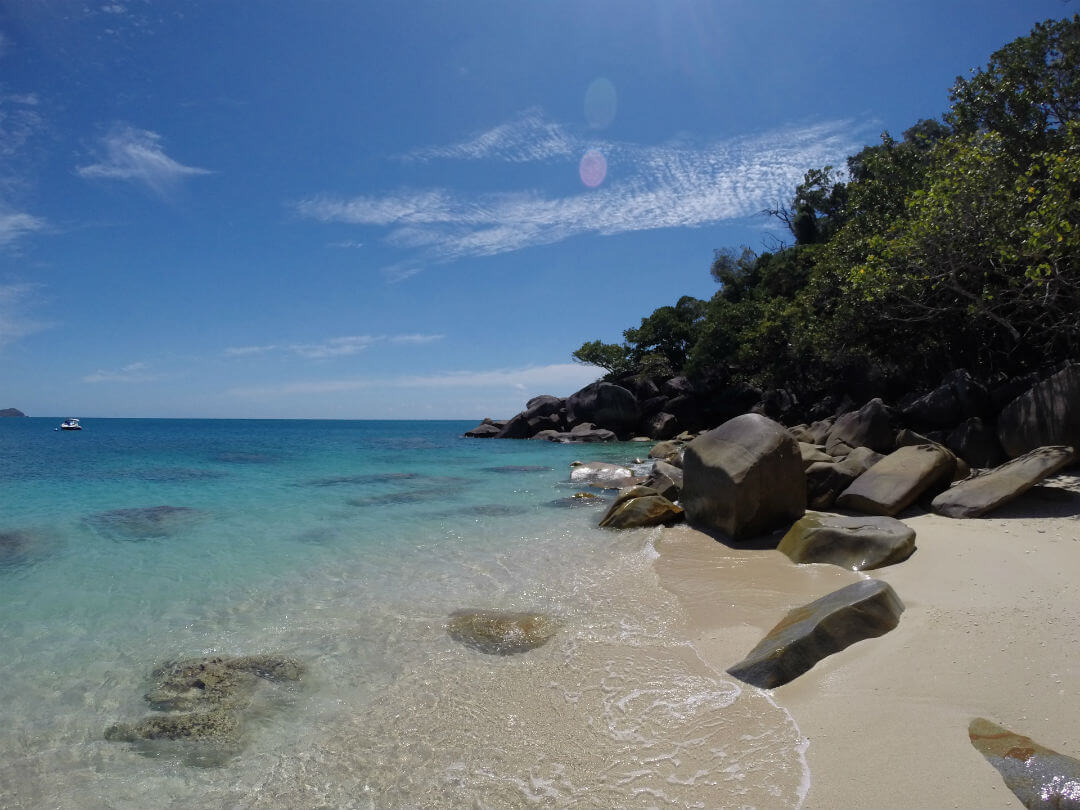 Skyrail and Kuranda Train
If you want to experience the Wet Tropics World Heritage listed rainforest then the Kuranda Scenic Railway and Skyrail make the perfect combination. The railway was build to supply miners on the Atherton Tablelands and was completed in 1891, comprising of 15 tunnels and more than a dozen bridges all built by hand. The rail line is now a major tourist attraction providing a unique perspective on Cairns and the surrounding rainforest.  The rail line curves around  Stoney Creek Falls and Glacier Rock and stops at the magnificent Barron Falls before arriving in the quaint village of Kuranda.
The Skyrail Rainforest Cableway glides you just above the canopy allowing you to look down through this ecosystem. Stopping at two intermediate stations, Red Peak and Barron Falls gives you the opportunity to view the area at your own pace. There are rangers on hand to answer your questions and guided walks available.
Both trips can be done as return journeys, although it is recommended to travel one way on each.
If you want more information on this popular activity then read our tour review here, or our booking guide here.
Return to Top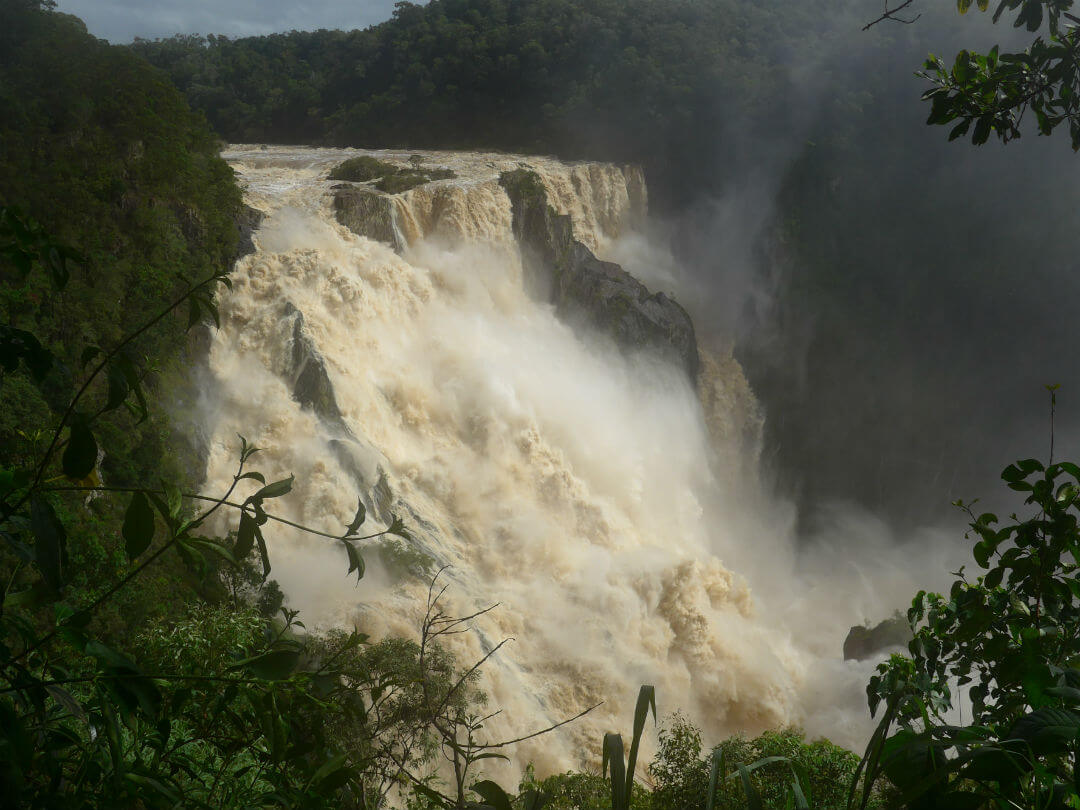 Daintree and Cape Tribulation
The Daintree Rainforest is the largest continuous rainforest area in Australia at over 1,200 square kilometers. The significance of this area has been recognised with the listing of the Wet Tropics World Heritage Area and a plan by the government to buy back tracts of privately owned land. The natural beauty of the area will surprise you and in places the rainforest grows right down to the beach. It is truly an area that needs preservation. There is an abundance of wildlife including the elusive cassowary, a large flightless bird that despite it size can easily vanish before you get a chance to take out your camera. A Daintree River cruise is an ideal way to see both the flora and fauna and to go crocodile spotting, winter is the best time for this as the crocs come up onto the banks of the river to sun themselves.
Cape Tribulation is accessible by a sealed road after crossing on the Daintree River ferry. This restricted ferry access has limited development in this area and adds a unique touch to visiting Cape Trib. A unique feature of this area is it is the only place in the world where two world heritage areas, the Wet Tropics and the Great Barrier Reef, are side by side. The traditional owners, the Eastern Kuku Yalanji people, understood this area, its seasonality and food sources and lived successfully in the area. The area was name by Captain Cook as the point where all his troubles began, but now it is a place where you can leave all your troubles behind and relax as one with nature.
Return to Top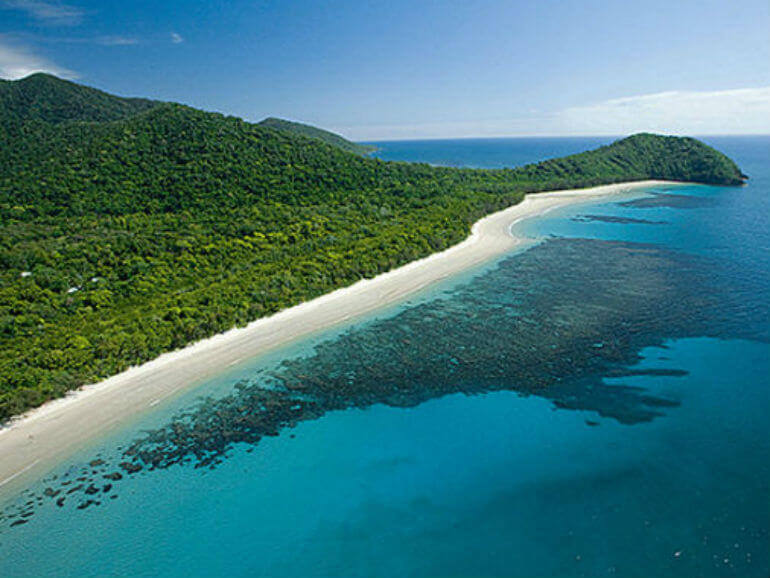 See where the Reef meets the Rainforest