Captains Club Dinner Cruise
Select a tour date above to calculate pricing.
Prices are listed in Australian dollars and include GST.
Tour Details
Optional Extras
Tour Details
Tour Operator:

Included in price:

Quality three-course Contemporary Australian a la carte dining. Pensioners are Student Card Holders and Australian Senior Card holders.

Available for purchase/hire:

Guaranteed Window surcharge: Bookings required. Guarantee window seating for the sights of Sydney Harbour. (Per person surcharge is incurred by all occupants of the table)

Departure:

7:00 PM Daily
7:30 PM Daily


Return:

No. 6 Jetty, Circular Quay - Low Season (Apr-Oct) Cruise returns Sun-Fri 9.30pm & Sat 10.30pm. High Season (Nov-Mar) Cruise returns Sun-Thu 9.30pm & Fri-Sat 10.30pm.

No. 1 King St Wharf, Darling Harbour - Low Season (Apr-Oct) Cruise returns Sun-Fri 10pm & Sat 10pm & 11pm. High Season (Nov-Mar) Cruise returns Sun-Thu 10pm & Fri & Sat 10pm & 11pm. (Approximately)

Departure points:

Sydney

Pickup/departure instructions:

Departs No. 6 Jetty, Circular Quay 7.00pm daily & No. 1 King St Wharf, corner of Erskine & Lime Sts Sydney, 7.30pm daily.

What to bring:

Smart casual dress is required (no thongs or shorts).

Fitness level required:

Low

Child policies:

Children are 5-14 years inclusive, proof of age may be required. Children under 5 travel free, no meal provided.

Additional Information:

SAMPLE MENU (subject to change)

Entree
All Entrees are available as Main Course

Aromatic wonton dashi broth, shitake mushrooms, silk tofu, coriander & sprout
Sydney Rock oysters with Yarra Valley salmon roe, cucumber chardonnay vinegar, chives
Fragrant herb salad of shaved prime beef, noodles, peanuts, lime, drizzled with Nam Jim Dressing
Pumpkin Gnocchi with spinach, sun dried tomatoes, shaved pecorino & tomato essence

Main Course

Wild salmon with peppery greens, crisp sage gremolata smashed new potatoes & saffron beurre blanc
Free range chicken, sweet mash potatoes, ribbon zucchini truss tomatoes white wine thyme jus
Confit of duck with Flemish style red cabbage, dried fruits and cranberry jam juniper berry reduction
Seared beef tenderloin served with silk mash potatoes wilted spinach & porcini mushroom jus
Char grilled vegetable stack, balsamic reduction and baby herb salad, steamed asparagus

Dessert

Flourless orange and chocolate cake chocolate chilli & Kahlua sauce
Smashed Cointreau strawberries & light cream martini with almond biscotti
Lemon lime tart, double cream, almond biscotti berry coulis
Premium Vintage cheddar matured 18th months, fresh date, dried fig & pear jam

Seasonal menu only – subject to change


Destinations:

Sydney, Darling Harbour, Double Bay and Sydney Harbour
Optional Extras
Window Table Surcharge (charged for each person on table)


Guaranteed Window Table Surcharge (per person)
Adults: $25.00 | Children: $25.00 | Pensioners: $25.00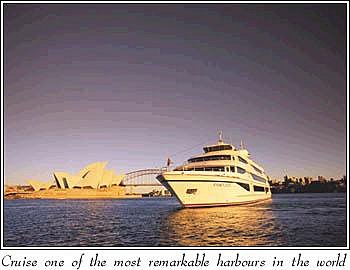 Sydney's premium dining experience. Dance the night away to popular tunes from the Sydney 2000 Band and star gaze from our 360 degree open Star Deck as the million lights of Sydney city twinkle in the background. An evening to remember, with upper deck seating and superb dining.
Loading..