Chauffeured Shopping Experience for 2+ persons, $770
Select a tour date above to calculate pricing.
Prices are listed in Australian dollars and include GST.
Tour Details
Tour Operator:

Included in price:

› Tailored itinerary: style, age and size › Private chauffeur: CBD transfers › Personal stylist as local guide: offering complimentary colour & style consultation › VIP discounts: up to 10% › Champagne › Gift bag packed with beauty goodies, discount vouchers and lots more › Gift bag: fashion items › Delicious handmade chocolates › Guided commentary: local history, designers and fashion scene.

Available for purchase/hire:

This is a stylish shopping experience with an opportunity to purchase clothes, shoes, jewellery.

Duration:

3 hours

Departure:

12:30 PM Tue, Wed, Thu, Fri, Sat, Sun
10:15 AM Tue, Wed, Thu, Fri, Sat, Sun
2:00 PM Tue, Wed, Thu, Fri, Sat, Sun


Departure points:

Sydney

Pickup/departure instructions:

Luxury chauffeured vehicle and return city hotel transfers. Please add your accommodation on the booking page.

Fitness level required:

Not specified

Child policies:

We do not recommend bringing children on this tour.

Additional Information:

The price listed is the per person price for 2-6 people. If you would like to book for one person please return the the main Chic In The City page and choose the single person option.

Destinations:

Sydney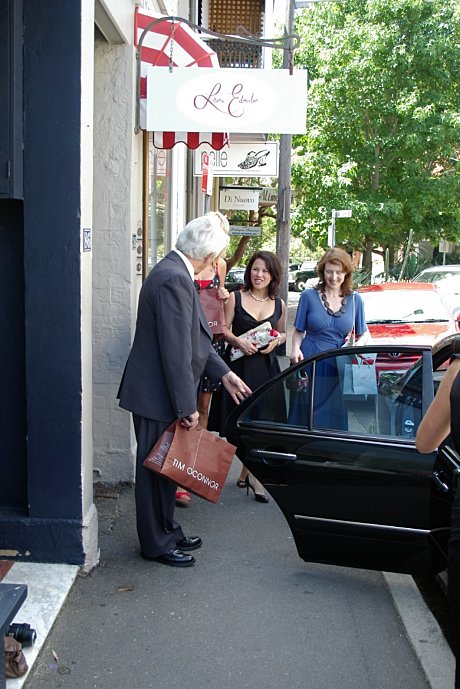 Sydney is fast becoming the shopping hub of the fashion savvy, but with so many boutiques where do you start? Let us help you navigate your way around the streets of Sydney's fashion jungle and shop in celebrity style. We'll open your eyes to high end and specialist Australian boutiques, tucked away in the Sydney's most fashionable precincts.

The Chauffeured Shopping Experience includes an exclusive four-hour personally tailored tour complete with your own driver, a stop for champagne, store discounts of 10% and a personal stylist.

Your stylist will give you colour and styling tips along the way, as well as introduce you to fabulous boutiques perfect for your shape and style.

From fashion celebrity hotspots, exclusive discounts and champagne receptions, the Chauffeured Shopping Experience is designed to give the most jaded fashionista palpitations!



Loading..