If there's one type of activity that there's no shortage of in Australia, it's those designed to thrill you! If you are the type who thinks that a brush with death is a leisure activity and that having your heart in your throat feels good, then you just have to try each of these top ten adrenaline rushes:
Shark Cage Diving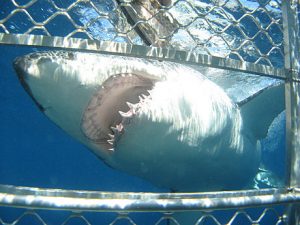 Oh yeah! – not only can you immerse yourself into the well-guarded world of the world's most vicious killer in a cage, but you can do so in an eco-friendly manner that means both you and the king of the ocean will stay safe and sound. Neptune Island's Shark Bay – which is located around 70 kms from Port Lincoln, South Australia – is as exciting and as deadly as it sounds; however, it's also a gorgeous location, full of a variety of less 'toothy' wildlife, such as dolphins and sea birds. While a hungry Great White Shark or two slowly circles around you, you'll be safe and sound in either a hardened steel cage or the world's first 'Aqua Sub' underwater glass viewing tank. The Great Whites are attracted using audio sound vibrations, rather than burley. This audio vibration attractant is beneficial in two ways; one, it is environmentally friendly, and two; it attracts the sharks immediately from all directions, rather than just those down current (as happens with burley). The sharks have great taste in music too, preferring AC/DC's rockin' tunes over anything else! There aren't many places in the world where you can swim with these amazing fish, so this is definitely considered a must-do on any thrill seeker's bucket list.
Swimming with Whale Sharks
If swimming with a Great White isn't exciting enough for you, then maybe swimming with their gargantuan cousins is more your thing. The rare and amazing Whale Shark is the world's largest fish. These majestic sharks are also ancient, with those in the know claiming they originated around 60 million years ago. Despite these impressive facts, the Whale Shark is also one of the most placid sharks on the planet, feeding primarily on macroalgae, krill and plankton along the bottom of the ocean. This fact certainly does not detract from the Whale Sharks overall allure though and there's never a shortage of people hoping to swim with these giants of the deep. Western Australia's Ningaloo Marine Park happens to be a favourite location of Whale Sharks between the end of March to early August. In fact, the sharks – who come to take advantage of the seasonal coral-spawning event in the area – can be found in numbers exceeding 300 to 500, making this area one of the world's most reliable locations for Whale Shark spotting. During this time, you can snorkel with the sharks, who are often found swimming slowly near the water's surface. Truly a life changing experience that you'll never forget!
White Water Rafting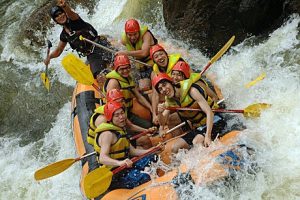 Rafting on the Tully When people think of rafting down a river, they generally think of it as a calm, pleasant experience. White water rafting is the complete opposite of calm though! This high-adrenaline thrill seeking activity will see you jumping in a rubber raft with a friendly bunch of fellow fun fanatics, before you all push off and rush down a raging river. Along the way, you'll pass through crazy rapids that will bounce you around like a ragdoll in a washing machine… it might sound more painful than fun, but it truly is a thrilling ride! Cairns' Tully River is infamous locally for its perfect white water rafting conditions. The Tully has over 27 rapids along the designated white water rafting route and is the longest rafting trip available in Australia. The river is full of exhilarating rapids and is graded at level 3 to 4, meaning it's designed for those looking for a challenging adventure. With intimate groups of no more than seven people per raft (along with one highly experienced river guide), you'll not only experience the trials of the river, but you'll also be able to try body surfing, rapid swimming, rock jumping and raft surfing! All of this, surrounded by spectacular rainforest in a gorgeous climate.
Bungy Jumping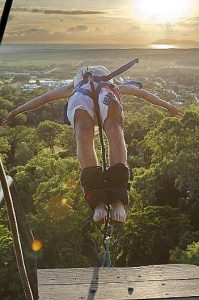 Bungy Jumping For the last 20 years, the daredevils of the world have been hurling themselves off bridges, towers and out of aircraft, connected to safety only by a veritable giant rubber band! Bungy jumping – along with sky diving – has become one of the two primary thrill seeking activities that are considered essential for those hoping to push the boundaries of personal triumph and join the ranks of modern day Evel Knievels. In Australia, more and more bungy sites have been popping up, with the Cairns site being particularly popular and frankly, there isn't anywhere better in the world to face fear head on. While you're trembling with fear atop the jump platform, you'll have gorgeous views of the surrounding tropical rainforest, the mountains in the distance and the calm lake below. When you do build up the courage needed to jump, you'll have a choice of 16 jump styles – with or without a water dunk. Afterwards, you'll be buzzing for hours from the thrill of it all, and honestly, who wouldn't like to add a bungy jump to their list of bragging rights?
Skydive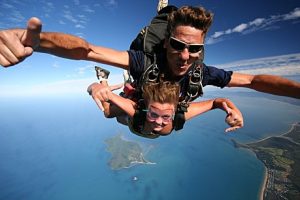 14,000 Ft Skydive When you consider all of the varying forms of (legal) adrenaline rushes, skydiving has to be THE ultimate knuckle-whitening activity known to man. There are a few places you can skydive around this Great Southern Land, but one of the highest drops is in beautiful Sydney – North Wollongong Beach, to be exact! Before your jump, you'll be thoroughly briefed on all the steps you'll need to take in order to experience a safe, successful jump. After admiring the gorgeous scenic views on your ride up to 14,000 ft., you and your tandem master will make your way to the edge of your drop platform and this is where you'll need the most courage… Standing at the precipice, you'll step forward and into empty space, before freefalling at up to 200 kms per hour for around 60 seconds! Your tandem master will pull the cord, then you'll be able to experience the sense of bliss that keeps so many skydivers coming back for more. There's truly nothing that compares to the feeling of skydiving – first the adrenaline coursing through your veins at such a high level; then, the quiet, calm nirvana you'll experience as you float gently back down to earth. This is an absolute must-do!
Australian Travel Guides
Want to know more about Australia, including top tours, latest specials, travel information and plenty more things to do then read our extensive Things to Do Travel Guides.
Cage of Death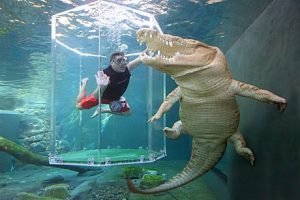 This is only for the really brave or the really mad, not sure which! If you find yourself in Darwin why not experience the "Cage of Death"! Face off with some of the largest Saltwater Crocodiles in  captivity, one of the world's deadliest predators, and live to tell the tale! Can you imagine how fast your heart will race when you are lowered into the water for Australia's only crocodile dive! Fifteen minutes of terror!
ATV and Minjin Swing Combo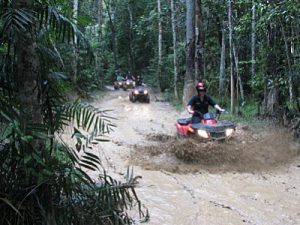 Ride 300cc fully automatic ATV'S (smaller sizes are available) through spectacular rainforests, along bush trails and over creek beds. There are amazing lookouts, stop, take a look at the view, then on your bike again!
Safety and training gear are provided along with a lesson on a test track. After you have 2 hours of fun on your ATV then it is time to have some fun on the Jungle Swing.
Time for speed, you can reach a speed of 120km/h, bring it on I say!  Stories to tell over a drink at the end of this day!
Bridge Climb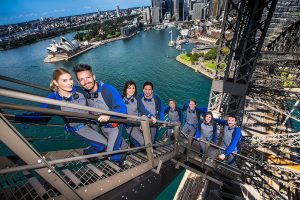 Get your heart racing as you climb one of the iconic bridges in the world! Whether you choose morning, afternoon, weekday or weekend, you experience will be amazing.  Sydney does look different from above, why not see for yourself! This tour is great for locals and international travelers alike!
You can take the express climb, 2 hours 15 minutes or the guided journey taking 3.5 hours. On this climb you will walk along the outer arch, along ladders and catwalks, an adventure I say!
Wildlife Dome & 4 Zoom Activities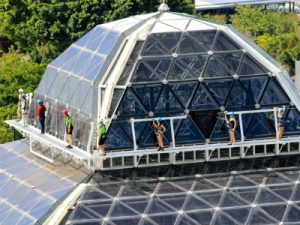 Cairns ZOOM & Wildlife Dome is the world's first Challenge Ropes Course in a wildlife exhibit. Located in the heart of the Cairns CBD on top of the Casino, it is an all-weather experience offering a range of activities for all ages.
Experience adventure on the Mid-ZOOM or Hi-ZOOM courses, consisting of 65 elements including crossings, tunnels, a climbing wall, and three ziplines at various heights and lengths, including one directly over Goliath, our 4 metre saltwater crocodile.
For the thrill-seekers, PowerJump is an exhilarating free-fall adventure with a 13 metre drop. After a rapid descent, a fan provides a safe, gentle landing at the bottom.
The Man from Snowy River
This is a brilliant adventure, 5 days riding through the high country in Australia. Being astride a great animal whilst looking into the distant at the  amazing scenery will having you asking "Does it get any better than this?". The answer is no!
Riding across the plains, surrounded by mountains, getting a feel for how the cattlemen live, now this will make you feel alive! At the end of the  day after riding over cliff faces, across flowing streams, galloping across the plains (keep your head down otherwise it may come into contact with a branch) there is nothing better than the taste of your first well deserved beer. This is not the end of the day, but a change of pace as you sit around the campfire chatting about the day's ride, you will wish the adventure is twice as long!