40% of Tasmania is National Parks and Heritage Listed Wilderness and with the purest air on the planet it is understandable why the natural landscape and walks are some of the most popular
tours
.
Most travellers head to Hobart and use this beautiful city as their base for day trips to Port Arthur, Wineglass Bay in Freycinet National Park, the Bay of Fires and Bruny Island. The art lovers also leave time to visit the world renowned MONA (Museum of New and Old Art), and for markets then don't miss Salamanca Markets on Saturdays. Cradle Mountain is very popular with hikers and can be visited in a day from Launceston or as part of a multi day tours from Hobart. Wherever you travel in Tasmania, their amazing food and wine is an important part of the islands charm. Don't leave without trying the beautiful seafood, wonderful meat and all the fruit and vegetables you can imagine. The next hardest decision you will have to make is, which of the truly first class wines to accompany them!
Hobart offers a variety of tours & activities, culture and heritage. It is a wonderful city to walk around and the architecture reflects it earliest days. Wherever you go Mt Wellington will be keeping on eye on you, it offers a great backdrop. Salamanca Place is one of Hobart's favourite places to hangout, great restaurants, galleries and pubs. It is a row of wonderfully restored Georgian Style Warehouses. Many great finds are just waiting for you! This is the location for the Saturday morning markets, so if you are in Hobart on a Saturday then you must visit the markets. Hobart sits on the sea and there is a lot happening around Constitution Dock and also Victoria Dock.
The new number 1 attraction is MONA, Museum of Old & New Art just a short boat trip away. You cruise to the gallery which adds to the experience. It is an amazing gallery, unique and way too hard to explain but be sure to visit it. The grounds are really nice and they have a great restaurant as well. MONA is a destination in itself.
Time to go just a little further afield and visit Bonorong Wildlife Sanctuary. You will learn all about the Tassie Devils, their threats and what is being done to protect them.  You will also see koalas and wombats and learn how they are related, who would have thought this possible!
Another great area to visit is Mt Field National Park where you find the beautiful Russell Falls and it is the home of the Tall Trees ( Swamp Gums 80 metres tall). Nearby is the summit of Mt Wellington where the views over Hobart are spectacular, and if you are up for it the Mountain Bike ride down breath taking.
There is still a lot more to Hobart so be sure to leave enough time to see it all.
Return to Top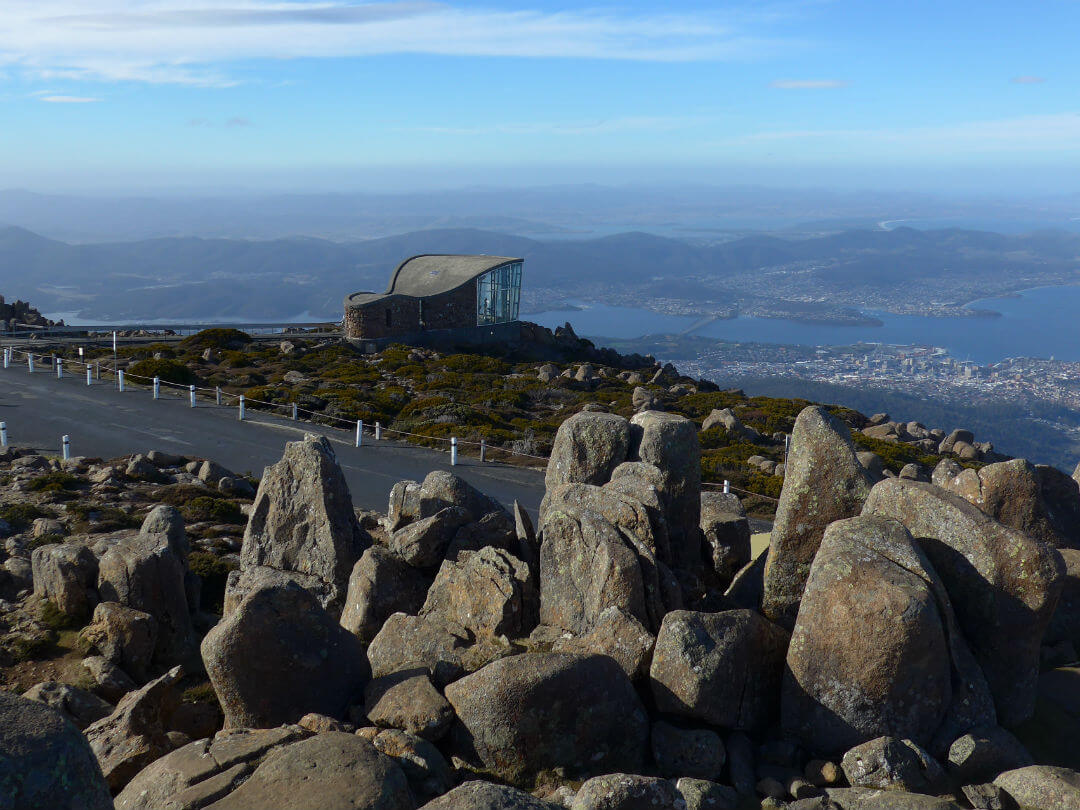 Port Arthur is a 90 minute drive from Hobart, with most tours stopping off at historic Richmond on the way.  The convict era was from 1830 to 1877, a dark period in Australia's history.  Port Arthur went on to have many other lives. You will get to learn all this when you take a tour. There are over 30 buildings, ruins, and restored period homes set in 40 hectares of grounds. The size and beauty of the grounds and gardens surprise people, myself included. When the history becomes a little overwhelming for you then it is time to wander the gardens and choose a good tree to rest under. Port Arthur became World Heritage Listed in 2010.
Return to Top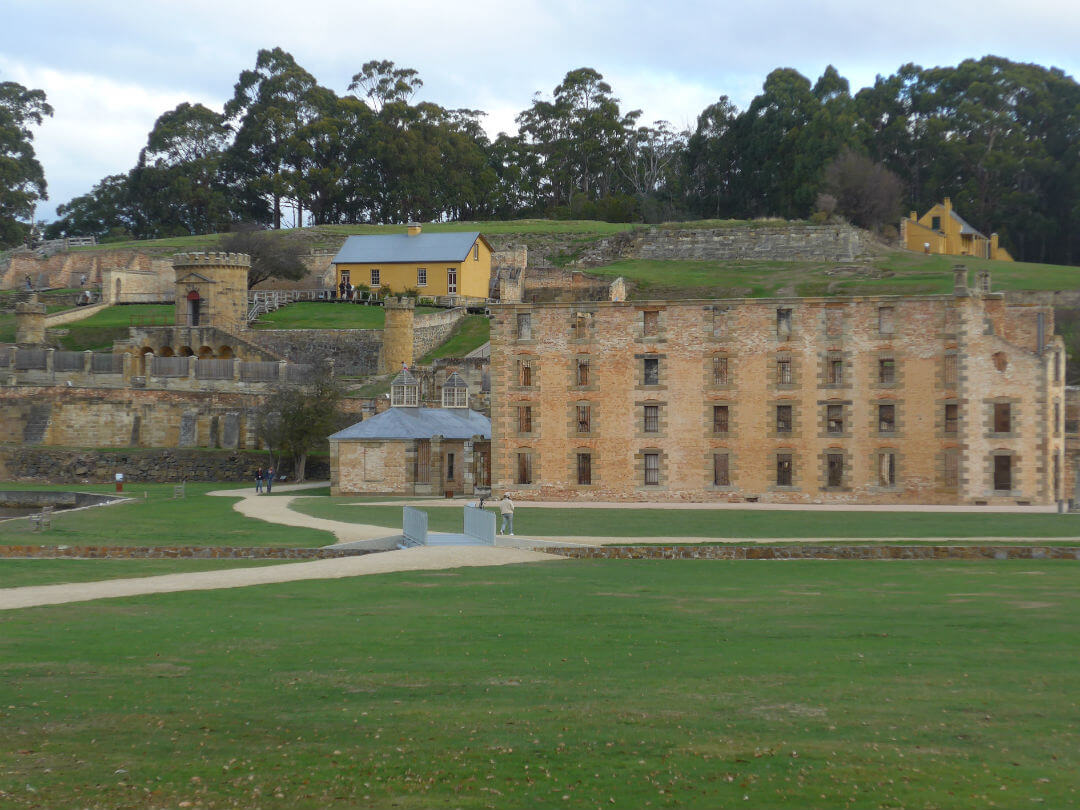 Freycinet National Park is where you will find beautiful Wineglass Bay which is rarely out of "Top Ten Beaches in the World" list.  One can certainly understand why it gets the vote. The bay has formed in the eroded areas between 'The Hazards' and Mt Graham.
"The Hazards" red and pink granite mountains rise out of the sea and look spectacular , especially in the morning or late evening light.
The walk up to the lookout captures the bay so perfectly. Another option is to walk down to the beach and have a swim in the rich turquoise waters of the bay. Make sure you allow some time to observe the wildlife or go bird spotting.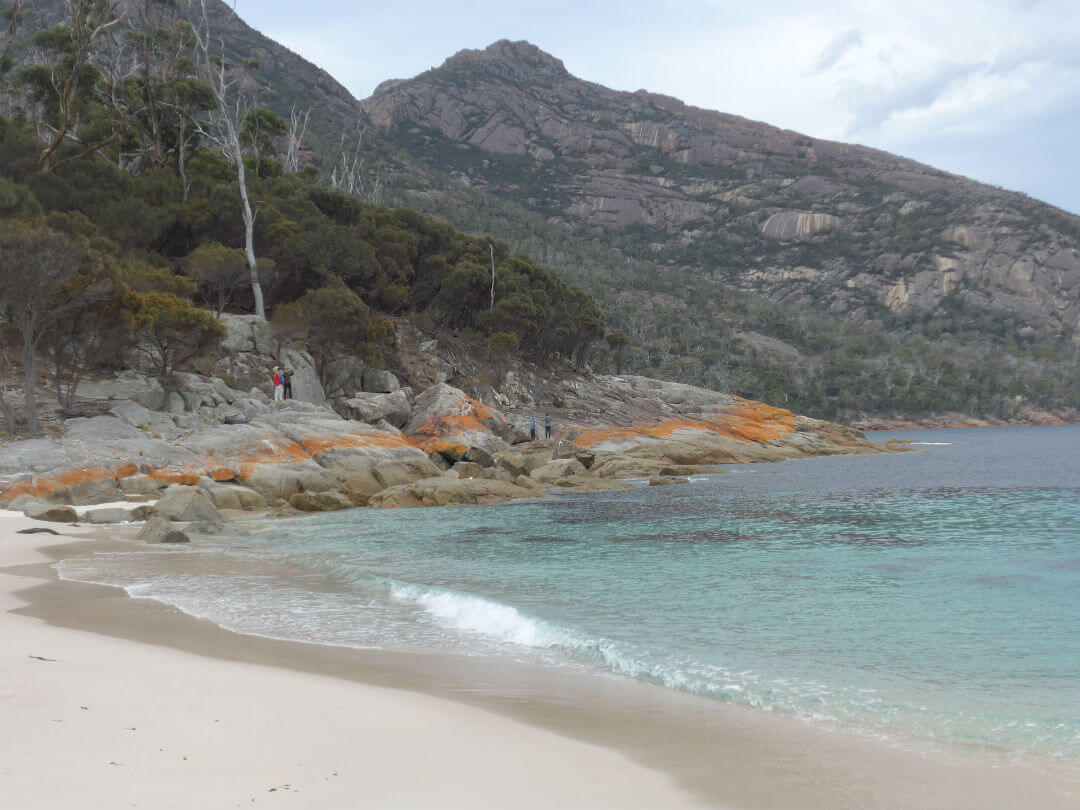 Bruny Island not only has beautiful scenery it also produces amazing food. Whether you discover Bruny Island by land or by sea you will be amazed by the power of nature at every turn.
From the sea you will see the rugged coastline which has Australia's highest sea cliffs, spot dolphins, fur seals and migrating humpback whales (seasonal). Lets not forget to look up and see the sea birds against the blue sky. There are eco-boat tours which get you very close to the action and the pristine water.
If a mini coach tour is what you had in mind you will also see this unspoiled beauty and wildlife. Your bonus will be stopping to try the exceptional local food. I can still taste the oysters and salmon coming straight from the sea to my mouth! I guess you can't call it "paddock to plate" but we can call it "sea to plate". It is not only seafood, but cheeses, berries, chocolates, whiskey and wine (Australia's most southerly vineyard).
On the island hopefully you will see an Albino Bennett's Wallaby, only found here, sandy beaches, Cape Bruny Lighthouse, farmlands, sheltered bays, bush tracks and more. Be sure to include Bruny Island when planning your trip to Tasmania.
Return to Top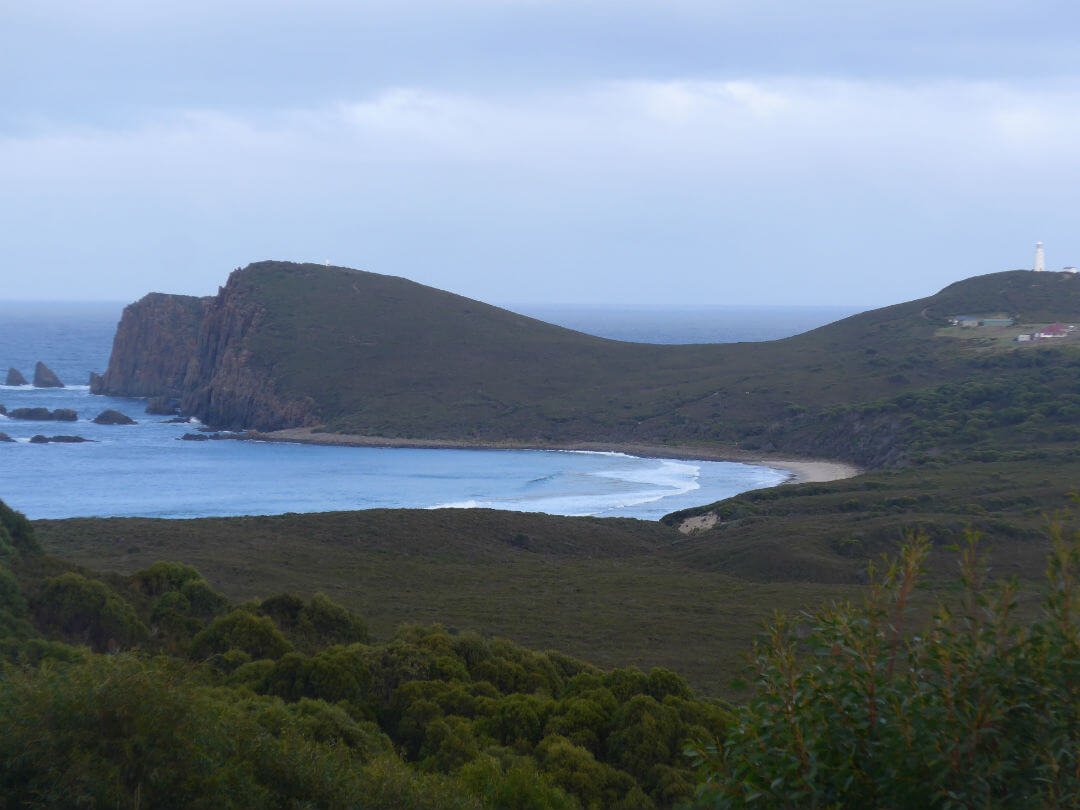 Cradle Mountain is located in the North West Region, in Lake St Clair National Park, 2 hours from Launceston. The scenery is breathtaking, another area of Tasmania's magnificent wilderness. This area has waterfalls, lakes, wildlife, flora & fauna and spectacular views. Have I already mentioned the beauty of the area?
There are lovely little towns and Sheffield is no exception. The history of Cradle Mountain is depicted on the walls of the town. If you are a keen photographer you will have lots to capture here, a little change from what nature offers you.
The walks are plentiful and are suited for all levels. The hardest part will be deciding which one you want to explore. The area changes with the seasons.
Day tours are from Launceston, from Hobart there are extended tours that take in the West and Cradle Mountain National Park.