Vivid – Our 2017 Guide
All in one place!
When is Vivid?
How the year flies when you base it around Vivid. It is time for you to start planning your visit to Sydney.
What is Vivid?
Vivid is a 23 day festival of light, music & ideas. Bringing together the best from these creative industries from around the world.
Vivid Light
Vivid Light transforms Sydney into a magical playground. You will see "light art" sculptures, innovative & interactive light installations and the amazing projections onto the sails of the Opera House & several other beautiful buildings, both old & new.
The beauty of what we see is the result of artists, designers & manufactures all working together to bring the vision to life.
Vivid Music
Vivid Music presents a contemporary music program. This year the program is huge, with artist from Australia & overseas performing in a variety of venues in 4 different locations.
Of course at the main part of the program is Vivid Live, which takes place at the Sydney Opera House.
Vivid Ideas
Vivid Ideas is the Asia Pacific's annual celebration of innovation, creativity and community. It builds audiences and markets for the creative industries, and offering professional development opportunities across the sector.
It covers areas such as innovation, technology, start ups, design & architecture, visual arts, marketing and many other areas. Whatever your interest you will be able to go along and listen to the leaders in these fields as well as meet people sharing your passion.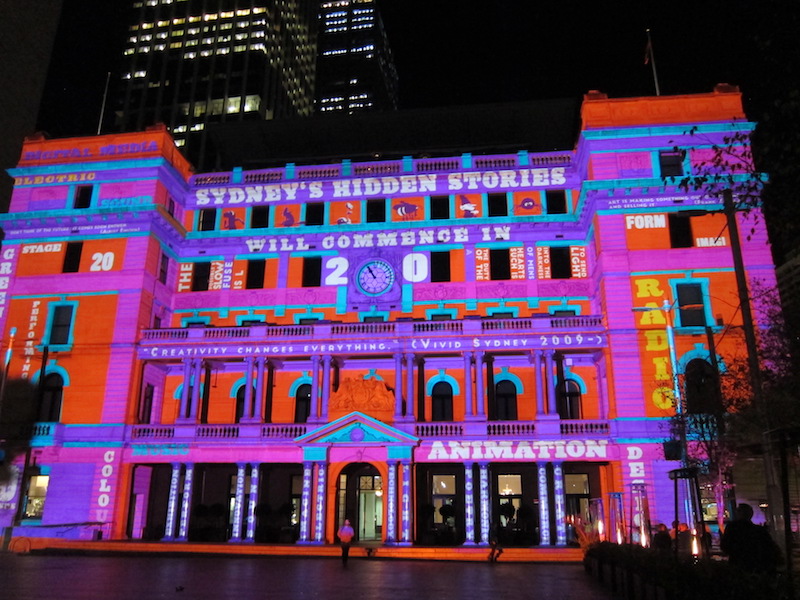 "Vivid is the largest festival of its kind in the world"
Vivid  Light – Where to see it?
There are so many installations in many locations, we have made it easy for you.
Bangaroo (3 events)
Bangaroo, Sydney's hot new location is a new addition to Vivid 2017.  " A Day in the Light" is the installation. Imagine moving through a mystical universe, sound will blend with light, you will be feeling the sound relating to certain shades of light.
Trapdoor is the other installation. Experience an optical illusion when the ground opens up to reveal a subterranean world.
https://www.vividsydney.com/event/light/barangaroo-south
Campbell's Cove (5 events)
Vivid Light Walk is free and takes you to some wonderful locations, Campbell's Cove (The Rocks) being one of them. There are more then 65 installations, illuminations, and 3D mapped building projections to entertain you. Around every corner you will be surprised, delighted & amazed.
Where: Campbell's Cove, The Rocks – via Hickson Road or Circular Quay Wharf
https://www.vividsydney.com/light/precinct/campbells-cove
Chatswood (9 events)
Venture out to Chatswood and you will be in the middle of a funky, retro-futuristic smart city with ingenious installations and light sculptures. All are inspired by the 'Steampunk' design aesthetic of 19th century steam-powered machinery.
Some of the installations are, Voxelscape, Gear Shift, Crossword, Light Bounce, Future City/Smart City and Steampunk Waterworld.
Where: Victoria Ave, Chatswood
https://www.vividsydney.com/light/precinct/chatswood
City & Surrounds ( 20 events)
With 20 events happening here, you won't be short on something to see and do! Lots of locations but so easy to find, if having trouble just follow the crowd!
https://www.vividsydney.com/light/precinct/city-and-surrounds
Darling Harbour (4 events)
"Magicians of the Mist", is where art & technology come together, we all love that concept.
Come and see for yourself.  You will be mesmerised when 12 massive pumps throw 28 tonnes of water into the air every minute; huge projections shine on walls of water 60 metres wide and 40 metres high. Lasers, fountains, jets of flame, music, fireworks, fireballs.  LEDs and searchlights are all controlled through a computer interface.
National Maritime Museum is the canvas for "Inspired by the Sea". Be sure to put it on your list, you will love it.
Where: Cockle Bay, Darling Harbour
https://www.vividsydney.com/light/precinct/darling-harbour
Harbour Lights (1 event)
Sydney Harbour is already beautiful but for 23 days of Vivid it turns into a spectacular wonderland; you simply won't believe what you are seeing!
It works by using a satellite-navigational grid to coordinate lighting changes. So as vessels adorned with brilliant LED lighting pass through parts of the grid, colours change simultaneously and each little vessel becomes part of a coordinated display that moves across the colour spectrum as they move across the harbour.".
Of course not many of us have our own boat so be sure to book a cruise on the harbour to see Vivid from this prospective. The lights and their reflections on the water are amazing.
https://www.vividsydney.com/light/precinct/harbour-lights
Kings Cross (1 event)
Make sure you head to "The Cross". It is all happening there as well.
Kings Cross and Darlinghurst venues will come alive with performance art &  'Avant/Cabaret',
For the first time in 40 years the famous Coca-Cola billboard will become  a continuous light show. The Glittering Mile is back, with tales of heros, villians, poets, drag queens of course! & more.
The other great feature is "Eat the Streets", this area is famous for its amazing world class restaurants so be sure to book one or two!
https://www.vividsydney.com/light/precinct/kings-cross
Martin Place (7 events)
Located in the CBD, be sire to check it out. Lots happen here. Deep Forest brings both forest & feasting together! Urban Tree 2 takes you deep into an exotic forest eco system and watch whether the giant glowing frog catches the hiding caterpillar! I am going to bet it does!
Lux Populi, is another part of the display in Martin Place. This spectacle soars 10 metres above the forest floor, creating a 'tree of light' that shelters a tasty surprise. The renowned Argentinian restaurant Porteño demonstrates mastery of the fire pit from a genuine Argentine asador or barbecue. Some of NSW's best fire chefs will join Porteño, creating exciting culinary collaborations with NSW wines and other beverages.
You will certainly find me here having a snack. As you eat you will be sitting under Atmos, a Paper Moose's magical display of ghost-like scrims and ribbons, recreating the majesty of our 'Southern Lights', the Aurora Australis.
Where: Martin Place between George and Elizabeth Streets
https://www.vividsydney.com/light/precinct/martin-place
The Rocks (25 events)
This is one of my favourite places to see Vivid, so many twists, turns, & laneways to keep you guessing what will be around the next corner. Around The Rocks is the best place to see the major projections and interactive installations, including the Sydney Opera House, Sydney Harbour Bridge, Museum of Contemporary Art Australia (MCA) and Cadman's Cottage.
There are too many installations to talk about but one I am not going to miss is Human Light Clock, it turns your shadow into the hand that tells the clock's time. How cool is that?
Click her to see more about the installations at the Rocks.
Where: Sydney Opera House, Sydney Harbour Bridge, Museum of Contemporary Art Australia (MCA), Cadman's Cottage and Campbell's Cove.
https://www.vividsydney.com/light/precinct/the-rocks
The Royal Botanic Garden (13 events)
It is such a beautiful setting, Vivid has to compete with the natural beauty of the gardens. One of the installations that will be fun is "You looking at Me?", 5 big eyeballs are watching you and will take action if you come to close! You will also come across "Rowi", a rare Kiwi & her chick, they are amazing and you will fall in love with them.
https://www.vividsydney.com/light/precinct/the-royal-botanic-garden-sydney
Sydney Opera House (11 event)
It is always the star of the show! This year will be no different. Vivid has no one theme but a thousand different ones however the sails of the Opera House will have animals at the centre of its illuminations.
https://www.vividsydney.com/light/precinct/sydney-opera-house
Taronga Zoo (1 event )
It is bigger and better than 2016! You will see your favourites from last year but 2017 featuring the "Lights for the Wild" will be better and more beautiful than before. It will be a fully interactive and immersive event. Don't miss it!
https://www.vividsydney.com/light/precinct/taronga-zoo
[fac_icon icon="globe"] Map of the VIVID 2019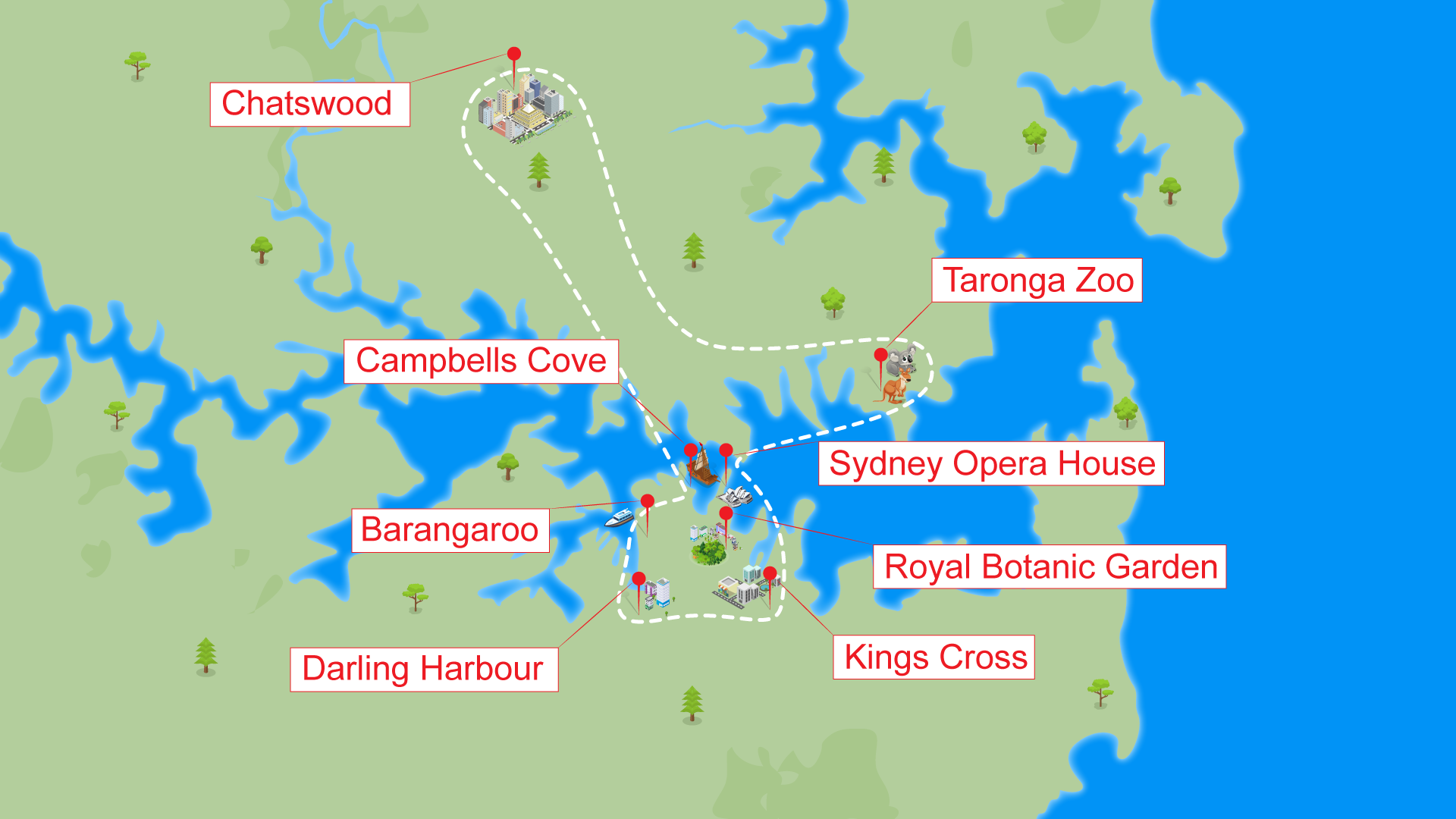 Vivid  Ideas
"In today's creative economy, ideas are our currency. Vivid Ideas is the years most anticipated global forum for ingenuity and innovation and the marketplace to share fresh concepts and track emerging trends".
Business benefits from creative thinking, and often it is when culture and commerce come together that ideas are conceived. This is a wonderful festival which brings all the great thinkers of our day together to inspire, challenge and debate each other. The topics are numerous as they are diverse.
City & Surrounds (108 events)
https://www.vividsydney.com/ideas/precinct/city-and-surrounds
Darling Harbour (3 events)
https://www.vividsydney.com/ideas/precinct/darling-harbour
Kings Cross (3 events)
https://www.vividsydney.com/ideas/precinct/kings-cross
The Rocks (61 events)
https://www.vividsydney.com/ideas/precinct/the-rocks
Please check out the full Vivid Ideas Program for 2017
https://www.vividsydney.com/sites/default/files/Vivid%20Ideas%20Program%20Guide%202017.pdf

Vivid  Music
There are over 400 gigs in numerous locations such as the Opera House, Carriageworks, City Recital Hall, clubs, pubs, laneways, pop ups, rooftop bars and various other venues.
The line-up of superstars, acts, amazing bands, cutting-edge artists, creative collaborations and grass-roots talent shaping the future of music, will guarantee there will be a genre or two to suit everyone. I'm also sure you will discover your new favourite musician at one of the events!
City & Surrounds (184 events)
https://www.vividsydney.com/music/precinct/city-and-surrounds
Darling Harbour (3 events)
https://www.vividsydney.com/music/precinct/darling-harbour
Kings Cross (7 events)
https://www.vividsydney.com/music/precinct/kings-cross
Opera House (20 events)
https://www.vividsydney.com/music/precinct/sydney-opera-house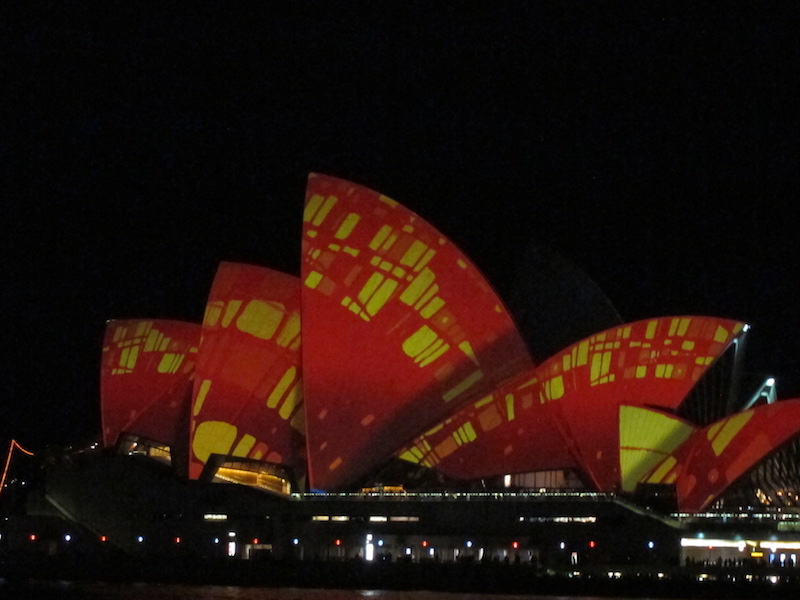 Our Vivid Tours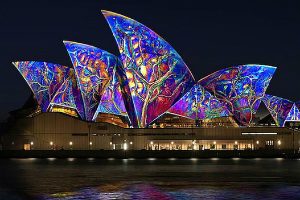 Reserve your front row Vivid Festival seat! Sail around the harbour with a champagne cocktail and canapés! Take in the breathtaking sights of Sydney  Harbour while you soak up the ambience of the Vivid Sydney Light Show!
Delicious canapes
Complementary Glass of Champagne Cocktail or Softdrink
DJ Tunes – Party Hits
Multiple departures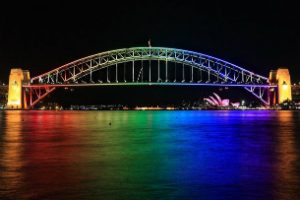 The perfect time to see Vivid, the sun is setting and the light show is beginning. Cruising from Darling Harbour see the Sydney Opera House and the Harbour Bridge from the best vantage point, on the water!
Departs Darling Harbour
Complementary drink
Miss the crowds
Food and Drinks Available for Purchase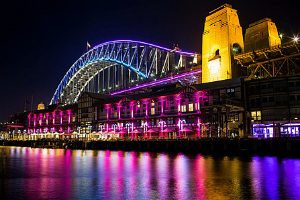 There is no better way to appreciate Vivid than a Sydney Harbour cruise with the Sydney Opera House and Harbour bridge as some of the key sights. Enjoy a delicious buffet dinner and dance the night away with the harbour lights as your background.
Delicious Hot and Cold Buffet
2.5 Hour Cruise
DJ Playing Dance Hits
Cash Bar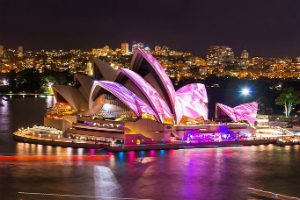 Miss the crowds and see Vivid from the harbour. get a unique perspective as the Sails on the Sydney Opera House are transformed and watch the light spill off the Harbour Bridge. there is no better way to see Vivid.
Darling Harbour Departure
75 Minute Cruise
Spectacular harbour vantage point.
Food and drinks available for purchase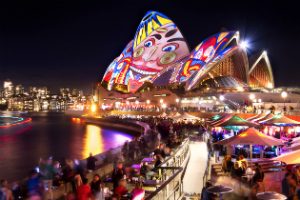 Make Vivid a more memorable night with a Cocktail style dinner cruise. See the full 360 degree spectacle of Vivid that you can only get from a Sydney Harbour Cruise. Includes Access to the Aquatique Show in Darling Harbour.
Amazing photo opportunities
2 to 3 Hour Cruise
cocktail style dinner
House Beer and SA Wines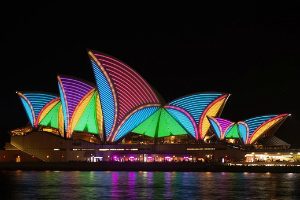 Enjoy prime views of the Opera House and Harbour Bridge as they are transformed into spectacular canvas boards of light, music and 3D projections. Enjoy a complimentary drink upon boarding. A licensed bar is available on board to keep you refreshed
Darling Harbour Departure (King St Wharf)
Dodge the crowds
Complementary drink
75 Minute cruise

Vivid Extras
As part of this guide, we will continue to expand the information to help you in planning your trip to Vivid.
Public Transport
Getting to Vivid
Vivid is a popular event across a variety of Sydney venues, why not leave the car at home and use public transport?
Known for its beautiful harbour the water is just one of the easiest ways to get around Sydney, you can also take the train, the bus or the light rail. The Transport authority has a fantastic website to help you plan your journey (TransportNSW).
Opal Card
The only paper tickets on sale from 1st January 2016 are single trip tickets for Ferries, Buses, Trains and the Light rail with return paper tickets not available for Buses.
You can buy and top up your Opal card throughout Sydney (http://www.retailers.opal.com.au/), and you must tap on and tap off using the Opal card reader, except for the Manly ferry as it only has one stop. With an Opal card there is a Daily, Weekly and Sunday cap, excluding Sydney airport, so it makes a cost effective way to get around the city. (https://www.opal.com.au/)
Ferry
If it is on the harbour then you can most likely catch a Ferry there. (Sydney Ferries Network). Circular Quay is the main Ferry terminal with ferries normally running from 6am to 1 am servicing Darling Harbour, Manly, Mosman Bay, Neutral Bay, Parramatta Taronga Zoo and Watson's Bay. (Ferry)
Trains
Most areas of Sydney are serviced by train, with connections to popular destinations including the Blue Mountains and Hunter Valley. (Train Network).
As with any large city trains can be congested in peak hours.
Bus
With frequent stops, connections with train and ferry services buses are an ideal way to get around Sydney. Buses are the only public transport option direct to Bondi Beach (Bus Operator Maps)
Light rail
The light rail network runs from Central station in the CBD through Wentworth Park, Rozelle Bay to Dulwich Hill (Light Rail Network). The light rail operates from 6am to 11 pm or midnight on Fridays with 24 hour services from central to Star casino. (Light Rail)
Taxi
Taxis are a convenient method for point to point travel in Sydney. Throughout Australia dialling 131008 will put you in touch with the nearest Taxi service. Taxis can also be pre-booked. Expect a few delays for taxis during Vivid
Apps                    
There is a range of apps for accessing Sydney public transport. There is Opal Travel (great for planning your trip and fare estimation), Real-Time transport apps, Accessibility apps to make sure everyone can confidently access public transport and driving apps cover Real-Time road conditions and general traffic apps (Drive).
Weather
Vivid Weather
Vivid is on from the 27th May till 18th June here is what you can expect from the weather over that time.
May
Average Maximum Temperature 19.5 °C
Average Minimum Temperature 11.6°C
Average Rainfall 120mm
Average Number of Rainy Days 13
June
Average Maximum Temperature 17.0 °C
Average Minimum Temperature 9.3°C
Average Rainfall 132mm
Average Number of Rainy Days 12.5
Sydney Airport
Flying into Vivid (Sydney Airport)
If you are visiting Sydney from interstate or overseas here is a bit of information about getting to and from Sydney Airport
Sydney Airport
Kingsford Smith (SYD) is the main airport serving Sydney with separate Domestic and International terminals. It is just 8 klm from the city centre and holds the record for the longest running commercial airport in the world and Australia's busiest airport. (http://www.sydneyairport.com.au/)
Train
The Airport Link runs has stations at both the Domestic and International terminal and connects to Central Station, Circular Key, Town Hall as well as four other stations, with regular departures seven days a week. (http://www.airportlink.com.au/trip-information/time-tables/). The trip takes approximately 15 minutes.
The domestic train station is between Terminals 2 and 3 and is accessed from the arrivals area.
The International terminal is also accessed from the arrivals area and is located at the northern end of the international terminal.
The train can also be used as a transfer service between the International and Domestic terminals.
An Opal card is the only way to access public transport in Sydney and can be purchased from the ticket windows at both the international and domestic stations. (https://www.opal.com.au/)
Public Buses
Bus route 400 services both the Domestic (T3) and International terminals with regular busses to Bondi Junction and Burwood. (http://www.sydneybuses.info/)
An Opal card is the only way to access public transport in Sydney. (https://www.opal.com.au/)
T Bus
The T Bus is a regular transfer service between the domestic and international terminals and cost approx. $5.50. Look for the T Bus signs and purchase your ticket from the ticket machine near the T Bus stop.
Taxi
This is a convenient way to get to and from the airport directly connecting with your destination. Under cover taxi ranks are located at each terminal with kerbside supervisors assisting in busy periods. Pre-booked taxis are advised if you have special needs and there is a special pre-booked taxi area at each terminal. (http://www.sydneyairport.com.au/go/by-taxi.aspx)
Taxis are not permitted to pick up from outside these areas.
Limousine
As an alternate to a taxi a pre-booked limousine service which must be arranged in advance with a pre-determined meeting point. For international arrivals there is a Limousine reservation counter in the arrivals area.
Car Rental
Six car rental companies have outlets located at Sydney Airport, Avis, Budget, Europcar, Hertz, Thrifty and Redspot. (https://www.vroomvroomvroom.com.au/) There are rental car counters in the arrivals area of both terminals.
Parking
There are parking stations located adjacent to each terminal. For longer term domestic terminal parking there is a dedicated parking station. All these options are within walking distance of the terminals.
For domestic terminal long term parking from a minimum of one day use the Blue Emu parking station and catch the regular domestic terminal bus.
Valet parking options are available at each terminal
(https://www.sydneyairport.com.au/go/car-parking.aspx)
Bicycle
There are bicycle racks located throughout the airport and a publicly accessible shower at the International terminal.
Bed n Breakfasts
Accommodation during Vivid
As we discover interesting, unique or suitable accommodation options we will place them here so you can also research them and decide if they are suitable for you.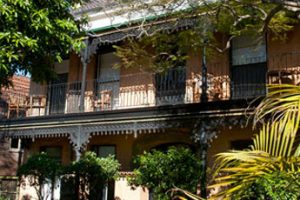 Tara Guest House Sydney

Highly rated by everyone that stays there, Tara Guest House is steeped in history. Around 10 minutes from the CBD and with a great choice of nearby restaurants.
A great place to stay with free airport transfers. See website