Popular Things to do in and near Uluru
An Uluru Tour is high on the list for most visitors to Australia and also for many Australians. 
This large sandstone rock is in Australia's heart both literally and figuratively.
Although geographically in the remote centre of Australia there are regular flights from most major cities to Yulara, the Uluru airport, most days.
Even in the cooler months the days can be quite hot and tours tend to be focused on the morning or evening. This is fortunately the best time to view Uluru and Kata Tjuta as the rising or setting sun causes impressive colour changes on the landscape.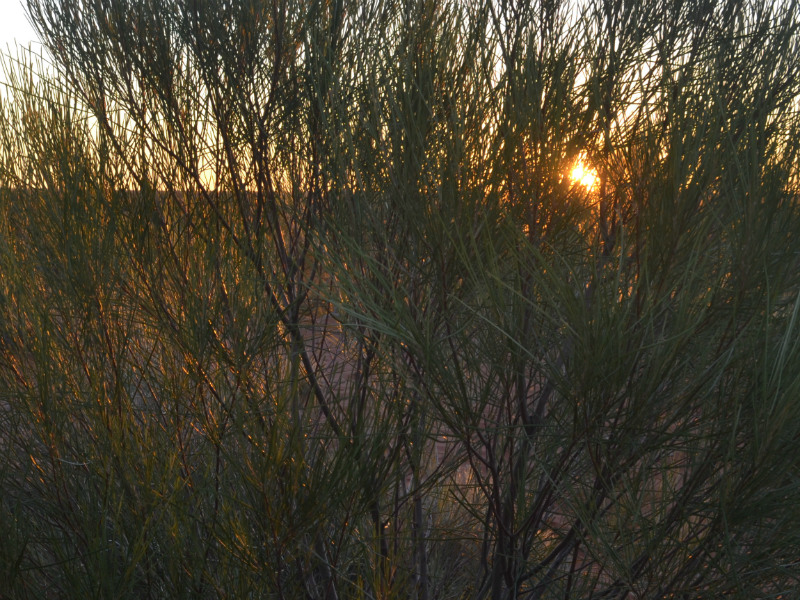 Yulara
Yulara is the township nearest to Uluru.
It is situated about 20 kilometers from Uluru.
Yulara features accommodation ranging from camping to 5 star as well as shops and restaurants.
The local airport at Yulara (Ayers Rock Airport) is serviced by regular commercial jet flights from most Australia capital cities and major regional cities.
National Park Entry
Entry to Uluru - Kata Tjuta National Park is by way of a three-day or annual entry pass. These can be purchased from the park entry gates on the day of travel, remembering that at peak time you may experience some delays at the park entry points.
Opening times of the park vary seasonally and are based around sunrise and sunset times.
Proposed opening times for 2017 (subject to change)
January Opens 5.00am Closes 9.00pm
February Opens 5.00am Closes 9.00pm
March Opens 5.30am Closes 8.30pm
April Opens 5.30am Closes 8.00pm
May Opens 6.00am Closes 7.30pm
June Opens 6.30am Closes 7.30pm
July Opens 6.30am Closes 7.30pm
August Opens 6.00am Closes 7.30pm
September Opens 5.30am Closes 7.30pm
October Opens 5.00am Closes 8.00pm
November Opens 5.00am Closes 8.30pm
December Opens 5.00am Closes 9.00pm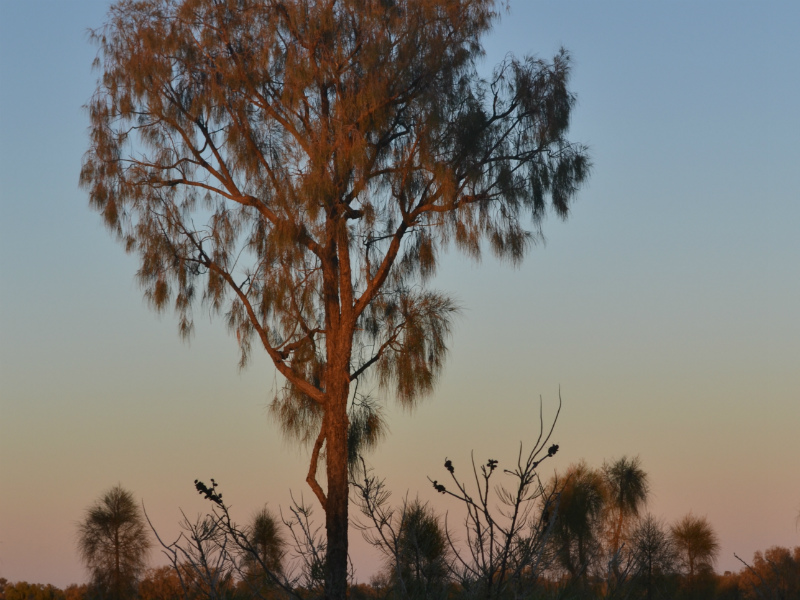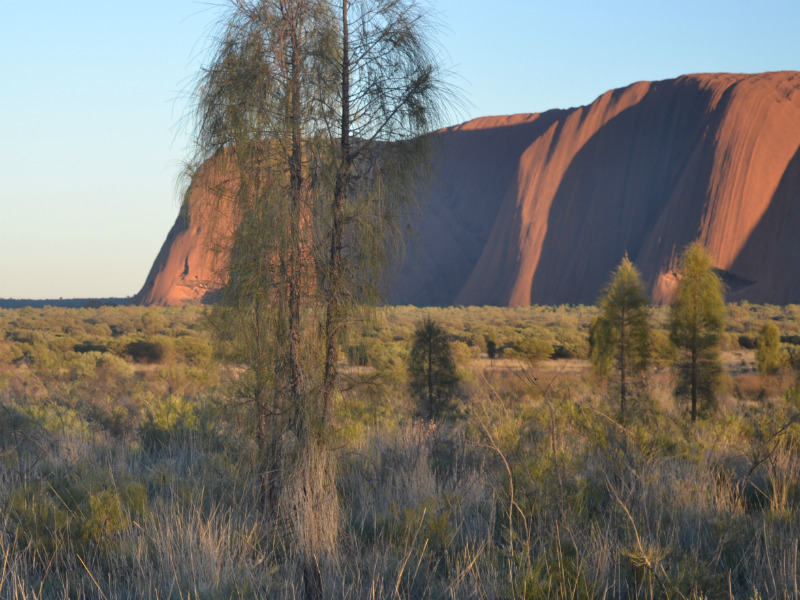 Uluru
Uluru, or Ayers Rock, is a large sandstone rock in central Australia. Uluru is almost 10 kilometers in diameter at its base and at 350M high dominates the surrounding landscape.
At sunrise and sunset the red sandstone hues interact with the sunlight to make Uluru appear to change colour, creating amazing photo opportunities. The sky also transforms at the same time enhancing the effect.
Rain and even dew run off has created waterholes around Uluru that are vital to wildlife and played an important role in the survival of the traditional owners.
There is a base walk around Uluru which includes a number of interpretive stops at the waterholes and caves with opportunities to see traditional rock art.
Should you climb Uluru?
It is not illegal to climb Uluru, although the Anangu, who welcome you to their land would prefer you didn't.
The Anangu culture and law forbids climbing and it saddens them when visitors are injured or die climbing Uluru.
The climb is quite strenuous and hazardous, with the climb regularly closed due to weather conditions.
Appreciate Uluru as the Anangu do, from the ground.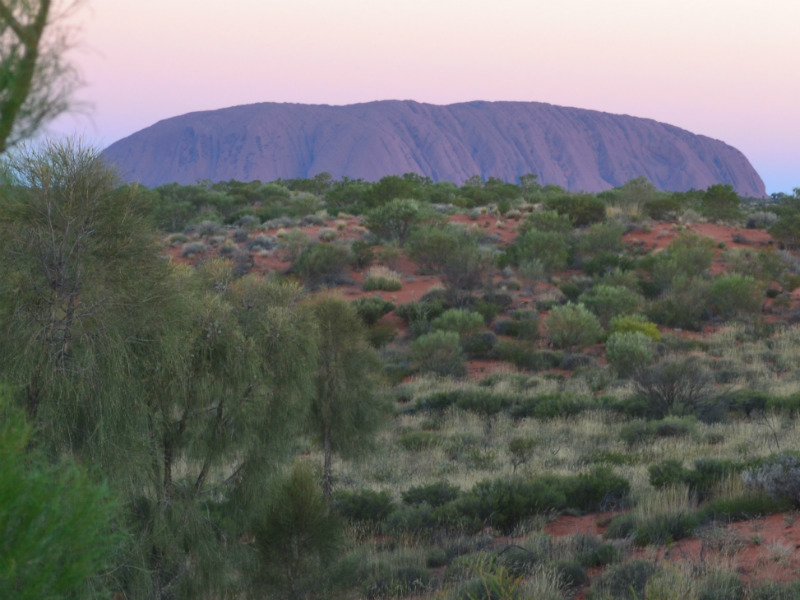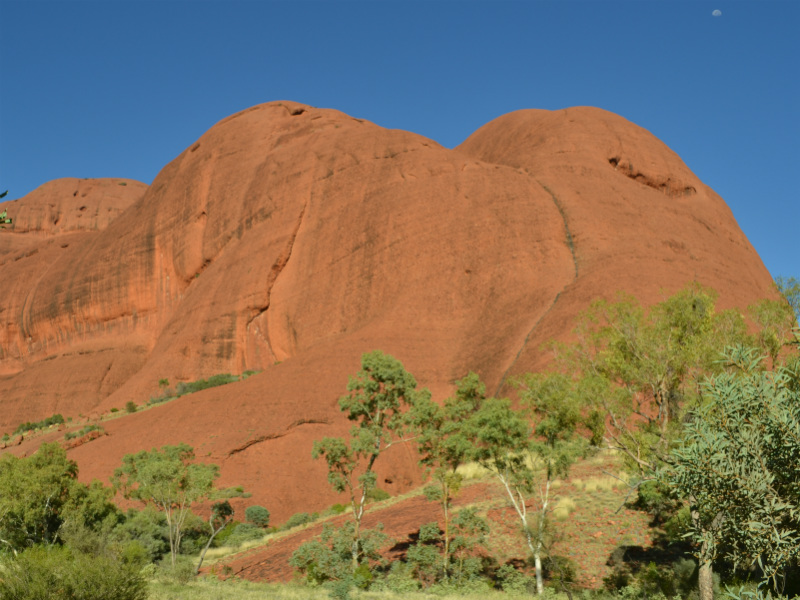 Kata Tjuta
Kata Tjuta (The Olgas), means many heads and this aptly describes the 36 domes making up this sandstone formation.
It is also know as the 'Valley of the Winds' named after the breezes than flow between the domes.
It is situated about 50 kilometers from Yulara and 30 kilometers from Uluru.
The formation is about twice the diameter of Uluru at 22 kilometers and higher at almost 550 metres.
Sunrise and sunsets at Kata Tjuta are as spectacular as Uluru but less popular due to the further distance to be traveled.
Walking here is one of the most popular activities with walks starting from 600m and up to around 7 kilometers.
Uluru Camel Cup

26th to 27th May, 2017
Billed as the 'biggest small town event in the territory', there is the Camel Cup and the outback ball on the Saturday night. the event has won NT Tourism awards for three of the five years it has run.
More information: Camels
2017 Australian Outback Marathon
29th July, 2017

Consisting of a full and half marathon and 6 and 11 kilometer races, the event takes place in the middle of winter where the days remain cool. The runs are along formed roads and graded bush tracks with stunning views of Uluru and Kata Tjuta over each rise.
More information: Marathon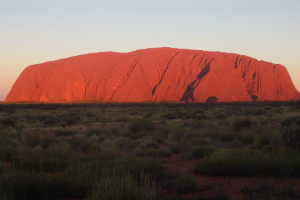 Top 10 Things to do in Uluru

Stunning sunrises and memorising sunsets book end a day at Uluru. Most visits to Uluru are short and the area has so much to offer that we have put together our top 10 list of things to do while in Uluru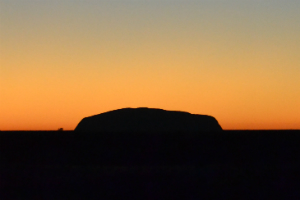 Top 10 things to do in the Red Centre

Central Australia offers you Uluru, Kata Tjuta and so much more. The main town is Alice Springs with some notable natural features right on its doorstep including the West MacDonell Ranges, Simpson's Gap and Stanley Chasm.
Public Transport
There is no public transport available at Uluru. Private car, car rental, accommodation transfers or guided tours are the only transport options.
Weather at Uluru
What's the Uluru Weather like?
Summer (Dec - Feb): Min 20.8°C Max 38.4°C
Avg monthly rainfall 35mm Avg rain days per month 3.6

Autumn (Mar - May): Min 9.3°C Max 34.4°C
Avg monthly rainfall 21mm Avg rain days per month 1.8
Winter (Jun - Aug): Min 4.4°C Max 23.7°C
Avg monthly rainfall 13mm Avg rain days per month 1.5

Spring (Sep - Nov): Min 10.7°C Max 35.1°C
Avg monthly rainfall 20.8mm Avg rain days per month 2.7

Ayers Rock Airport (AYQ) is situated at Yulara the township servicing Uluru and Kata Tjuta.
Car Rental
Three of the main car rental companies have outlets located at Ayers Rock Airport, Avis, Hertz and Thrifty. (Vroom Vroom Vroom) There are rental car counters in the arrivals area and it is essential to book in advance.
Transfers
Transfers are available to Yulara