Original Home and Away Tour Review
Tour Review
I was lucky enough to travel on the 'Original Home and Away, Summer Bay (Palm Beach) 6-hr Film Set Tour with Lunch'. Even luckier for me was that the day I chose to travel they were filming.
The tour commenced just near Circular Quay at 9am.  Ross, the driver/guide collected us just near the corner of Alfred and Loftus Streets (hint: if you think you are lost, just look for the hamburger restaurant beginning with M and wait outside there; Ross will soon find you).  After a quick introduction we settled into the comfortable mini coach.  Today there were just 7 of us, however the tour can accommodate up to 10 people.  We were an interesting mix – some New Zealanders, a Canadian, a couple from Estonia and an Aussie!
Return to Top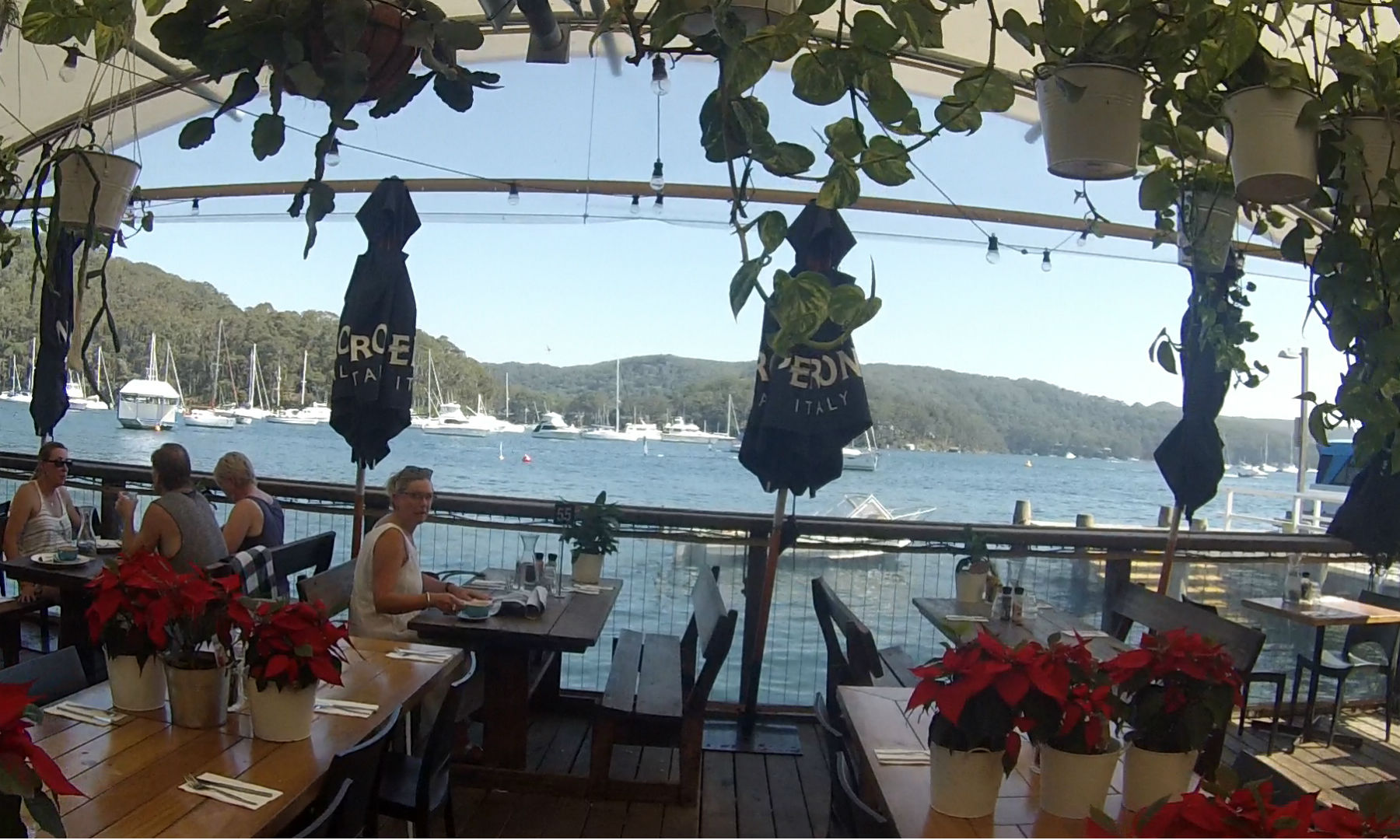 Heading to Yabbie Creek
We travelled north across the Sydney Harbour Bridge via the leafy northshore before heading into Kuring-gai Chase National Park. The scenery here is lovely with tall gum trees and native Australian bushland. If you have seen recent episodes of Home and Away, this is where the bushfire scenes were filmed.
First stop was at McCarrs Creek, also known in the TV series as Yabbie Creek.  The creek joins up to Pittwater and the drive around the bay area affords spectacular views.  Ross also provides some commentary about the famous people and homes in the area (you can even spot the house used in The Bachelor high up on the hillside).
Soon after we stop for morning tea at a quaint coffee shop located over the water at Church Point.  Ross took our drink orders and there are also cakes and pastries available at the shop should you feel hungry (food at own expense).
Return to Top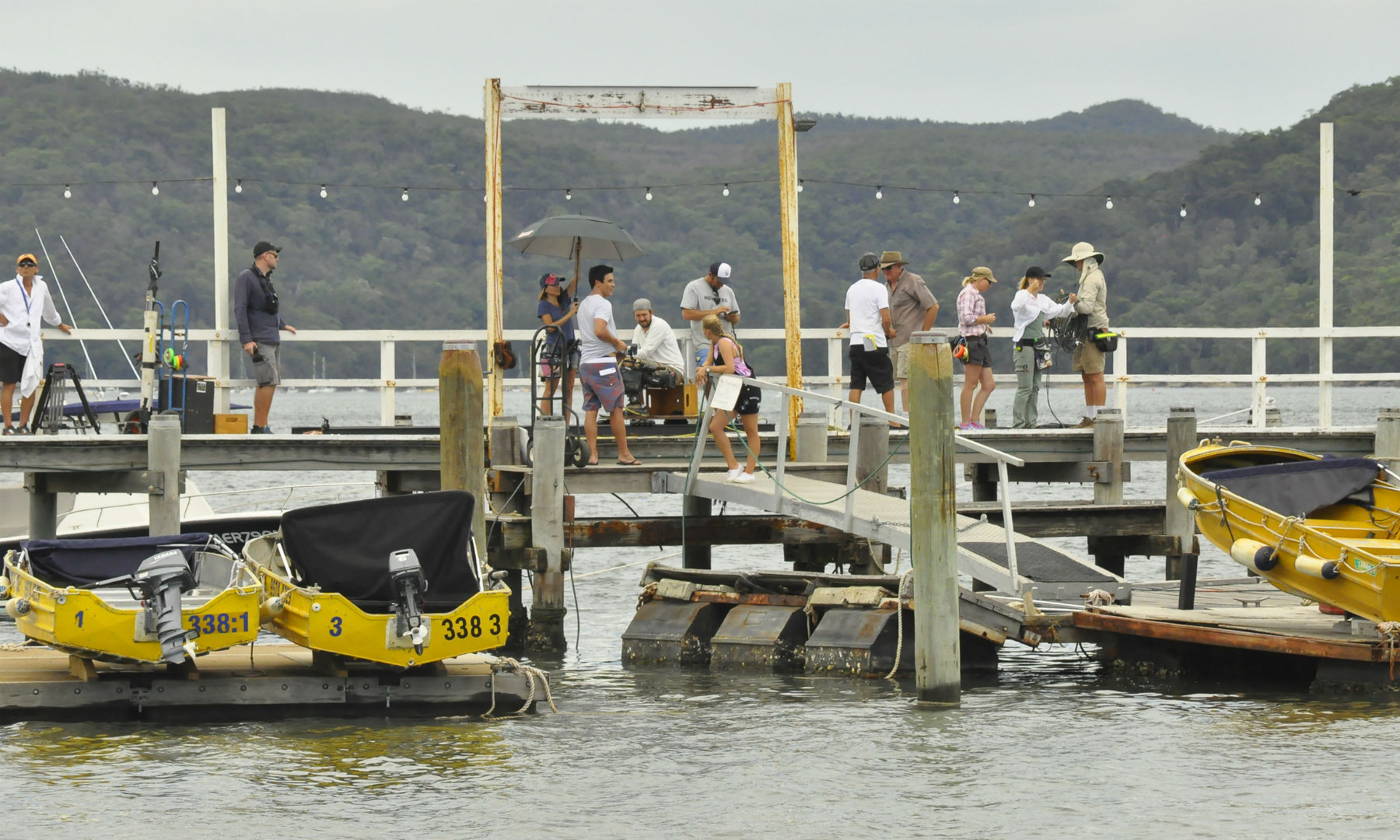 Lights, Camera, Action on Home and Away
From there we made a quick stop at Mona Vale and Ross picked up some lunch supplies before we headed onto Barrenjoey Road for the short drive via Newport and Avalon to Palm Beach.  Ross provided some excellent insight into the show including facts and figures and helpful suggestions on how to best enjoy our time at the different sets.  Excitement was building as we turned into the northern end of Palm Beach and Ross spotted some of the studio trucks – we were in luck today as filming was taking place!
We arrived at Palm Beach at 11.30am and initially Ross did a circuit of the area, pointing out the different film locations such as Salt, Summer Bay Surf Club, Alf's Bait Shop and Flat Beach.  There was some filming just near the Surf Club, so we made our way there and watched from a respectful distance.  Justin Morgan, played by Jimmy Stewart finished his scene and came and mingled with the small crowd of onlookers – he was very generous and allowed people to take photos and have a brief chat.
Return to the top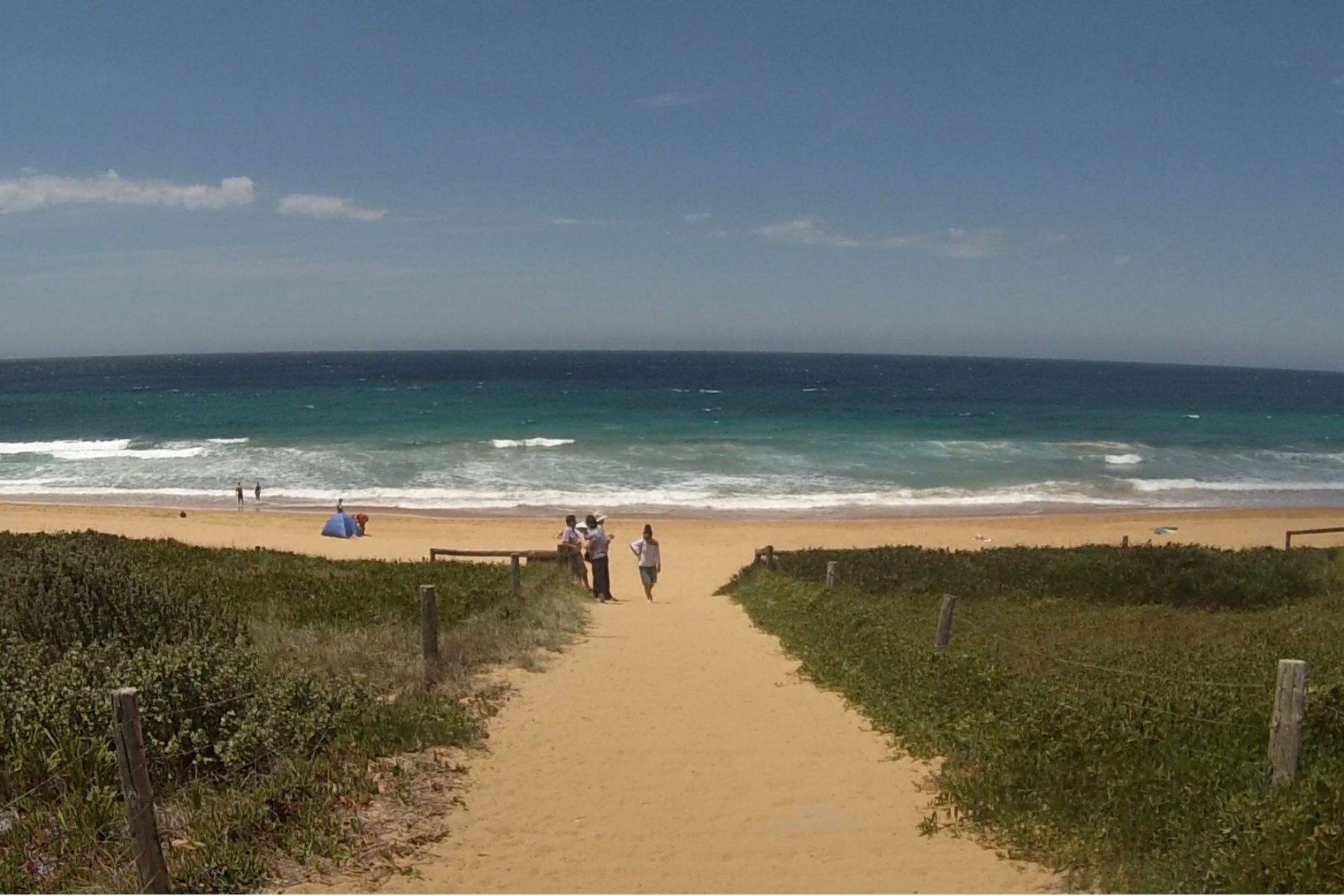 Lunch then more filming!
It was a perfect summer's day in Sydney, so the beach looked very inviting and some of the group decided to have a swim whilst Ross prepared lunch.  We enjoyed a picnic style meal with roast chicken, assorted salads and bread rolls.  We could see that the crew were setting up a new location just near the old Pier Diner and Bait Shop, so did not linger over lunch.
We watched for the next hour or so whilst the scene was shot with Brody Morgan, played by Jackson Heywood and two new characters.  It is amazing to think how much footage is taken to complete what will probably end up as a few seconds of action.  The scene was shot from all different angles and repeated multiple times.  By this stage quite a large crowd had gathered to see what was happening; not just us but also locals and holiday-makers alike who were enjoying the seaside.
Return to Top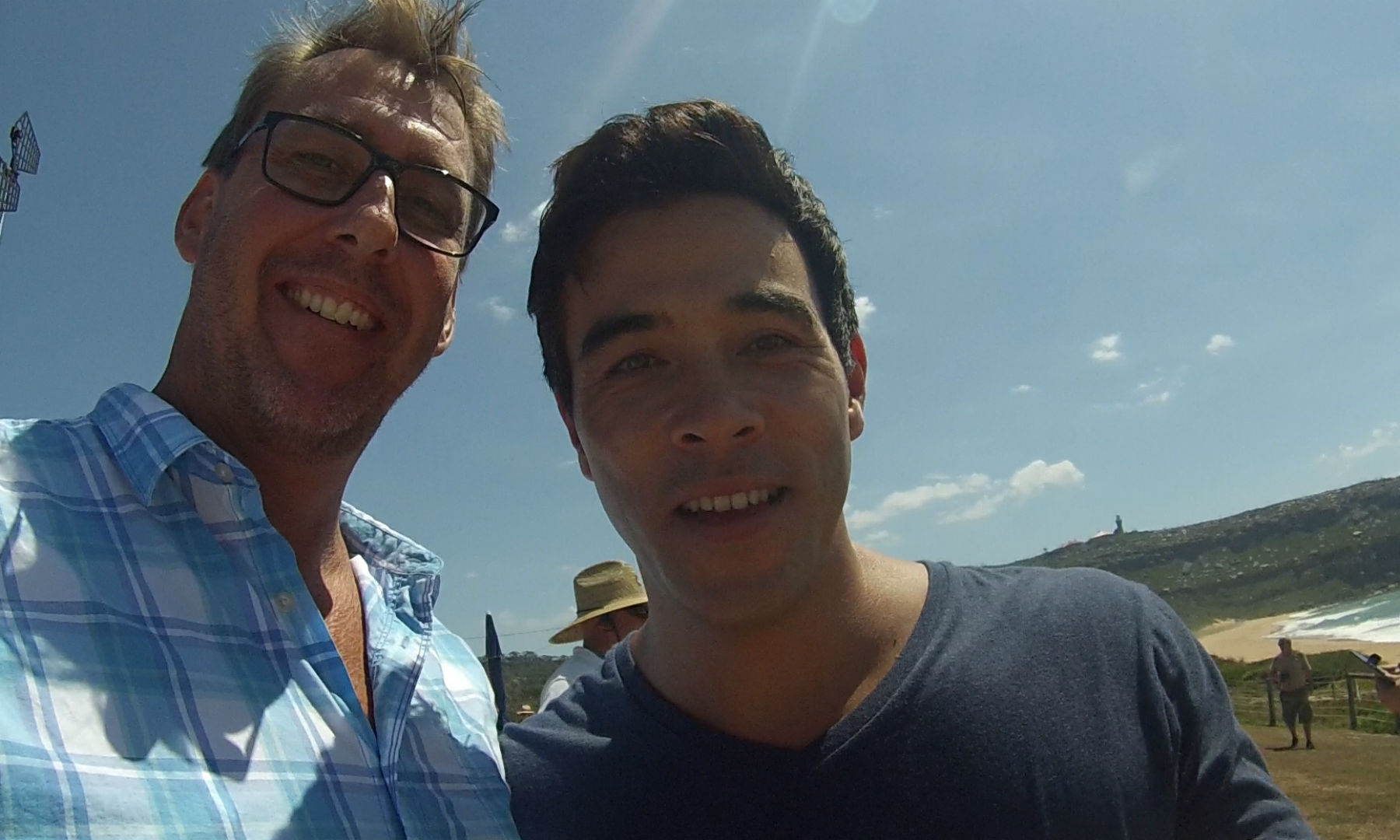 Manly and a ferry back to Circular Quay
Ross had us all back on the bus at 1.30pm, so we had a full 2 hours to explore the sets.  On board we exchanged stories from our experience and had a look at the selfies we had taken with some of the actors as we headed back towards the city.  There was a quick drive past a couple of homes used on the show (the Braxton house was one) and we travelled back along the northern beaches, arriving at Manly about 3pm for the conclusion of the tour.
Once we bid farewell to Ross we were free to enjoy Manly, with a short walk down the Corso towards the beach, or we could catch one of the Manly ferries back across to Circular Quay – own expense, journey takes 30 minutes and costs approximately $7.20 per adult.
All in all it was an enjoyable day of sightseeing and would be enjoyable for all, not only for fans of Home and Away.  The commentary was detailed but not too extensive and Ross always made himself available for questions.  We were picked up on time and the vehicle was modern and comfortable.  There is no doubt that the weather on the day and the filming that was going on added to the experience, however neither of these are predictable!
Return to Top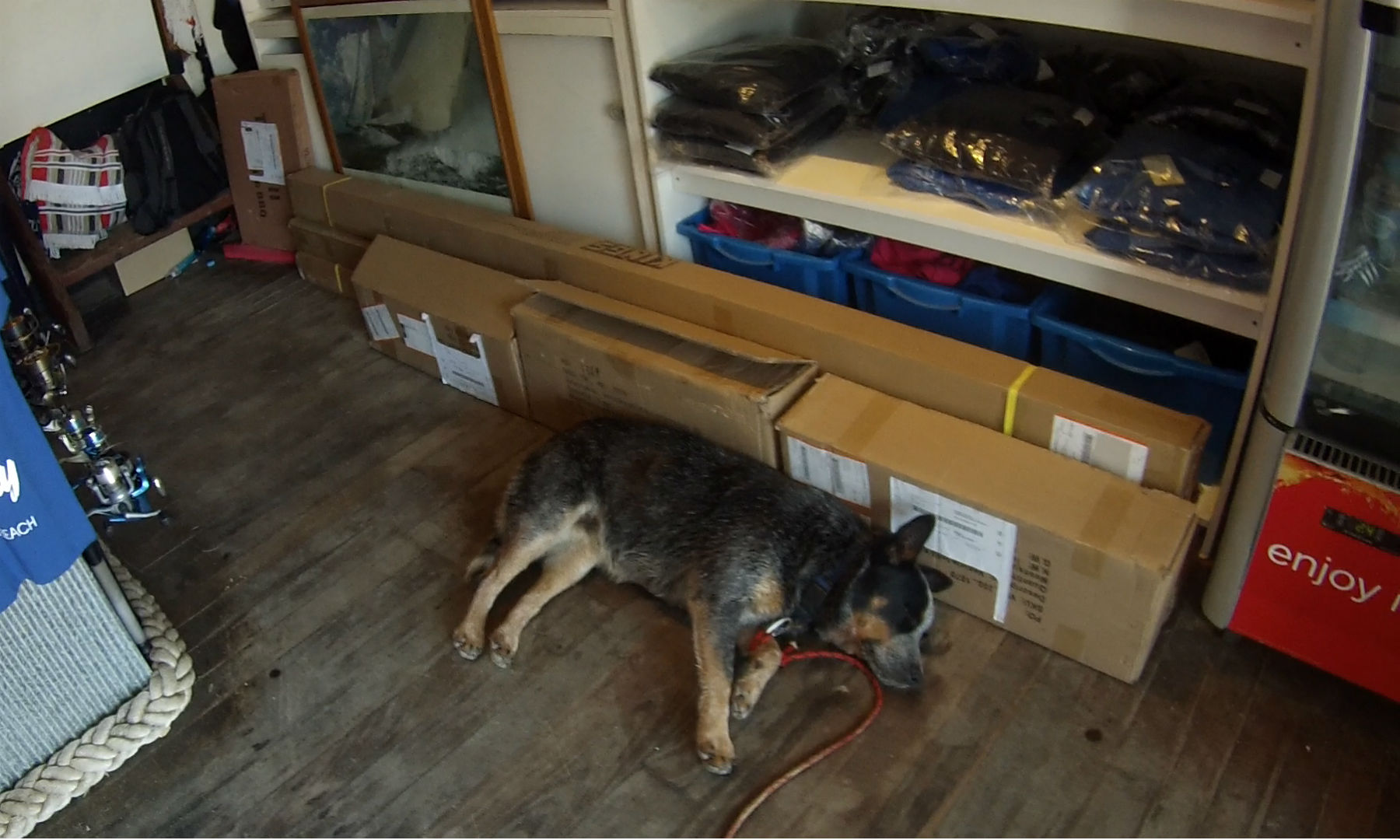 Can't get enough of Home and Away and Summer Bay?
Let's be honest, if you are a fan of the show you can never get enough of Home & Away.
Book the 'Original Tour' Here.
See our Home & Away Tour FAQ's
For something a little lighter read our Home & Away Census
Or watch the video below to see just how friendly the star of the show can be.
Return to Top