4. Freycinet Peninsula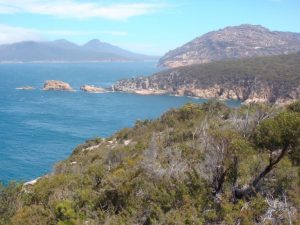 The
Freycinet
(pronounced "Fray-sin-ay) Peninsula – on the east coast of Tasmania – is a spectacular land formation girt by pink granite mountains.
Wineglass Bay, within the Freycinet National Park is ringed by sandy white beaches and is a peaceful, sheltered location with a myriad of walks allowing breathtaking views of the surrounding area. A truly beautiful and unspoiled part of Tasmania, hugely popular with locals, is a must see for visitors to the Apple Isle.
5. Historic Port Arthur

Port Arthur
is a former penal settlement, where stories of extreme hardship, brutality and hard labour may still be evidenced within the decaying walls of one of Australia's harshest convict prisons. Children as young as nine were incarcerated there, the ruins a sombre reminder of Australia's ruthless beginnings.
Today the small township is a shrine of remembrance that contains a museum, cafes and a bistro and experienced guides who will escort you to The Isle of the Dead, where mass graves are a shocking and sobering reminder of Australia's convict past.
Tasmanian Travel Guide
Want to know more about Tasmania, including top tours, latest specials, travel information and plenty more things to do then read our extensive Things to Do in Tasmania Guide.
6. South West Wilderness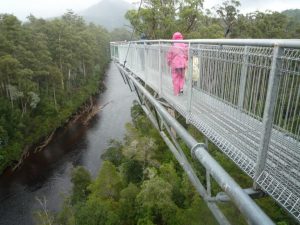 The South West Wilderness area of Tasmania is potentially the most remote area in Australia. Inaccessible by road, the best way to visit the protected reserve is via charter flight from Melaleuca. The World Heritage Listed Area, covering 20% of Tasmania, is subject to extreme weather conditions, ranging from strong winds, ice and snow and thick fog. Despite the often-treacherous travelling conditions, upon safely arriving, a world of wonder awaits – unsurpassed views, tranquil waters and deep peaceful silence.
The
Airwalk
is a swinging footbridge that crosses the Huon and Picton rivers for 620 metres, 45 metres above ground. Suspended above the treetops, the steel walkway offers a magnificent aerial view of the South West Wilderness area, showcasing the verdant beauty of Tasmania's unspoiled beauty.
7. Cataract Gorge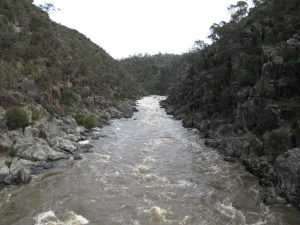 Cataract Gorge, an easy 20 minute walk from
Launceston
, is at the lower section of the South Esk River, 1.5 kilometres from the CBD. Abundant with gardens and glades, a swimming pool and picnic area, the gorge is blessed with an abundance of wildlife and a cool verdant landscape.
One of the region's foremost tourist attractions, the area also features an interpretive museum, cafes and the longest (single span) chairlift in the world.
8. The Gordon River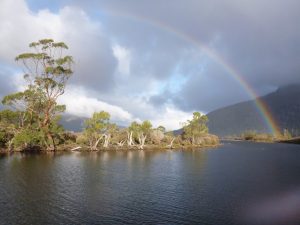 The
Gordon River
flows through the Central Highlands and western regions of Tasmania, from below Mount Hobhouse, through the Gordon Gap, damming at Gordon Dam. Traversing 172 kilometres through several national parks and with numerous tributaries, the river tumbles 570 metres downward as it courses through uninhabited wilderness containing cold climate rainforest and atypical trees.
Cruising from Strahan is a unique and breathtaking way to experience the rare beauty of the river's timeless antiquity and its lush rainforest surroundings.
9. Cradle Mountain - Lake St Clair National Park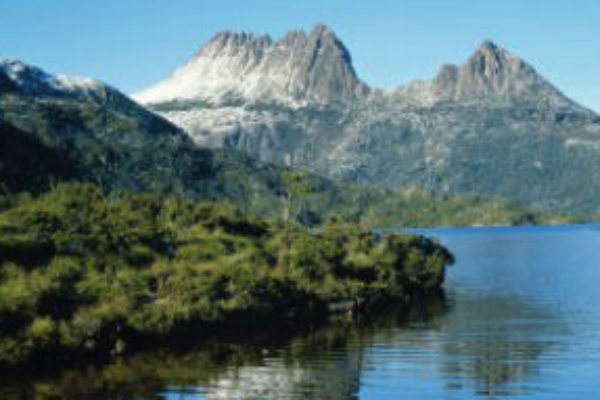 This breathtaking national park, home to a wide variety of flora, fauna and fungi, is situated in the Central Highlands, 165 kilometres northwest of Hobart. Part of the Tasmanian Wilderness World Heritage Area, the park is an Important Bird Area (IBA), which contains hundreds of walking trails, including the iconic Overland Track.
This wilderness area's tracks are graded from easy to difficult and can take from an hour to several weeks. Spectacularly beautiful, the
Cradle Mountain
-Lake St Clair National Park is an absolute must for wilderness lovers.
10. Bruny Island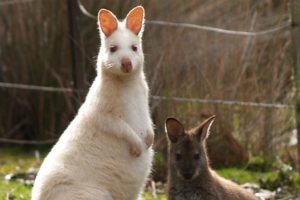 Just a 20 minute ferry ride from Kettering (a half hour drive south of Hobart)
Bruny Island
is both a wildlife and gourmet treat. the island consists of two parts separated by an isthmus called the neck. The island's most famous wildlife is the Bennett's White Wallaby, but there is a darker side to these beautiful animals. They have been known to feast on opium poppies grown in Tasmania. Aside from some very happy wallabies the island is also blessed with a wide array of bird and sea life.
The island's other draw card is the locally grown produce Oysters, Berries, Cheeses, Wines and now Whiskeys.