AAT Kings Hunter Valley Wine Tour
Tour Review
This was a full day tour from Sydney to the Hunter Valley, leaving Sydney at 8.30am after a number of hotel pick ups and returning about 645pm.  Our driver/guide Roland claimed we would travel over 500 kilometres during the course of the day – fortunately we did so in a state-of-the-art coach complete with reclining leather seats, USB charger, tinted windows and wifi on board.  Our group of 25 was made up of travellers from Canada, USA, India, Taiwan, England, Ireland and Australia, all of us united in a desire to sample some fine Hunter Valley wines.
After negotiating some busy city traffic we were soon on the freeway headed north west of Sydney to start the Hunter Valley tour.  During the drive our driver gave some interesting commentary around the early settlement of Sydney and a brief introduction to winemaking.  His overview was deliberately brief, allowing the expert winemakers, we were going to visit, to tell the full story.
We had a quick refreshment stop at Freeman's Rest and took the wise advice to ensure we had some food in our stomach before the tastings began.  Upon exiting the freeway we immediately noticed the change in scenery – the sparse planes of the Hunter soon gave way to the vine-covered wineries.
Return to Top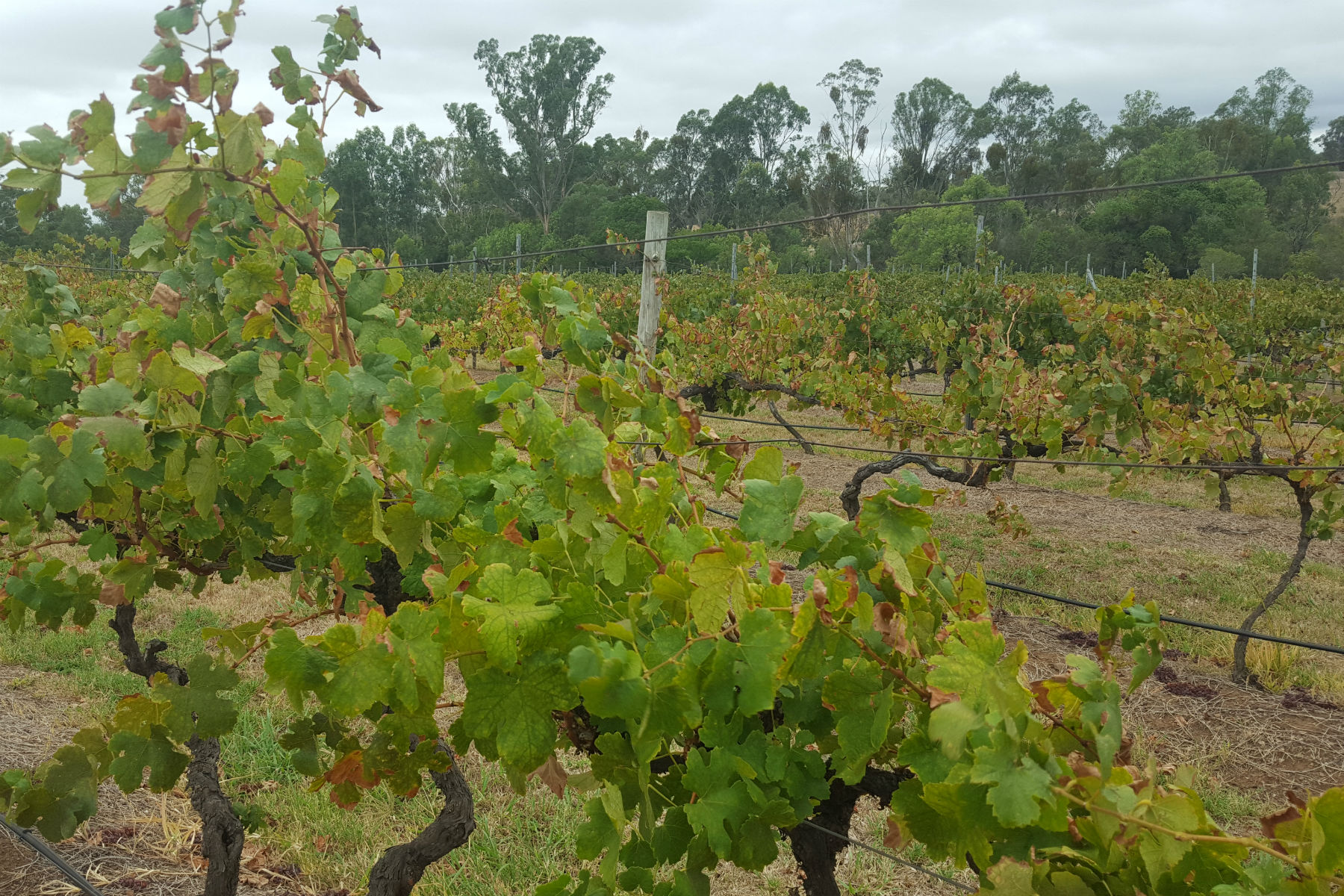 The first winery visited was Leogate.  This was formerly the Rothbury Estate, with plantings of the original Brokenback vines made by the late Len Evans, widely regarded as a leader of Australian wine making.  Leogate encompasses approximately 50 hectares under vine, with the most popular grapes being chardonnay, semillon, shiraz and smaller, more recent plantings of verdelho and tempranillo.  Our host Vanessa took us on a brief tour of the facility and we were lucky enough to witness the preparation of some shiraz….. shhhh don't mention that some of us even sampled the grapes as they had literally just been harvested.  It was interesting watching the chief winemaker take an active role in checking the process from the very start.  The 2018 vintage is expected to be a well regarded one.
Vanessa passed on some great detail and our wine knowledge was certainly expanded – I now understand the red varietals are generally grown on hill slopes as they don't like too much moisture, whilst the whites are planted on more flat terrain.  I also learned that a white wine can go from harvest to bottle shop within 4 months and that semillon from the Hunter valley is one of the best whites to age.
We were able to sample 9 different wines at Leogate, with each introduced with an explanation of the vintage and ideal foods to match them to.  The breadth of wines tasted was much more than I was expecting and whilst there was no pressure exerted to make a purchase, many did.  This was a great introduction to the Hunter Valley and we spent approximately 90 minutes at Leogate.
Return to Top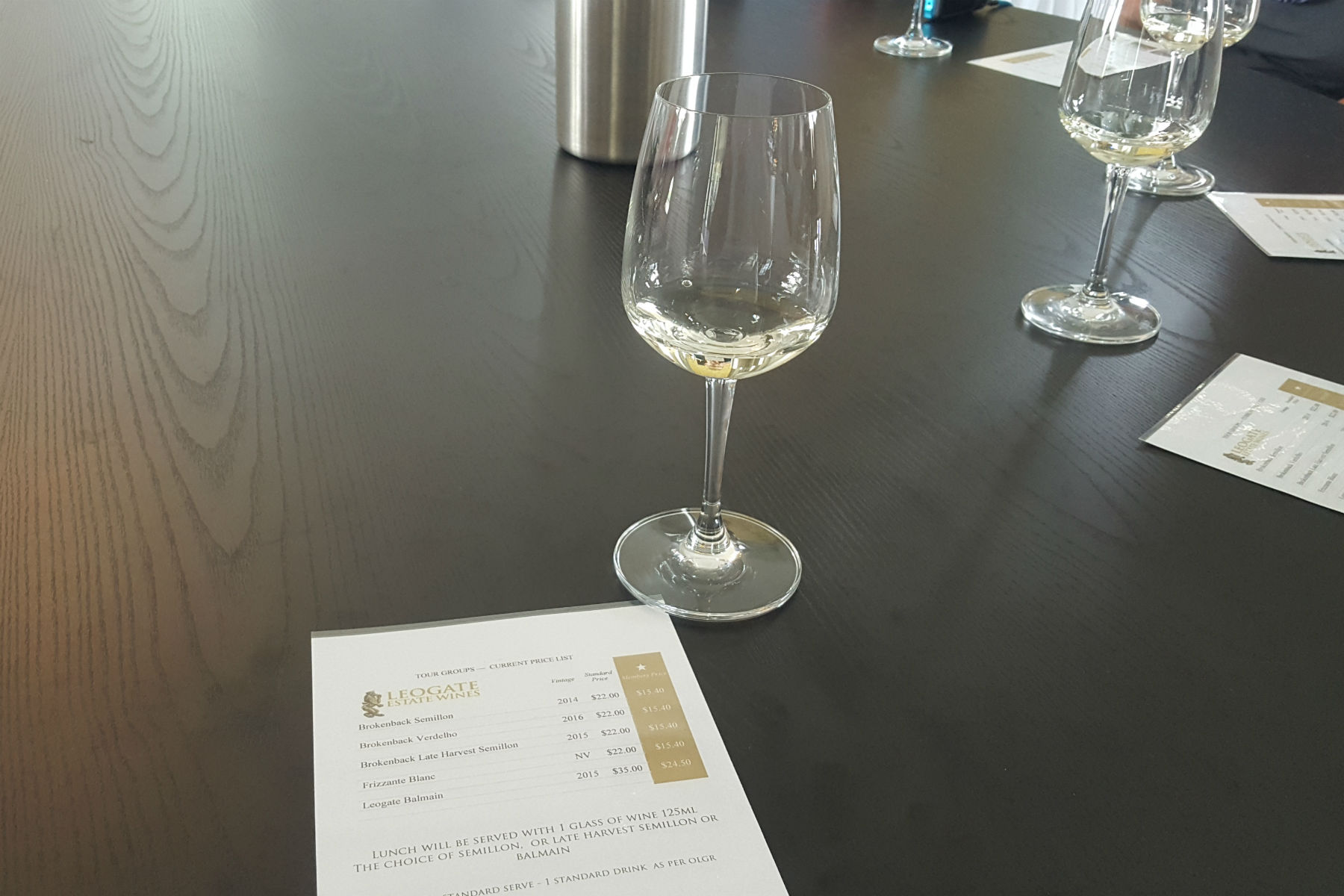 From here we travelled the short distance to the Hunter Resort.  After a short presentation amongst the vines, our group sat down to the included lunch – this was a range of share platters that were both tasty and plentiful – chicken, pasta, salt and pepper calamari as well as salads, all complemented with a glass of red or white wine.  After lunch we had around 30 minutes of free time to relax, sample some beers from the onsite Matilda Bay range or do some more wine tastings (additional charges for the tastings and beer).  It was a warm day in the Hunter, so some refreshing beers off the tasting paddle went down well for a few of us.
Our driver Roland had a unique way of ensuring on-time departures from each of the stops during the day – whoever caused a delay would have to sing their country's national anthem.  This ensured we were all actually early!
Return to Top
From the Hunter Resort we travelled to the last winery for the day –, arriving around 2.15pm.  This was a much larger winery than Leogate, although all wines produced here are only available for sale via the cellar door.  McGuigans also has a much larger commercial operation in South Australia.  We were led into a group tasting area by our wine presenter at McGuigans and she gave a very bubbly (pardon the pun) overview of the 9 tastings. By now our group were getting on like old friends and enjoying the tasting together.  It was fun to hear the different perspectives on wine from the different nationalities around the counter.
McGuigans is located adjacent to the Mercure Resort and Hunter Valley Village Gardens.  After the wine tasting we had approximately an hour to wander around this large complex. Some chose to sample cheeses at the Hunter Valley Cheese Company; others to walk through the Village (lots of souvenir shops); whilst I found myself wandering into a beer tasting.  There was certainly enough time to find something to enjoy here.
Return to Top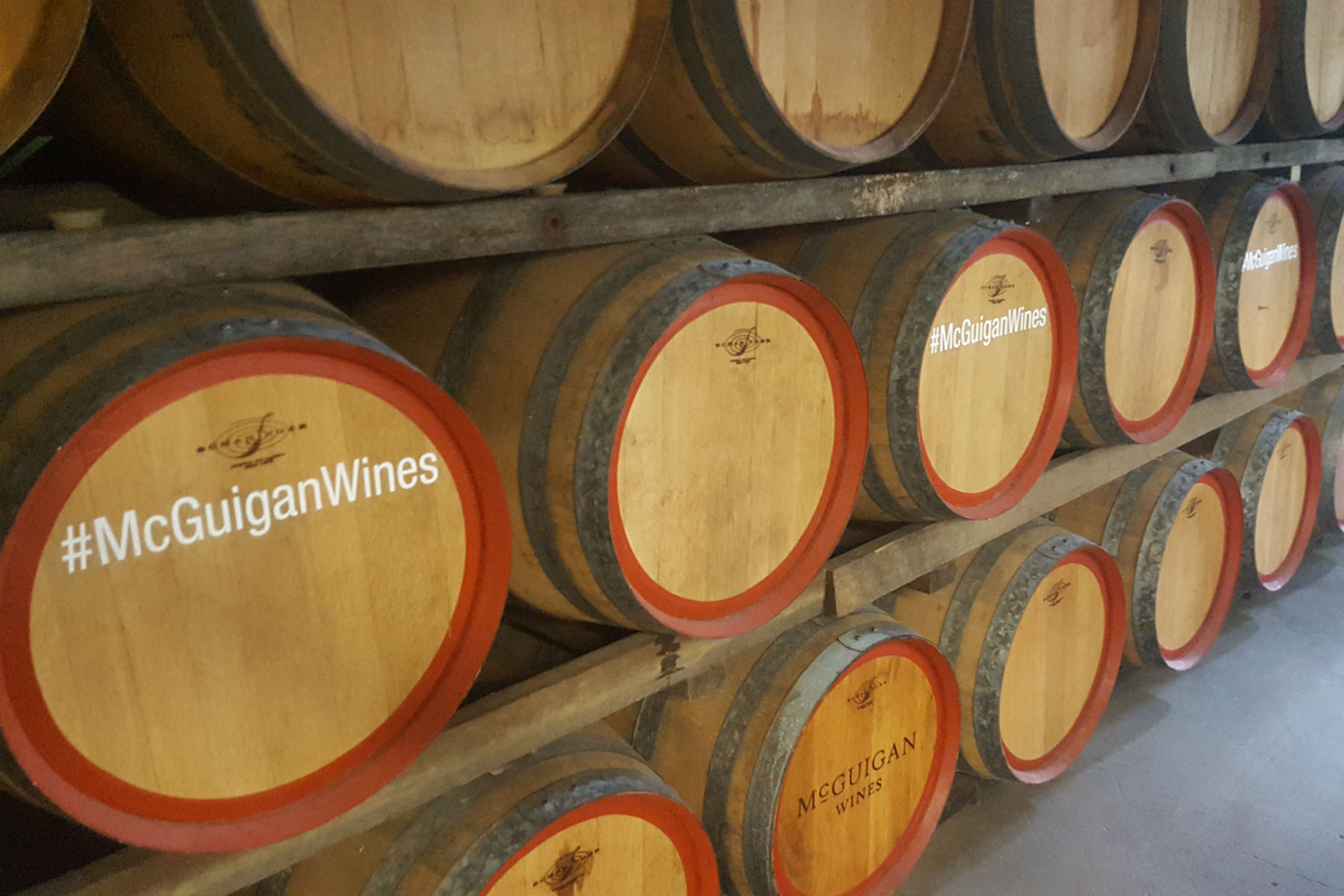 As we left the Hunter Valley there was a quick unscheduled stop at the Hunter Valley Chocolate Factory to grab a takeaway drink and last minute souvenir before we were on our way back to Sydney.  With evening traffic on the outskirts of Sydney, the journey took 2 hours – a great chance to recline the leather chairs and snooze for many on board.
This Hunter Valley tour includes drop offs at several hotels, which were around 6.45pm.  Whilst we covered a lot of distance and were away over 10 hours, the day was very comfortable, we never felt rushed, and our driver provided just the right balance of good humour and commentary.
Return to Top