Visiting the Great Barrier Reef is an amazing experience, and a big reasons why a lot of visitors come to Australia.  Once people get to their Great Barrier Reef holiday destination they realise there are multiple reef trips offered by a variety of operators and then they try and decide which one is the 'best' Great Barrier Reef Day Trip.
Instead of trying to pick the 'best' reef it is better to decide which type of Great Barrier Reef trip is best for you, each offers something different and choosing the one right for you will make the day a lot more memorable.  The main types of trips you can do are Boat Based, Island Based or Pontoon Based.
What to Expect
As a generalisation the further away from the mainland you go, the better the reef will be, but this also means more boat time, although with many of the fast catamarans operating that time is now greatly reduced.
Also the colours and varieties of the reef and coral changes the deeper you go. The deeper the reef the more varieties of marine life and coral you will likely see, whereas the shallower the water the more colours that are visible. The change in colour is due to certain colours being 'filtered' out by the water the deeper you go, and is part of the reason that vibrant blues are one of the more common reef fish colours, as blue remains visible the deeper you go.
Enjoy with Company
Regardless of which trip you choose always heed the safety briefings and don't enter the water alone. The Great Barrier Reef is mesmerizingly beautiful so take regular breaks to check how far from the boat or shore you are.
Boat Based
This option is where you spend your day on the boat. When you get to the reef the boat becomes your base for the day. Most of these boats have a diving or swimming platform, usually at the rear of the boat, for easier entry to the water, although some people do find it slightly awkward to enter the water this way.
The great thing about boat based tours is normally they are the smaller operators with access to a few different locations to give you the best experience on the day. Most of the boat based operations also go to the outer reef so the coral is at its best.
If you are not a confident swimmer, or would not be comfortable on a boat for the whole day, based trips would not be recommended. If you want experience optional activities such as Glass Bottom Boats or Semi-Submersibles check that option is available. For a smaller group, outer reef experience nothing beats a boat based tour.
 A Few Boat Based Tours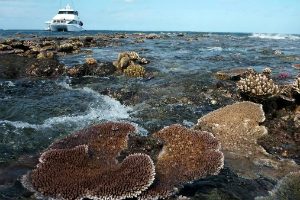 In just over an hours cruising you will reach Michaelmas Cay on the edge of the outer barrier reef. Spend your time diving, snorkelling or go across to the sand cay. Later head off to Hastings Reef for a totally different reef experience.
2 1/2 hours at each location
Small group (max 35)
Lunch, morning & afternoon tea
Introductory dive available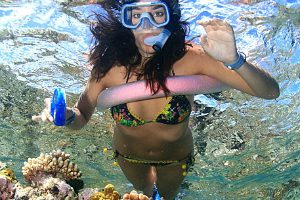 This is a dedicated snorkelling only trip to beautiful Opal Reef on the outer Great Barrier reef. Swim with Marvin the Maori Wrasse, take a guided snorkel tour and enjoy a gourmet lunch.
3 Snorkel sites
Interpretive Reef talk
Max 65 guests
Cairns transfers available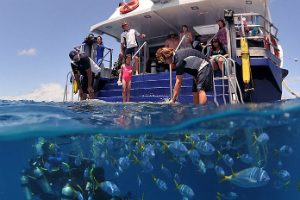 Would you like to try a FREE 5 minute SCUBA lesson before signing up for a complete course then this cruise to two outer reef sites is for you. Locations are selected on the day for the best experience.
Two reef sites
Optional diving (extra)
Add a Semi-submersible or helicopter tour (extra)
BBQ Lunch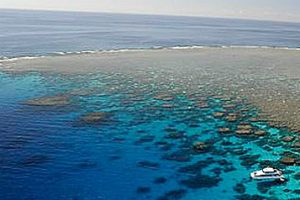 Your crew will select the two best sites from the 16 available ensuring you get the best outer Barrier Reef diving or snorkelling experience. They limit passenger numbers to 60 even though the boat is designed for 100.
Two dive / snorkel sites.
Guided snorkel tour.
Buffet lunch
Optional extra dives available
See more Great Barrier Reef tours
Island Based
Most Great Barrier Reef islands have fringing reefs a short distance from the shore with the quality and quantity of the coral improving the further from the shore you go. Being able to see the Island while swimming allows you to keep your bearings and spend more time watching the reef than worrying where you are. Children often prefer an island based experience as they can intersperse making sandcastles with looking for Dory or Nemo.
The islands themselves vary greatly, from ones with just you and the beach umbrella through to 5 star resorts and from sandy cays to rain forest clad mountains where the rain forest truly does meet the reef.
Island Activities
Some islands also offer more activity options, on some of the larger island you can take a bush walk and even find your own secluded beach. There may also be more food and activity options on an island and you may even be able to stay the night. Imagine having a romantic candlelit dinner on a tropical beach.
If you don't want to spend all day on a boat then an Island based trip is a must, and you are more likely to see turtles and a wider variety of birdlife at an island. Swimming out from the beach to see the reef is also very special and suitable for less confident swimmers. For families the diversity an Island offers is hard to beat.
 A Few Island Based Tours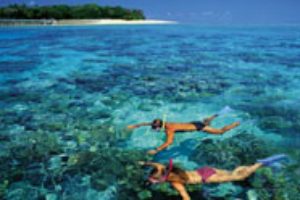 Spend a day on this tropical paradise just a short trip from Cairns. The the reef is just a short swim from the beach, snorkel or take a glass bottom boat trip, or for a few dollars more do both! Take a stroll around the island.
5 hours on Green Island
Choice of Snorkelling or Glass Bottom Boat
Fish feeding display
Perfect family day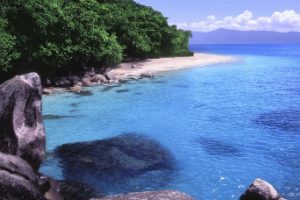 Explore Fitzroy Island at your leisure. There is so much to do on the island, you can swim, explore the island's walking trails or maybe just kick back under a shady tree. The clear calm waters make this an ideal family destination.
Fast catamaran transfers
5 hours of island time
Equipment hire available
Locals favourite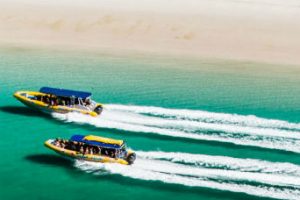 Whitehaven Beach – Whitsundays
Spend a day in paradise visiting Whitehaven beach, Hill inlet, take a national park walk and snorkel the reef. This is known as one of the most beautiful beaches in the world, come and see why!
Approx 2 hours at Whitehaven Beach
Guided walk to Hill inlet
Free snorkelling equipment
Lunch available (extra)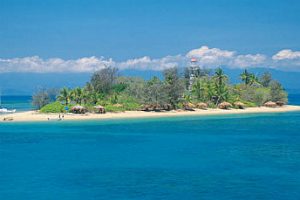 Sail to the phenomenal low Isles for a day of snorkelling and exploring the island's natural beauty. With glass bottom boat viewing and a marine biologist guided tour, you'll leave with a renewed appreciation of the Great Barrier Reef.
Guided Island Tour
Snorkelling equipment provided
Glass bottom boat
Smorgasbord lunch
See more Great Barrier Reef tours
Great Barrier Reef Travel Guides
Want to know more about the Great Barrier Reef, including popular tours, latest specials, travel information and plenty more things to do then read our extensive Things to Do Travel Guide.
Pontoon Based
Most pontoons are run by the larger operators, this means bigger boats and more facilities. Over the years the quality and stability of the outer reef pontoons has improved to the point where you may think you are on dry land. Entering the water from the pontoon as they usually feature swimming platforms.
Pontoon Activities
For children, when they aren't swimming or participating in a water based activity there are other activities to keep them occupied, and activities are what the pontoons specialise in. Glass Bottom Boats, semi-submersibles, seawalkers and helicopter flights all add up to a memorable experience. There are even pontoons with a waterslide to keep the children (and the adults as well) entertained.
With the bigger boats does come slightly larger group sizes but the moment you don your mask and start watching to fishes at play in the reef you will feel like it is just you and the reef.
Most pontoons are on the outer barrier reef, so you can expect an amazing reef experience.
Sleep on the Coral and Under the Stars
Recently some pontoon operators have added a reef sleep experience, where you stay the night on the pontoon after everyone else has gone home. Two days on the reef, sleeping under the stars with the reef all around you, unforgettable. There is one tour operating from Cairns and another in the Whitsundays.
 A Few Pontoon Based Tours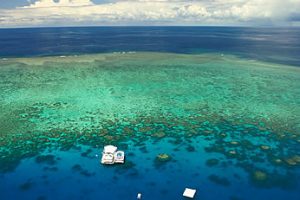 See the real beauty of the outer reef on this full day trip to Norman reef. After a leisurely start (9.45am check-in) you will cruise to the pontoon where you can spend your day snorkelling, diving (optional extra) or in the underwater observatory.
Snorkelling equipment provided
Semi Submersible tour
Reef education presentation
Buffet lunch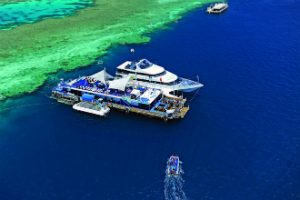 Located in a protected bay next to a coral wall this pontoon is an excellent base to experience the reef and all the marine life it offers. There is a underwater observatory, a subsea adventure with a marine expert and ample space if you want to just relax.
Snorkelling equipment provided
Take an introductory dive (extra)
Add a helicopter flight over Heart reef
Buffet lunch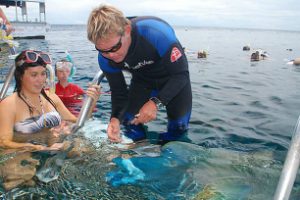 Have 5 full hours at the outer Great Barrier Reef to swim snorkel or laze on the sun deck and enjoy the reef around you. There an on board marine biologist and the option of an introductory dive or seeing the reef from the air, to make it a memorable day.
Underwater observatory
Kids swimming area
Glass Bottom Boat and Semi submersible
Buffet lunch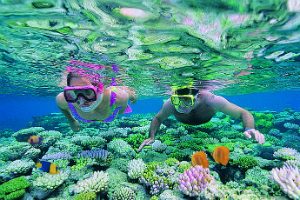 Agincourt Reef – Ex Port Douglas
Agincourt reef is an outer barrier reef, ribbon reef near Port Douglas. The pontoon has snorkel and dive platforms, a licenced bar, its own marine biologist and a mail box so you can even post a letter to your friends from the outer reef.
Underwater observatory
Unlimited semi submersible trips
Buffet lunch
Optional introductory or helmet dive
See more Great Barrier Reef tours
Other ways to see the Great Barrier Reef
If boats aren't your thing or you want a few hours alone on a sand cay then you can always have a helicopter drop you off on a deserted sand cay for an amazingly romantic lunch, proposing on a deserted island anyone?
If you are short on time you could take a half day reef trip where you are helicoptered one way or both, or combine two trips in one day, there are so many options.
Whichever way you decide to visit the reef there will be a trip that suits you. The more popular destinations of Cairns, Port Douglas and the Whitsundays will have the most options. A trip to see the Great Barrier Reef is something everyone should do at least once and picking the right type of trip will just make the day better.