Cairns Long Weekend Itinerary
Let's set the scene….. you might be looking for a quick break from work and want the chance to fly somewhere close, warm and interesting; or maybe you are travelling the breadth of Australia and have included Cairns on your itinerary with the idea of ticking off a few bucket list items; perhaps you are a regular visitor, familiar with the favourable winter climate and the wide choice of things to do this area offers; you could be young or young at heart, a family or single traveller, cashed up or careful with your budget…… whatever the reasons behind your visit, following are some suggestions on how best to spend a long weekend in a place I now call home – Cairns, Queensland.
The first step is to decide where to base your stay.  With only a few nights to spend in Cairns, I would suggest picking one area only rather than moving around.  You could choose from Cairns itself, the Atherton Tablelands, one of the Cairns' Beaches such as Trinity Beach or the curiously-named Yorkeys Knob, Port Douglas, or venture further north to the Daintree rainforest.  Whilst each area commands its own justification for your 3 precious nights, my preference is Palm Cove.
Located about halfway between Cairns City and Port Douglas, Palm Cove is a haven for quality restaurants, a range of accommodation styles as well as offering the ubiquitous palm tree fringed seascape you will find in the travel promotions.  A taxi from the airport will normally cost you between A$65 and A$85 or alternatively you could consider hiring a car for the 25 minute drive.  There are also door to door airport transfers available, and all the tours recommended can include transfers from Palm Cove.
Return to Top
Day 1 – Your first evening in Cairns
To make the most of your first afternoon a walk along the beach is definitely recommended.  Head north for a short walk to the Palm Cove Jetty where you are bound to see many local "fishos" trying their luck for a trophy fish – you would be amazed at the variety and size of the fish reeled in here on a regular basis.  If you are feeling energetic, head south instead and you will be presented with a continuous beach of nearly 3kms in length.  This walk will take at least 90 minutes and you will get to tread Clifton Beach and Kewarra Beach, two very popular locals' beaches.  During the winter months you can take a dip anywhere along the stretch of beach, however over the summer (pretty much November through March) it is advisable to swim in the floating enclosures as directed by lifeguards.
That expenditure of energy deserves a liquid reward, so why not pop into one of the cafes or bars dotted along the Palm Cove esplanade.  At the southern end my recommendation is Chill Café who offer "mates rates" Wednesday through Sunday from 3 to 5pm. In the middle section of Palm Cove you can't go wrong with a stop at either of Rising Sun or the Apres Beach Bar.   If you are at the northern end, the Palm Cove Surf Club is popular.
This evening my suggestion is to take in some local culture, and it doesn't come more authentic than Aboriginal culture from almost 40,000 years ago!  Tjapukai is a nearby attraction and they offer a tour which includes transfers, evening entertainment and a terrific buffet dinner.
Make sure you get a good nights sleep, because tomorrow could be a busy one!
Return to Top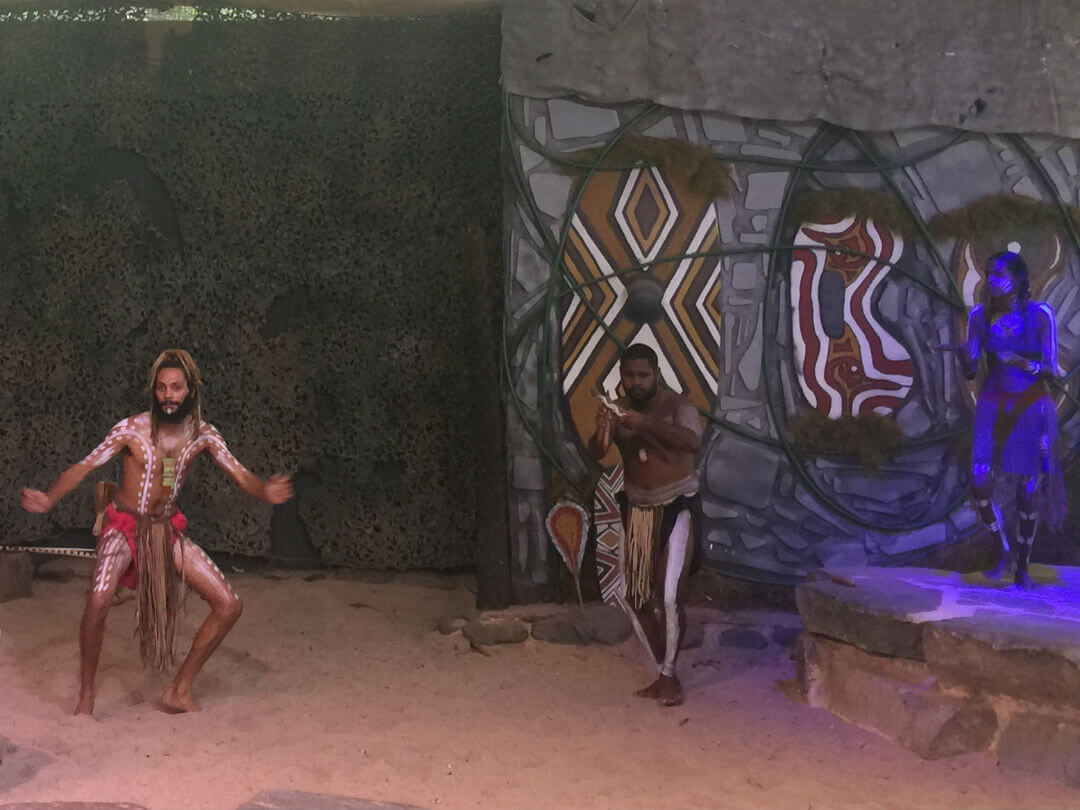 Day 2 – A day at the Great Barrier Reef
One of the best known attractions of the area is the Great Barrier Reef.  You can visit the reef easily from Palm Cove and have a choice to depart from Cairns or Port Douglas.  You can also enjoy either a half or full day experience, visit the outer reef, a coral cay or an island.  Check out our guide to the different ways to experience the Great Barrier Reef here.
Below are some suggested cruises that you may like to consider, these cruises all include a transfer which will see you back in Palm Cove by 6pm at the latest, except for the Hastings Reef half day tour which does not include any transfers.
If you want to experience what I believe to be one of the finest coastal drives in Australia then select a cruise from Port Douglas and you will travel along the Cook Highway where the rainforest comes down to the beach, truly magic.
Return to Top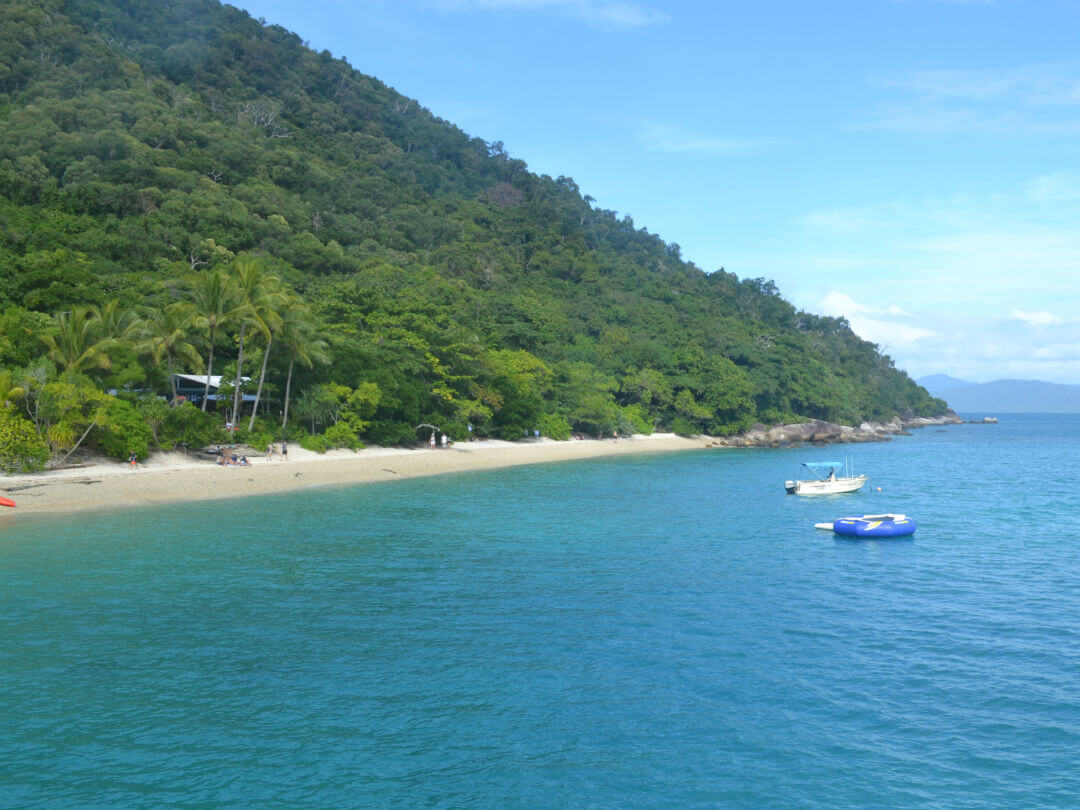 Depending on your preferences there are some very nice restaurants worth trying – Nu Nu at the southern end is consistently rated highly in restaurant awards, and if you like Thai, seafood or Italian there are great options in the front of Peppers Beach Club.  At the northern end, Beach Almond is recommended also.  For different tastes there are a number of takeaways and bars that offer casual dining options.  One of my favourite things though is to grab a takeaway pizza, a cold drink and sharing it with friends on the beach!
Return to Top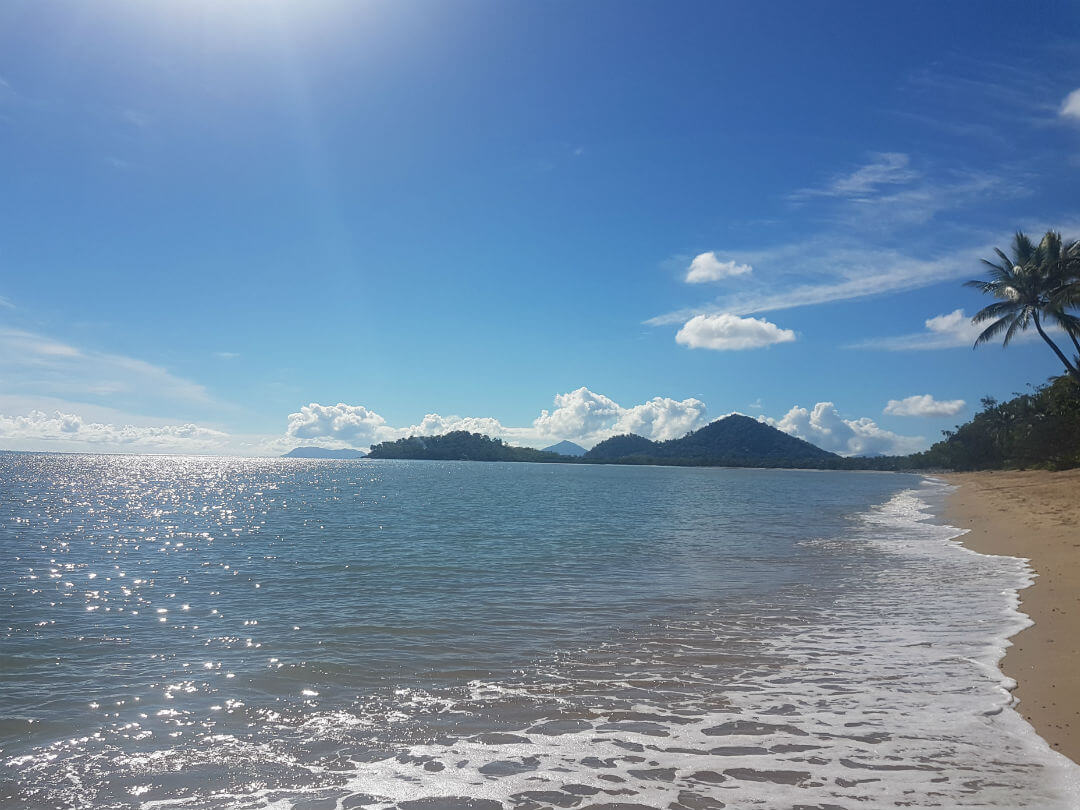 Day 3 – You will leave wanting more
To round out the long weekend, why not get adventurous and try an activity to get your adrenalin pumping.  Tropical North Queensland is blessed with a myriad of adventure activities – white water rafting, bungy jumping, hot air ballooning and skydiving to name a few.
For those seeking a more sedate but nonetheless exciting experience, suggestions would include Skyrail and the Kuranda Scenic Railway, you can read more about that experience here. For another perspective on the rainforest then a trip north to the Daintree Rainforest, Mossman Gorge or Cape Tribulation is recommended, and it is possible to visit all three in a day.
Having recently enjoyed a long weekend here, I can assure you that you can pack so much into 3 days that it will make you feel like you have been away a week.  You will be guaranteed to feel refreshed and eager to come back again and experience even more of what Cairns has to offer.
Return to Top