Russell Falls
Tour Review
The tour does offer hotel pick up, but we opted to take the short walk from our hotel and meet the tour at the Brooke Street Pier. This turned out to be a great idea, aside from a pleasant walk in the morning we got to see one of the Antarctic supply ship docked in Hobart. We also were excited to see hundreds of little star fish around the pier, until we found out they were a pest that had caught a ride on a foreign ship and efforts were being made to remove them.
Checking in was quite easy at the Gray Line office and we headed outside to wait for Sue our guide and driver for the day. Sue and another driver turned up at the same time, they had both been picking up passengers from around Hobart, and after a few minutes of passengers shuffling between the buses we were on our way.The bus / coach, not sure which terminology is correct so I'll use bus, was a midsize bus with large comfy seats and panoramic windows. Maximum seating on the bus was about 34 but today the bus was about ½ full. The view from any seat on the bus was great, and there was storage room overhead, great for our raincoats which we bought just in case. After the normal introductions we headed off with Sue pointing out some interesting places around Hobart, some of which we will definitely be coming back to, like Mawson's Replica Huts.
We drove along the Derwent River towards the Salmon Ponds which are so much more than just a fish hatchery. Aside from the numerous ponds where you can feed the fish and occasionally the platypus come to visit, there are over 50 varieties of trees from throughout the world. There is also a fishing museum and a Fishing Hall of fame. But first point of order was morning tea (which is included in the tour), pancakes and ice cream. I told Ann they were Salmon pancakes and was just about to tuck into hers when the staff assured Ann they were not Salmon, so close…..
Return to Top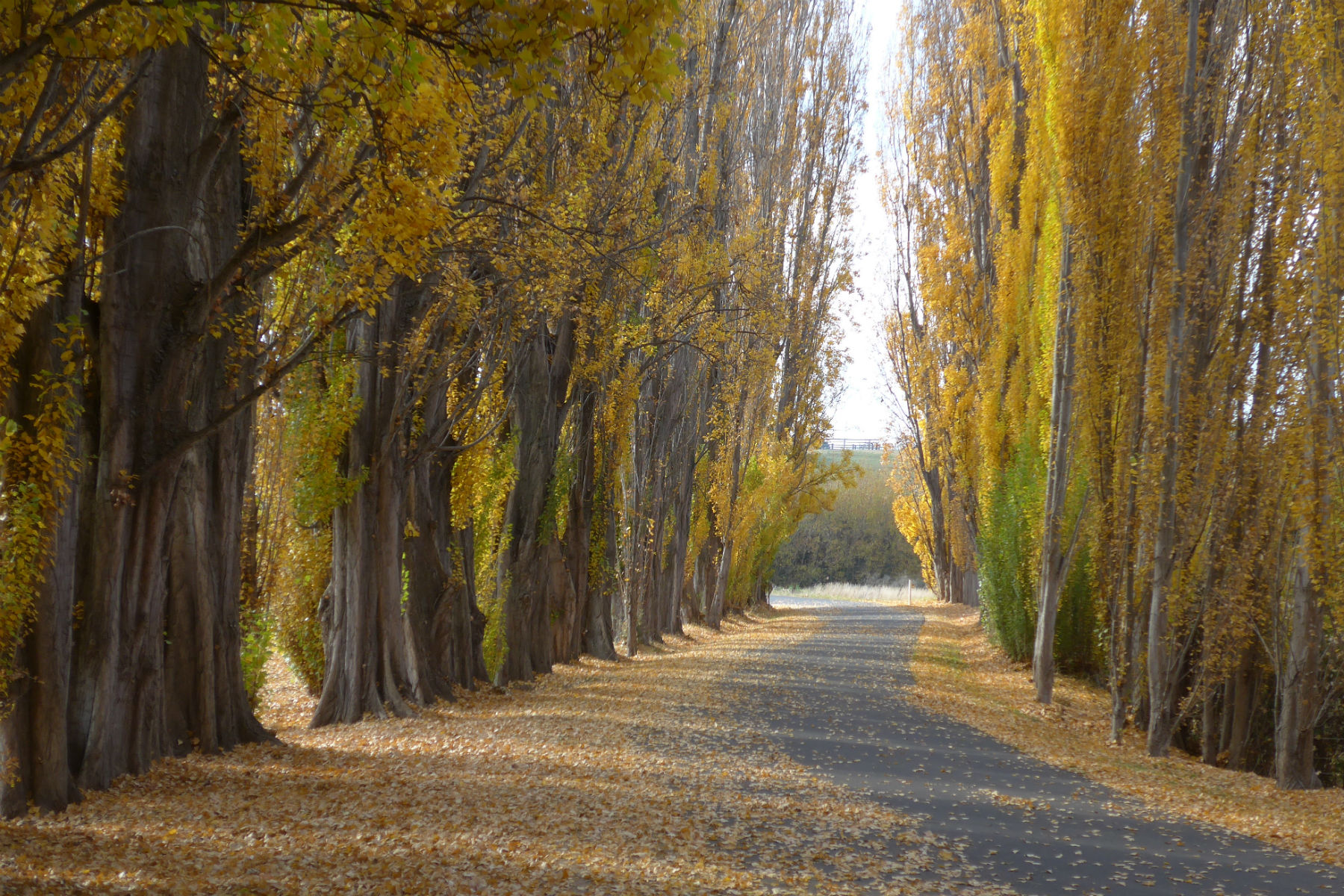 It was a cold day so I was happy to stay inside but Ann wanted to see the fish, so we headed to the Salmon Ponds to feed the trout? Slightly confusing I know, it turns out the original idea was to breed salmon but trout are more suitable but the original name stuck. They still do provide salmon fingerlings as well as trout, but we only saw trout on the day. What I wasn't expecting was the amazing gardens around the ponds, they have been set up like a mini botanic gardens with an amazing avenue of Poplar trees lining the road in. The Salmon Ponds are next to the Plenty River which we checked out in the hope of seeing a platypus. Any sensible platypus would be snuggled up next to a warm fire and not swimming in a river, so not surprisingly we didn't see any.
The first pond contains small trout so when you feed them then splash about in a controlled manner. The next pond has a few albino trout which have snuck over from their pond. So I turned up at the third pond and crouch down close to the water hoping to see little trout or maybe the elusive 'Tiger' trout, what I didn't know was this pond contained the breeding stock. Ann threw a handful of food in and the feeding frenzy began, I had to quickly jump back before I became part of today's menu. Sweet revenge I suppose for trying to steal her pancakes.
Return to Top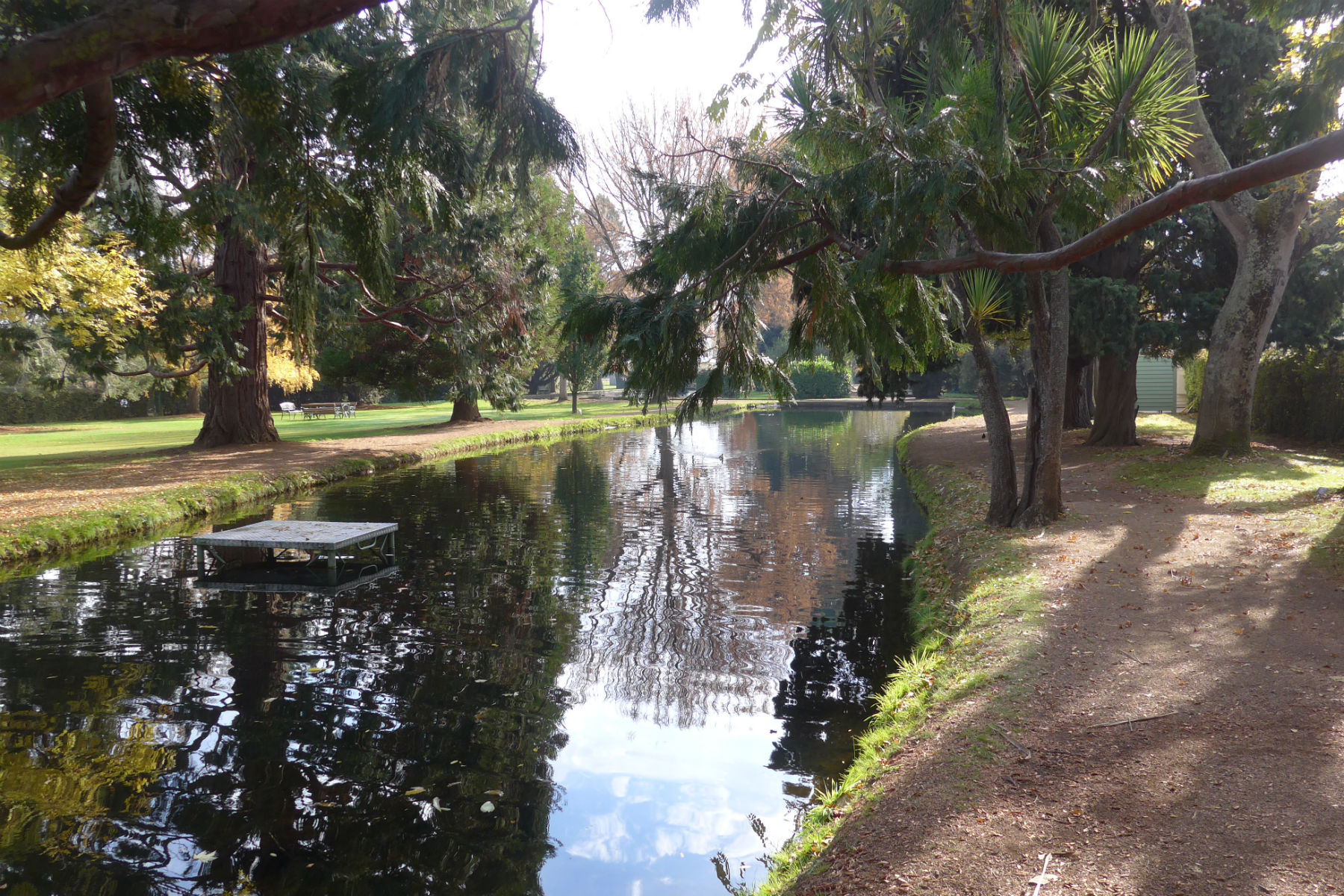 I dripped dried myself and headed back to the bus for the next part of the trip to Russell Falls. Sue was pretty organised getting us to plan our lunches on the way so we can have more time in the National Park and less time in queues waiting for lunch.
The walk to the falls was very easy along a paved path, along the way we stopped regularly for heaps of photos including some very cool looking mushrooms, massive tree ferns and some Tasmanian Oaks, which are not Oaks but eucalyptus, and sometimes called Swamp Gums, now that's not confusing.
Return to Top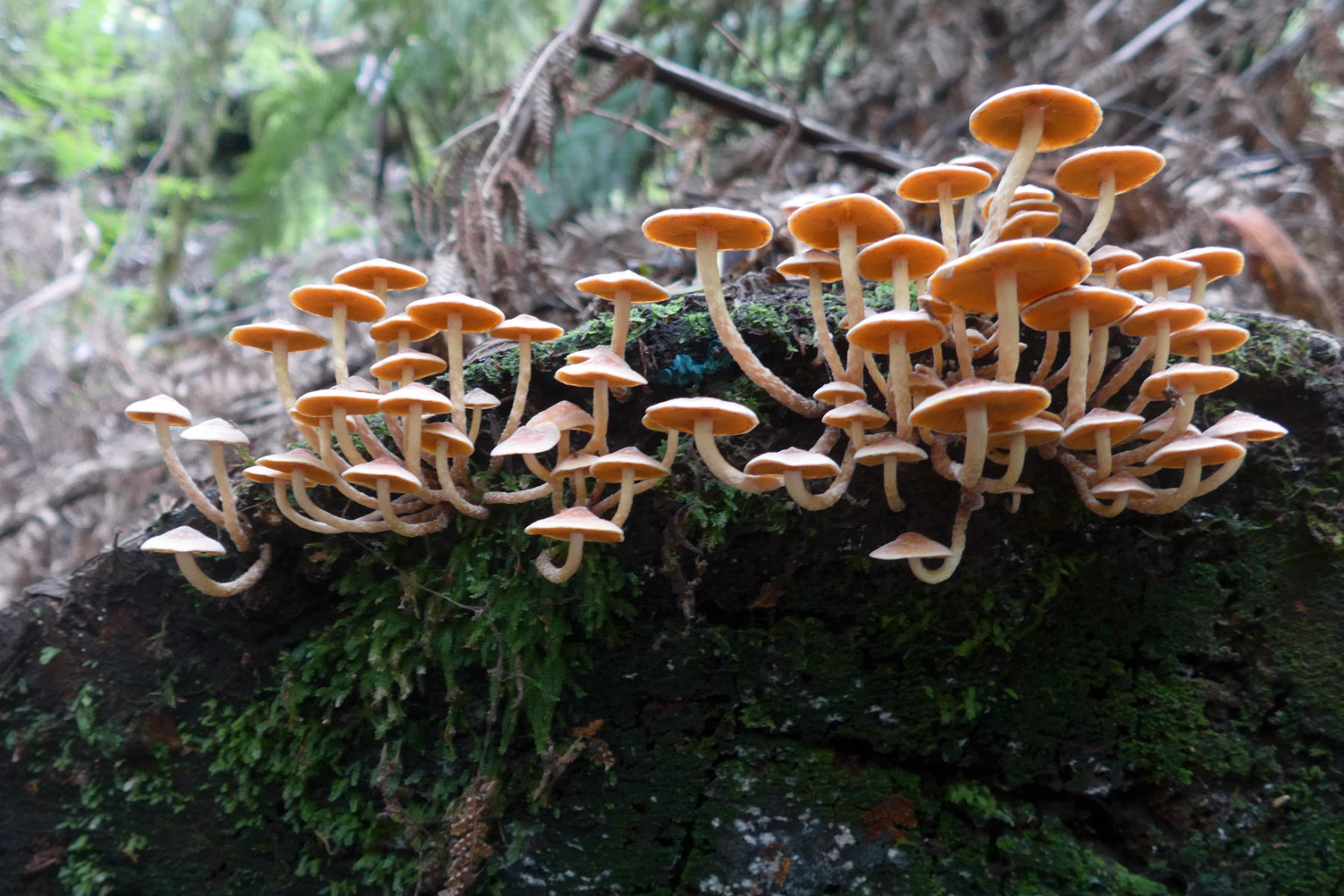 Russell Falls were amazing, sheets of water cascading down various rock walls. There are two vantage points and it is worthwhile to view the falls from both places as every time you look you see something different. Unsurprisingly we were the last to leave, Sue was a little worried we might stay there all day. We eventually made it back for lunch (not included) and found our new best friend, a wood fire, mmmmmm. Again we were last to leave, I didn't want the fire to get lonely.
Return to Top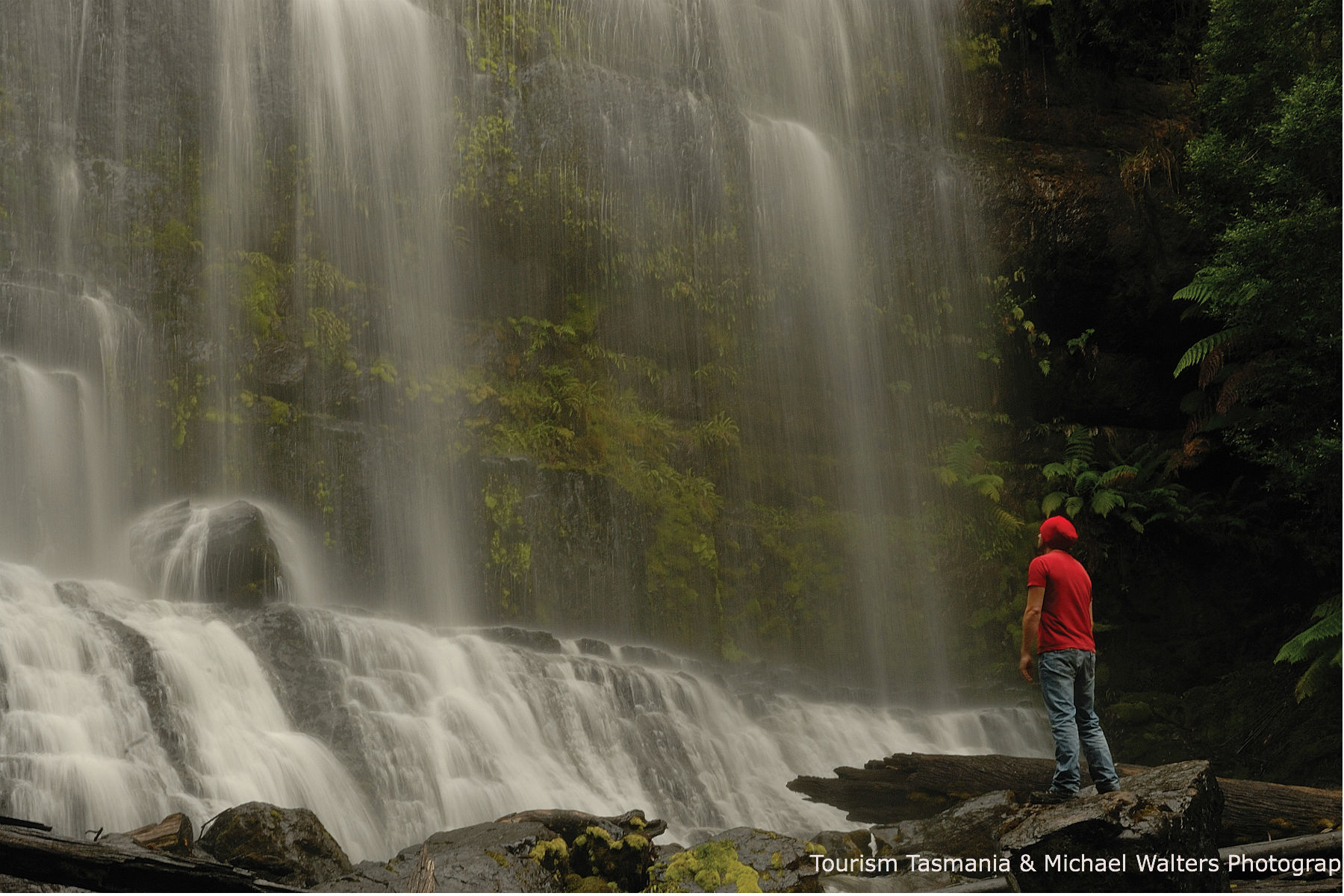 On the way home we went up the other side of the Derwent River to drop some people off at Boonorong Wildlife Park. We also crossed over the stone causeway built by the convicts just after Hobart was settled and we got to see a few baby Black Swans in the shallows. Turns out it is unseasonably warm so the Swans have yet to head north, not sure I think it is warm but then again I am not paddling around in the water.
But the surprises were not over yet. There is only one train in Tasmania and it only comes into Hobart every couple of days. So just as we pull up to the train crossing the lights start flashing and along comes the longest, slowest train in Tasmania. It gave us a toot, so we returned the favour. The driver in front thought maybe we were beeping him to move on so he did. Fortunately he realised the train was not a mirage before he found out the hard way.
What was nice was Sue asked us all what we were doing after the tour and dropped us back at a convenient spot if we weren't going straight back to our hotel. A nice touch at the end of a very nice day at Russell Falls.
Return to Top