Things to do in the Whitsundays
The Whitsundays, where beauty and adventure go hand in hand. Seventy- four islands surrounded by calm waters in many shades of blue, stunning white beaches and secluded bays with rainforests as their backdrop. The colours of the fish and coral will have your senses in "overdrive". The sunrises and sunsets are magical and the stars, the brightest you have ever seen.
The must see locations are Whitehaven Beach, Hill Inlet, Heart Reef and everything in between. On the northern end of Whitehaven Beach (situated on Whitsunday Island) is Hill Inlet, a stunning cove, where the tides move the sand and water to create the most surreal palette of beautiful colours. The best place to see this view of a lifetime is from Hill Inlet Lookout, accessed from Tongue Bay.
Another way to see and do it all, stay at Airlie Beach and take a fabulous Airlie Beach Reef Trip, there are plenty to choose from. They pass by many of the islands and resorts such as Hamilton Island, South Molle and Daydream and there are others!
More about the Whitsundays
Top 10 things to do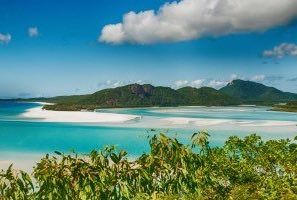 Australia's spectacular Whitsundays is an archipelago of 74 unbelievably beautiful islands off Queensland's central coast. 
Review: South Molle Island Tour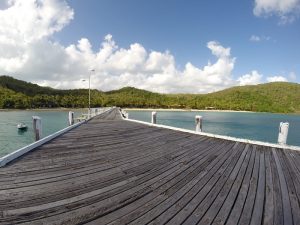 We went on the Whitsundays Adventure Island Tour  to South Molle Island and Whitehaven beach. See what we saw and thought.
9 Unforgettable experiences in the Whitsundays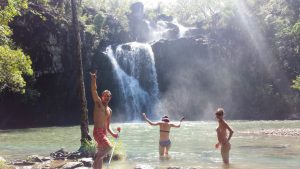 Read and view our photo tour of the Whitsundays where we experienced some of the many fantastic tours and sites. 
What's on in the Whitsundays
Hamilton Island - Hilly Marathon
30th April, 2017
To mark the 10 anniversary, in 2017, there is a half and full marathon on offer. Don't be fooled the island course makes for one tough marathon. There is also a relay event and three flatter options for the children.
More information Hamilton Hilly Marathon
Hamilton Island - Mother's Day Classic

14th May, 2017
This is a fundraising event for Breast Cancer research and is suitable for most fitness levels. There is a 4.2 klm walk and the 6.7 klm run with side activities focused on the families.
More information: Mother's Day Fun Run
Whitsunday SUP Challenge

7th to 13th May 2017
In 2017 the focus is not just on the racing but on improving your SUP skills. This year also features a new social format guaranteed to please. Boards are also available for competitors to borrow.
For more information: 2017 Whitsunday SUP
Proserpine - Whitsunday Show 2017
23rd and 24th June, 2017
This is the areas 105th annual show. It is a two-day regional event with a strong agricultural focus, and a range of family oriented entertainment, with the local holiday on the Friday.
More information Whitsunday Show
Hamilton Island - The Great Whitehaven Beach Run
18th June 2017
Imagine the opportunity to run a marathon on one of world's most beautiful beaches? Even if you are not up to the marathon there are also 5 klm and 10klm runs and three kids events. Transfers are from Port of Airlie.
More information The Great Whitehaven Beach Run
Airlie Beach Race Week - 2017
10th to 17th August 2017
The Airlie beach festival of sailing is a fun week on and off the water and one of Australia's premier sailing events. Aside from the competition there is a strong social atmosphere at this Festival of Sailing.
More information:  Airlie Beach Race Week
Audi Hamilton Island Race Week
19th to 26th August 2017

This is Australia's largest offshore keelboat regatta, and one of Australia's favourite yachting events. For the social events leave the suit and ties at home, smart casual is the required dress code.
More information: Audi Hamilton Island Race Week
Run the Great Whitsunday Trail
September 2017 (to be confirmed)

Held over the 28 klm Conway circuit walking track this run starts at Brandy creek and finishes at Airlie beach
More information: Run the Great Whitsunday Trail
 Getting to the Whitsundays
By Air
The Whitsundays is serviced by two airports one on Hamilton Island (HTI) and the other at Proserpine (PPP) with Shuttle busses and ferry's providing transfers to and from the mainland, pre-booking advised.
Great Barrier Reef Airport, Hamilton Island (HTI)
Jetstar:  
Qantas:              

Cairns daily flights
Brisbane five Days a Week 
Sydney four times a week
Melbourne three times a week

Virgin:

Daily from Sydney and Brisbane
Melbourne four times a week
 Whitsunday Coast Airport, Proserpine (PPP)
Jetstar:
Tiger:

From Sydney four days a week

Virgin:
General Getting There Info
By Air:
Two Airports service the region, one at Hamilton Island (HTI) and the other at Proserpine (PPP).
By Road:
Airlie Beach is about 7 to 8 hours drive south of Cairns but plan on a little longer as there are heaps of places to visit on the way. The turn off to Airlie Beach is north of Proserpine, but if you miss it the main turn off is just as you enter Proserpine.
From Brisbane it is about 12 hours drive and again there is lot to see in between. The main turn off to Airlie Beach is just as you are leaving Proserpine heading north.
 By Bus:
Greyhound have multiple services daily to both Airlie Beach and Proserpine from either Brisbane or Cairns.
Premier runs daily services as well as Ozexperience.
By Rail:
Queensland Rail has daily services from Cairns and Brisbane, to Proserpine with transfers to Airlie Beach.
Sailing in the Whitsundays
The Whitsundays, Australia's sailing paradise, was created by nature so we could have a "sailing playground".  So many bays, coves, inlets, beaches, islands and not enough time!  
If you want a sailing holiday in the Whitsundays, there are different options but why not let someone else do all the work? All you need to do is swim, eat, admire the beautiful scenery and indulge in a cocktail at sundown. Sound like you?
The crew know where the best lunch spots, sheltered bays, evening anchorage, and even the best swimming spots are! After all it is their back yard! Perhaps you might like to learn the basics of sailing, the crew will let you help.
Bareboat charters are also available.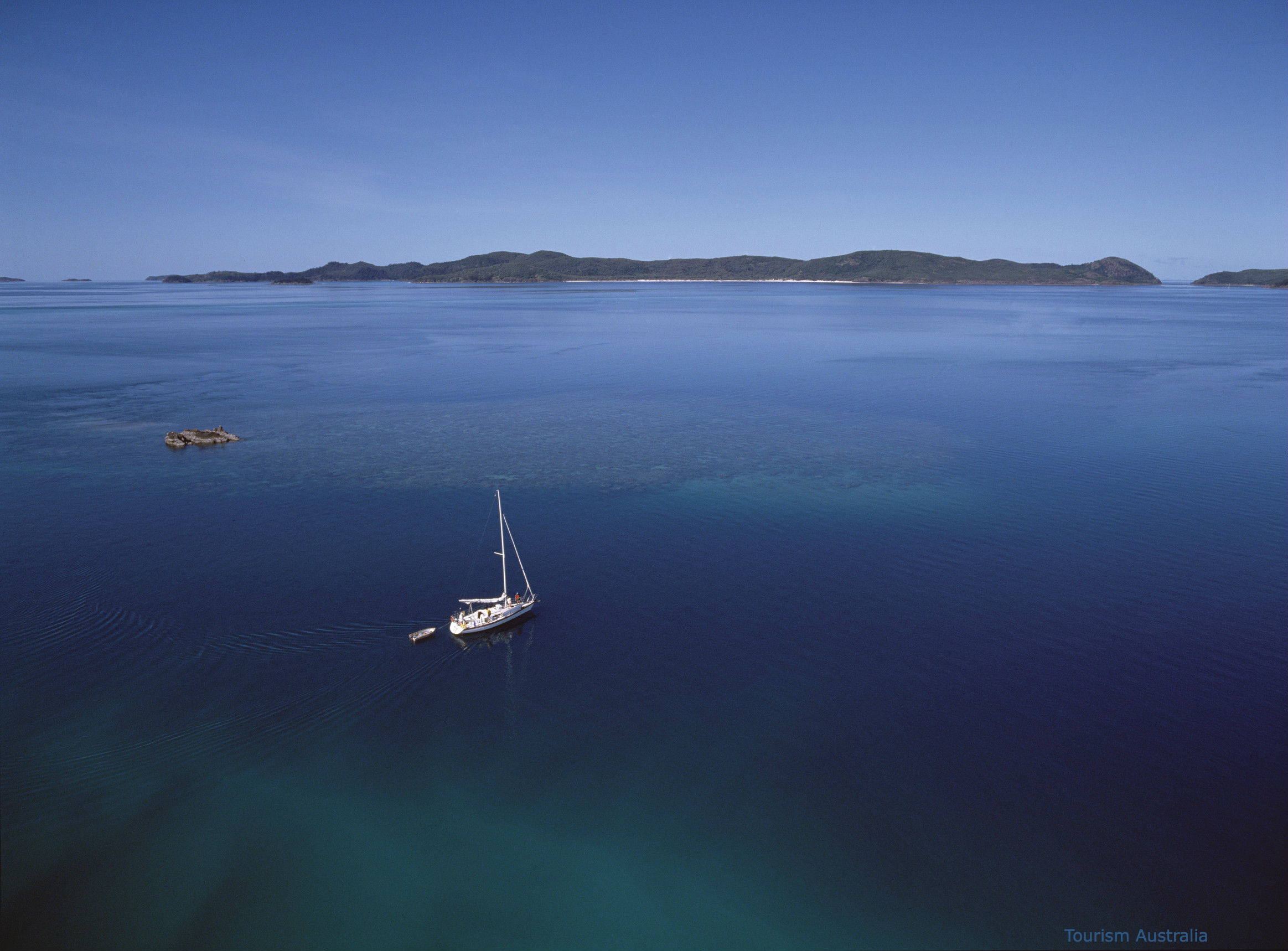 Our Sailing Tour Staff Picks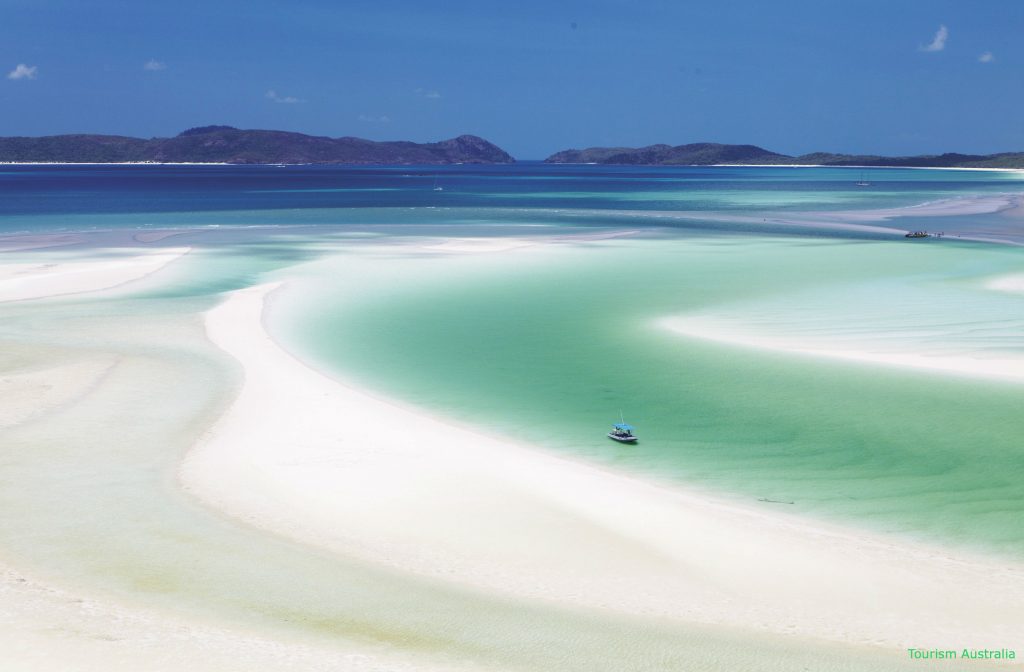 Whitehaven Beach
Whitehaven Beach, 7 kilometres of white sand that squeaks underfoot.  Surrounded by swirls of turquoise, blue and green water. Voted by some as the best beach in the world, come see for yourself.  The best views of this magnificent beach and the just as beautiful Hill Inlet, is from Hill Inlet Lookout, a short walk from Tongue Bay Beach. Swim in the bays first or climb to the lookout first, decisions! Either way the two go hand in hand.
Nearby is the famous heart shaped island called Heart Reef, be sure to take a helicopter flight over it. These wonderful treasures of the Whitsundays are not to be missed and we promise they are as good, if not better, than the brochures.
Whitehaven Beach, Hill Inlet & Reef Tours
Airlie Beach & Shute Harbour
Airlie Beach, is the gateway to the Whitsundays. A great way to explore the area is to base yourself at Airlie and do daily trips to the different parts of the Whitsundays.
Airlie Beach has undergone major renewal in the past few years and is looking better than ever. The Marina has been upgraded and is attracting world class boats. Along the boardwalk you will find quality restaurants.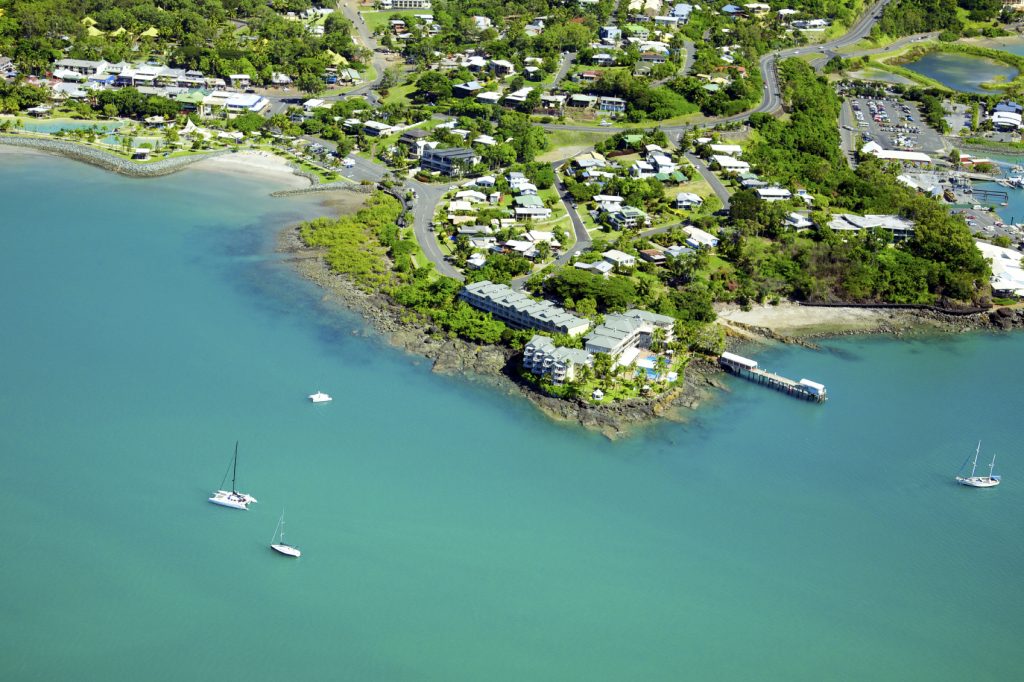 Islands in the Whitsundays
The Whitsundays located in the Coral Sea is made up of 74 islands, only 8 of the islands have resorts on them. We have listed some information below on some of the popular islands: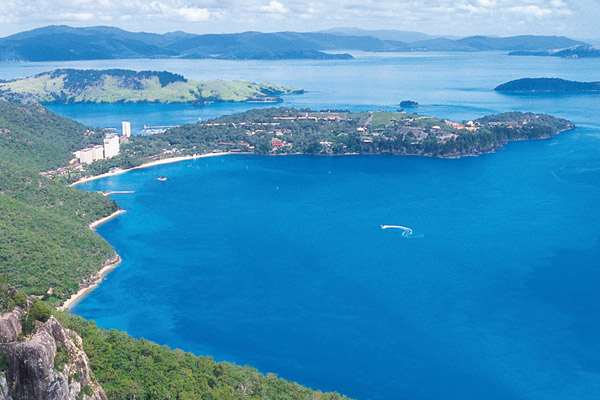 Hamilton Island
Hamilton Island is the most developed resort in the Whitsundays, it has so much to offer right in the middle of paradise.
The island has many different areas. You can discover Australian Native Wildlife at Wildlife Park, scenic lookouts await your camera. You can swim at Catseye Beach or one of the many pools. 
You can travel the island by golf buggy or shuttle bus.  To keep you busy the island has shops, restaurants, art galleries and a marina.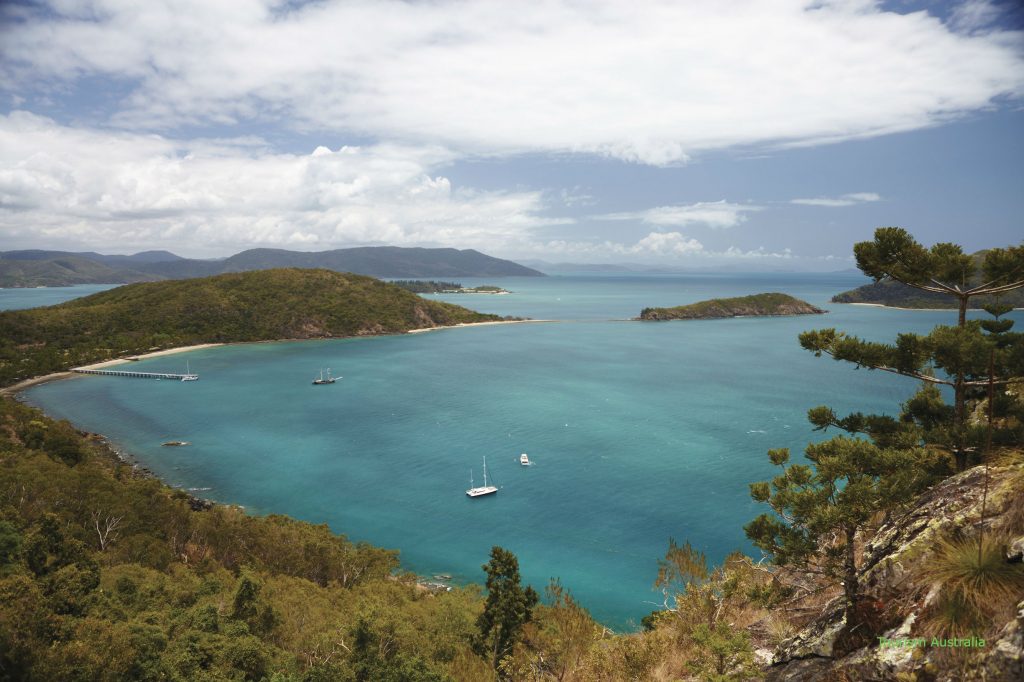 South Molle Island
South Molle offers many activities.  Most of the island is a national park with many trails to be explored. There are bays and sandy beaches for your relaxation.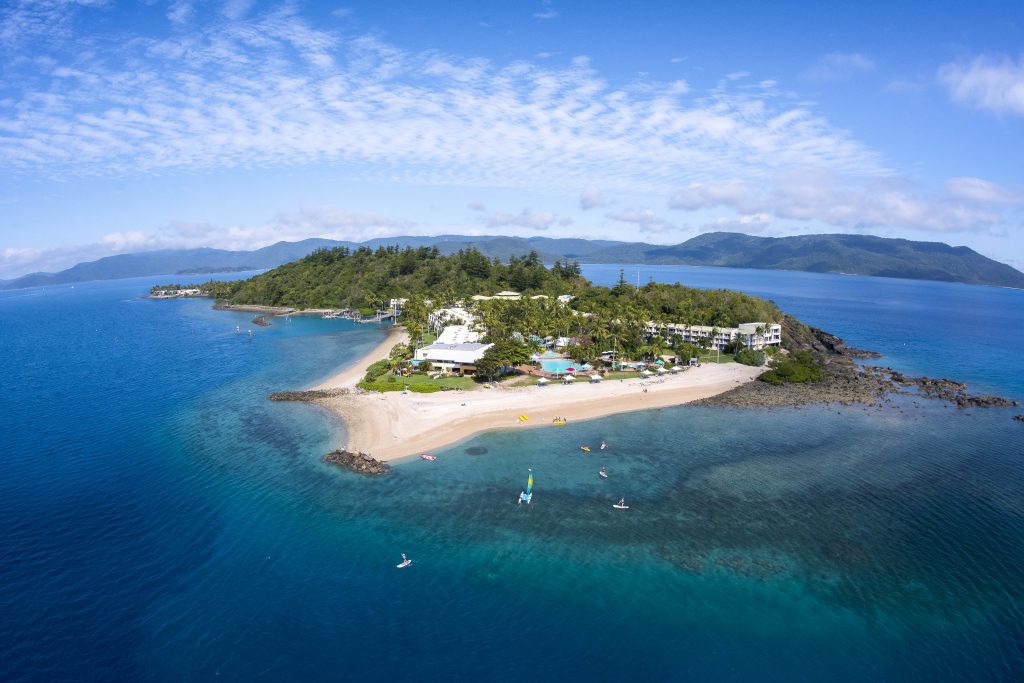 Daydream Island
Daydream Island is closer to the mainland and also caters for day trippers.
It is home to the world's largest outdoor aquarium. With 80 different types of sea life and 50 different corals it is not to be missed.
The island offers many activities on land and sea. There is an outdoor cinema and what a backdrop it has.