Choosing the best Great Ocean Road Tours
A lot of tourists visiting Melbourne will take a Great Ocean Road Tour. Read our guide on helping you choose the right tour for you.  There are day tours (13-14 hours), sunset tours, 1,2 & 3 day tours. There are also one way tours from Melbourne to Adelaide and from Adelaide to Melbourne, a great way to travel between these 2 cities.
Return to top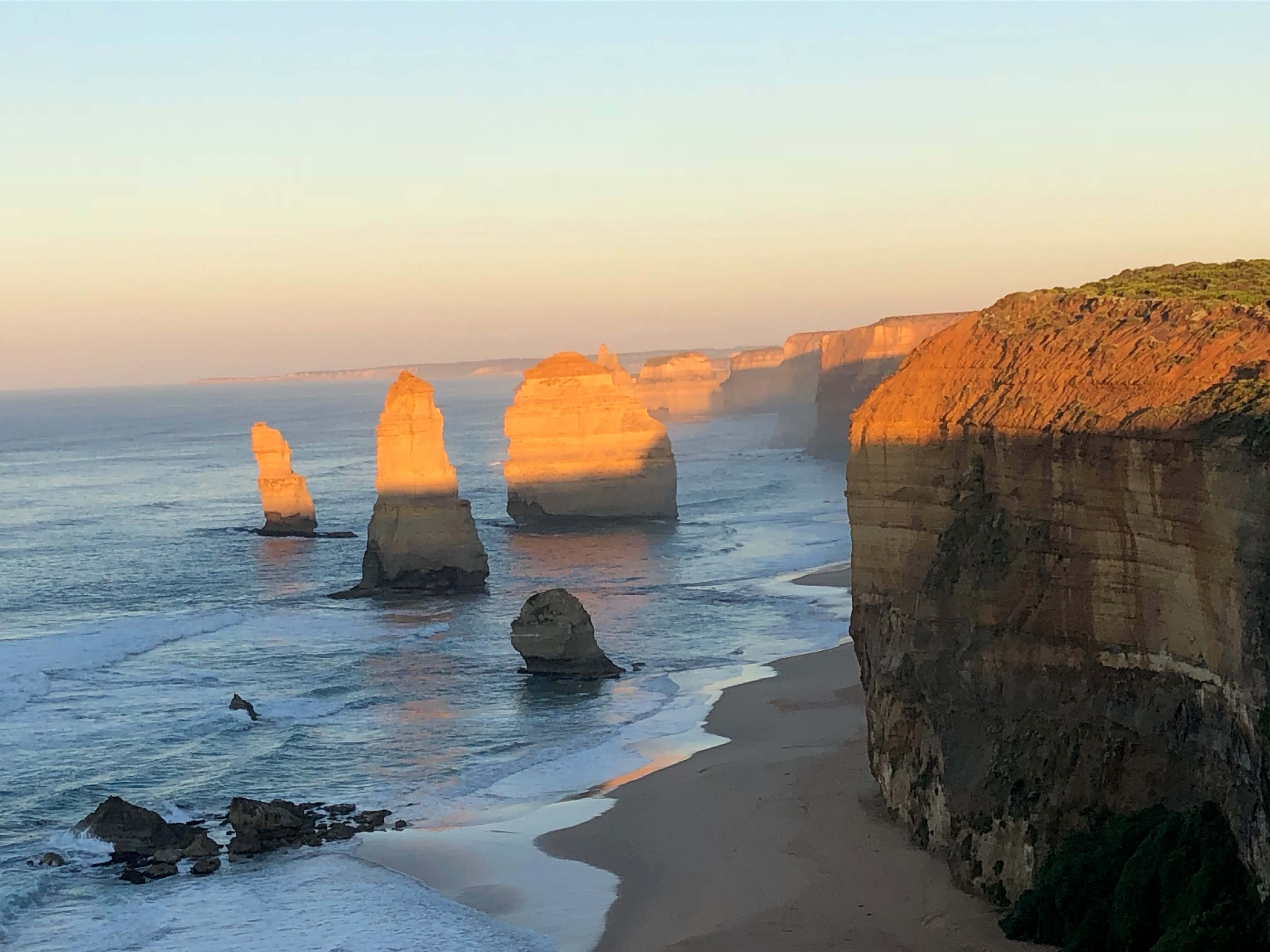 The Major Sights:
12 Apostles
The Twelve Apostles is a collection of limestone stacks caused by erosion from the sea and wind, off the shore of Port Campbell National Park, on the Great Ocean Road in Victoria.  There are only eight of them still standing (there were never 12), rising 150 metres above sea level. The colour of these formations and the coastline is intense and spectacular. Seeing them at sunset & sunrise is magical.
Gibson's Steps (just near the Twelve Apostles)
Walk down these 86 steps to the beach and get a feel for just how tall and imposing these limestone stacks are. The ones here are affectionately called Gog & Magog and not part of the Twelve Apostles.
London Bridge
Around another bend and you come to London Bridge, since 1990 it is a bridge without a middle! You will be mesmerised as you look at the rock formations and gaze into the Southern Ocean.
Shipwreck Bay
Many photo opportunities as you drive along the Shipwreck Coast. You will understand how dangerous this coastline was to the early explorers.
Razorback
This is another limestone rock formation seen when visiting Loch Ard Gorge. It had me mesmerized looking at the colours and hearing the waves bash against it and soon it became my favourite!
The Grotto
It is not really a blow hole or a cave but a little like a lot of things. It too, is wonderful to see, the colours and light are amazing. Be sure to look at its reflection in the water, it makes a great photo.
Bay of Islands
It is a further 20 minutes down the road from the Grotto and by this stage everyone is suffering from beauty overload but when you arrive you will love what is front of you. It's a bit like the Twelve Apostles, Loch Ard Gorge and Razorback all in the one place!
Kennet River
It is here where you get to see koalas in the wild. There is time to take a stroll and look up in the trees for these cute Australian animals. Make sure you don't call them bears because they are not bears!
Otway National Park
Full of surprises here, beautiful waterfalls, ancient rainforest, wildlife, walking tracks, great views and even ziplining!
The Grampians
If you are on a 2 day tour of the Great Ocean Road you will most likely stay at Halls Gap, the gateway to the Grampians. A visit to MacKenzie Falls is on every itinerary and it is well worth the little hike and steps!, You will see other waterfalls and visit different lookouts as well.
Loch Ard Gorge
This is a gorgeous little bay and inlet of blue waters, little beach and the most colourful rock formations on either side. Located just three minutes from the Twelve Apostles, it becomes a favourite spot for lots of people. As with lots of sights along the Great Ocean Road, it has a great tale attached to it and your guide will tell you all about it.
Boroka Lookout offers views over Fyans Valley with glimpses of Lake Bellfield in the distance. Reeds Lookout is impressive, with panoramic views over Victoria Valley.  The highlight for some is the hours hike to "The Balconies" an outcrop of rock that has stunning views also out over Victoria Valley. This is the photo you see in many guidebooks and advertising for The Grampians.
Return to Top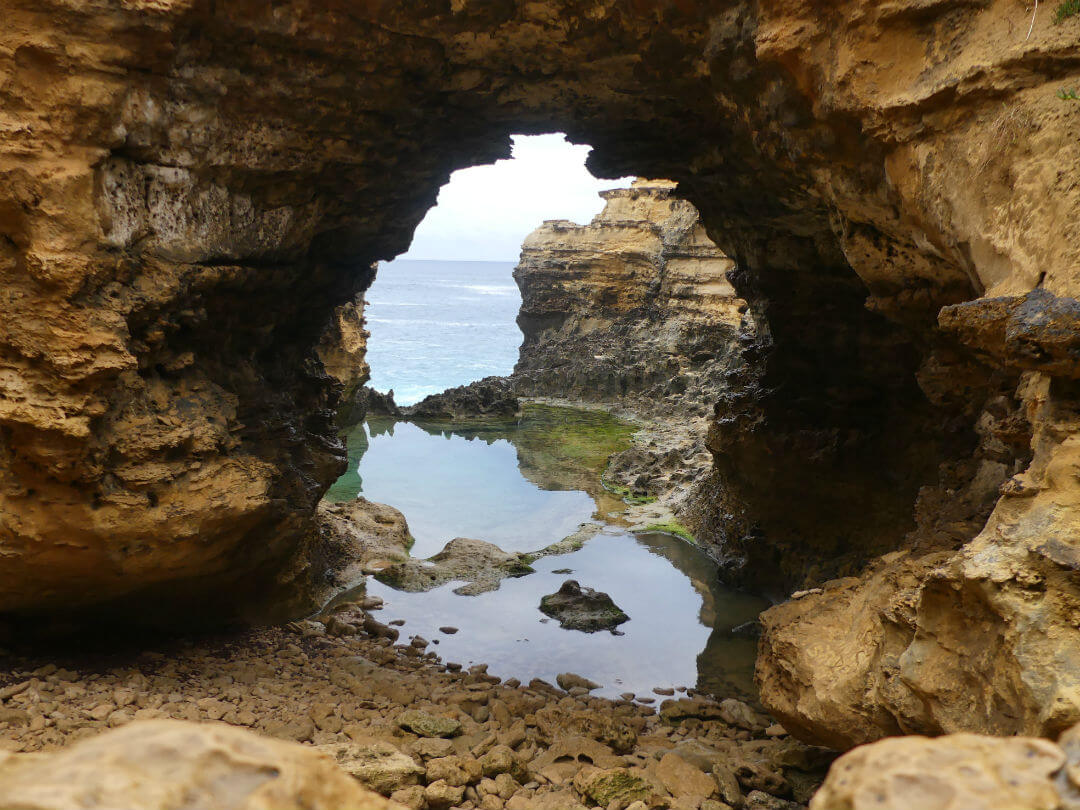 Guide to towns on the Great Ocean Road
Guide to towns on the Great Ocean Road
Below is a little guide of the towns & sights in order from Melbourne and the distance between them. This will give you a better understanding of the timing of the tours. The distances may not be long but there will be times when each sector tacks longer than expected.
Melbourne to Torquay – 105 kms
Torquay to Bells Beach – 6.9 kms
Bells Beach to Anglesea – 12.4 kms
Anglesea to Lorne – 28.5 kms
Lorne to Kennet River – 23.3 kms
Kennet River to Apollo Bay – 24.9 kms
Apollo Bay to 12 Apostles – 87.1 kms
12 Apostles to Loch Ard Gorge – 4.1 kms
Loch Ard Gorge to Port Campbell – 8 kms
Port Campbell to London Bridge – 7.4 kms
London Bridge to The Grotto – 2.1 kms
The Grotto to the Bay of Martyrs 7 Bay of Islands – 9.6 kms
Bay of Islands to Warrnambool – 48.4 kms
Return to Top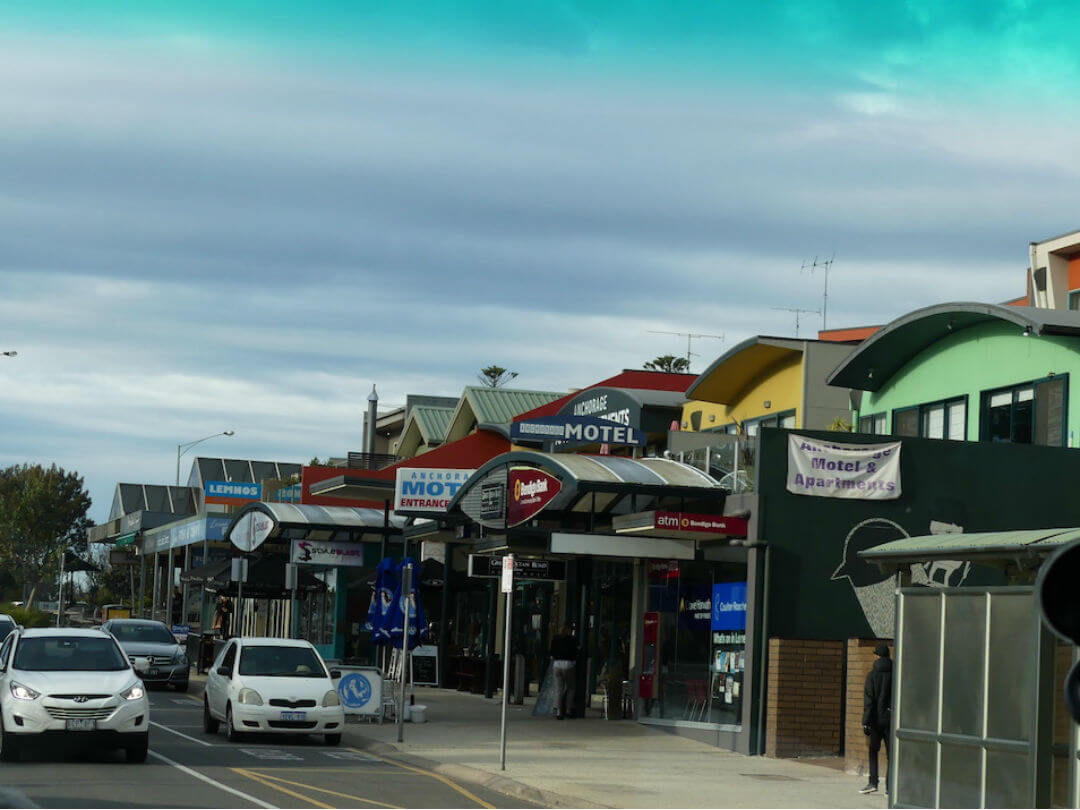 Departure Information
Tours depart from Melbourne CBD
Tours depart from 7-8AM  and return from 8-9PM ( most tours are of a duration of 14 hours)
The major sights
12 Apostles – an average time here is 45 minutes. There is a visitors centre with souvenirs for sale. There are different lookouts and also you are able to walk down to the beach via Gibson Steps
Some tours offer the option of a helicopter flight over the 12 Apostles, Loch Ard & London Bridge. Please note that if you do the helicopter there won't be enough time to climb Gibson Steps and also go to the end of one of the lookouts.
I have done the flight in pouring rain and it was still spectacular.
Return to Top